Anniversary Love: 9 Movies That Turn 75 in 2015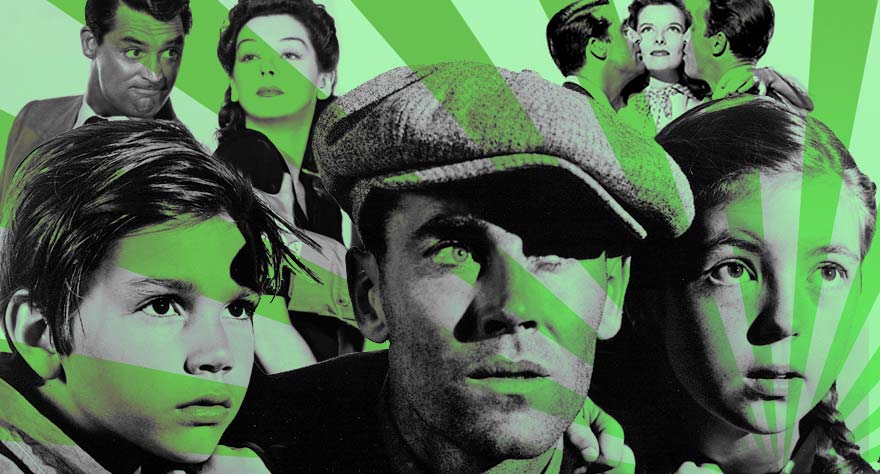 We are not going to stop celebrating our Anniversary. And you can't make us. On that note, we are still not done ecstatically bragging about all of our favorite movies that share 2015 as a big year. It's like celebrating an Anniversary Spectacular with all of our friends! If you want more, see 8 Movies That Turn 50 and 17 Movies That Turn 25.
Now we're moving on to the Old Timers club, and as young as we are, we respect our elders. Here are the films turning 75 this year.
1940 Highlights
Within the span of a year, Soviets had bombed cities in Finland and taken Lithuania, Latvia, and Estonia. Germany occupies Denmark, the Netherlands, Belgium, France, and Luxembourg, and Italy declared war on Britain and France and invade Egypt and Greece. Both the Olympics and Wimbledon are cancelled due to World War II. Winston Churchill succeeded Neville Chamberlain as the British Prime Minister and Franklin D. Roosevelt is elected as U.S. President for his third term. McDonald's opens its first restaurant in San Bernardino, California. The first helicopter flight is made in Stratford, Connecticut, and Billboard publishes its first singles record chart and the #1 song is "I'll Never Smile Again" by Tommy Dorsey. Bugs Bunny makes his debut in "Wild Hare." California opens its first freeway, Arroyo Seco Parkway and the first demonstration of color television is done in New York by CBS.
The Shop Around the Corner
Release Date: January 12, 1940
Starring: James Stewart, Margaret Sullavan, and Frank Morgan
Directed By: Ernst Lubitsch
Tagline: James Stewart and Margaret Sullavan find their hearts desire in The Shop Around the Corner.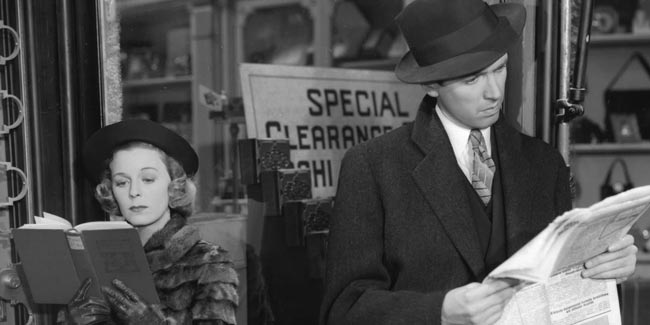 Coming out just a year after his Oscar nominated performance in Mr. Smith Goes To Washington, Jimmy Stewart returned for The Shop Around the Corner with Margaret Sullavan. They would return to the screen together the next year in The Mortal Storm. It was selected to be preserved in the Library of Congress' National Film Registry for its cultural significance. Produced and Directed by Ernst Lubitsch who made it at as a tribute to the long vanished clothing firm his father owned in Berlin and he considered it one of the best pictures he ever made in his life. Determined to have both James Stewart and Margaret Sullavan as part of the cast, he held off on the movie and in his downtime he made a little film called Ninotchka, making 1940 the year for The Shop Around the Corner. Also starring Frank Morgan, who is mostly known for his role as the wizard in The Wizard of Oz. Remade at least five times in the last 75 years, the most memorable remakes were 1949's In the Good Old Summertime with Judy Garland and Van Johnson and 1998's You've Got Mail with Meg Ryan and Tom Hanks.
His Girl Friday
Release Date: January 18, 1940
Starring: Cary Grant, Rosalind Russell, and Ralph Bellamy
Directed By: Howard Hawks
Tagline: She learned about men from him!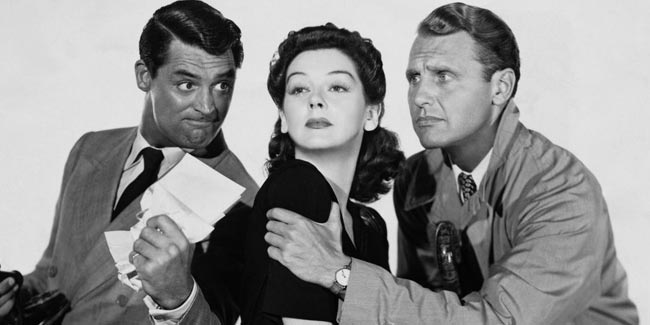 Quentin Tarantino considers His Girl Friday one of his favorite films. Rosalind Russell was never really considered for the part of Hildy and was only cast after a long list of female actresses including Margaret Sullavan, Jean Arthur, Katherine Hepburn, Claudette Colbert, and Irene Dunne rejected the part. Miffed and a little sullen that her character had such weak lines compared to Grant's, Russell hired her own writer to amp them up. Since improvisation was encouraged especially with the novel rapid-fire delivery that was expected on this set, no one seemed to notice except Cary Grant. This film, too, was selected by the Library of Congress for the National Film Registry for its historical and cultural significance. The only music in the entire film is in the first and last two minutes with the credits being shown over newspaper print.
Pinocchio
Release Date: February 23, 1940
Starring: Mel Blanc, Frankie Darro, Cliff Edwards, Dickie Jones
Directed By: Norman Ferguson, T. Hee, Wilfred Jackson, Jack Kinney, Bill Roberts
Tagline: The Wonder Tale The Whole World Loves!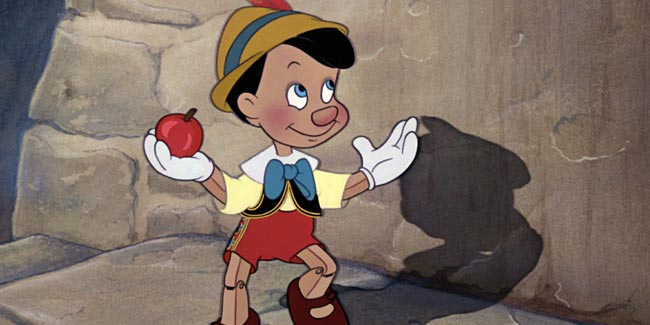 Winner of two Oscars for Best Original Song, "When You Wish Upon A Star," and Best Original Score, when Pinocchio was first released it actually experienced a loss financially. This was probably due to World War II limiting its international release and the fact that this was the first time an animated film had used celebrities for the voices of its characters, upping the budget to $2.8 million making it one of the most expensive movie productions at the time. However, it was re-issued four times before 1973 earning $13 million back and much wider acclaim. It has since been released several more times but went back into the Disney vault in 2011. It is generally considered by critics to be the best animated film of all time both technically and artistically.
The Great Dictator
Release Date: March 7, 1940
Starring: Charlie Chaplin and Paulette Goddard
Directed By: Charlie Chaplin
Tagline: Once again – the whole world laughs!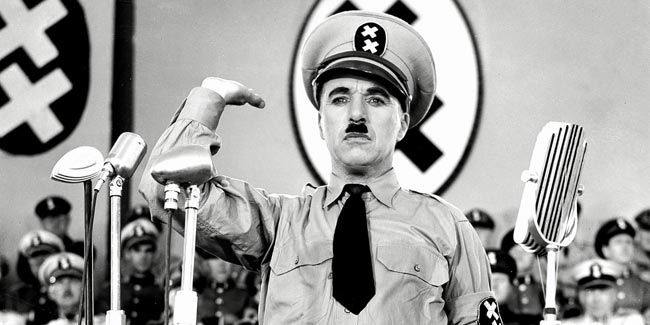 Though this film was banned by Hitler in Germany and all Nazi-occupied countries, he did have a print brought to him and he apparently screened it twice though no one recorded his reaction. Charlie Chaplin would always wonder what he had thought of it. The ban stayed through the end of World War II and into 1958. Chaplin was one of Hitler's favorite actors even though he had thought he was Jewish. This was Chaplin's first full talking film with sound. He funded it entirely himself and ended up being the most financially successful of all of his films and it was the last in which he would be seen with the iconic bowler hat and walking cane. It was nominated for five Oscars including Best Picture, Best Actor, Best Supporting Actor, Best Original Screenplay, and Best Original Score. Since the U.S. was still formally at peace with Germany and the atrocities that were actually being committed against the Jews were largely unknown at the time (there were a few comedic satires made about the Nazis including The Three Stooges' You Nazty Spy!) Chaplin had maintained that if he had truly known what was going on, especially concerning the horrors of the concentration camps, he would have never made the film.
The Grapes of Wrath
Release Date: March 15, 1940
Starring: Henry Fonda and John Carradine
Directed by: John Ford
Tagline: The thousands who have read this book will know why WE WILL NOT SELL ANY CHILDREN'S TICKETS to see the picture!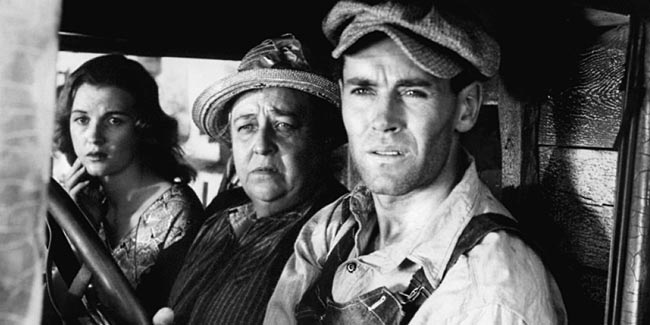 Another controversial film, The Grapes of Wrath was banned by Stalin in the Soviet Union because it showed that even the most impoverished in the U.S. could own a car. Darryl F. Zanuck had some doubts about Steinbeck's portrayal of the migrant camps and sent investigators to see how much of the story had been exaggerated. As it turned out, the actual conditions of the camps were much worse than Steinbeck had illustrated in the novel. A month and a half after the movie's release in theaters, Steinbeck would be awarded the Pulitzer Prize for this book. It was nominated for seven Academy Awards and won two: John Ford for Best Director and Jane Darwell for Best Supporting Actress. Also selected for preservation in the National Film Registry of the Library of Congress. As a matter of fact, it was one of the first to be voted into it. Henry Fonda kept the hat he wore in the movie for the rest of his life.
Rebecca
Release Date: April 12, 1940
Starring: Laurence Olivier and Joan Fontaine
Directed by: Alfred Hitchcock
Tagline: The shadow of this woman darkened their love.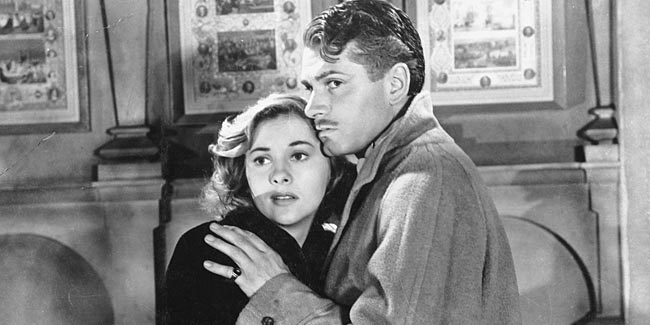 Based on a novel by Daphne du Maurier, this was Alfred Hitchcock's first American project and the first time being produced by David O. Selznick. This gothic tale starred Laurence Olivier and Joan Fontaine as his haunted second wife. Olivier campaigned to get his then girlfriend, Vivien Leigh, cast for the lead role and when she didn't get it he supposedly made Joan Fontaine feel very unwanted. Hitchcock used that to his advantage to make her character seem legitimately unsure of herself. Winning two Oscars for Best Picture and Best Cinematography, it was nominated for NINE more including Best Actor, Best Actress, and Best Director. This was the only Hitchcock film that ever won an Oscar for Best Picture. It was shown at the very first Berlin International Film Festival in 1951.
My Favorite Wife
Release Date: May 17, 1940
Starring: Irene Dunne and Cary Grant
Directed By: Garson Kanin
Tagline: The funniest, fastest honeymoon ever screened!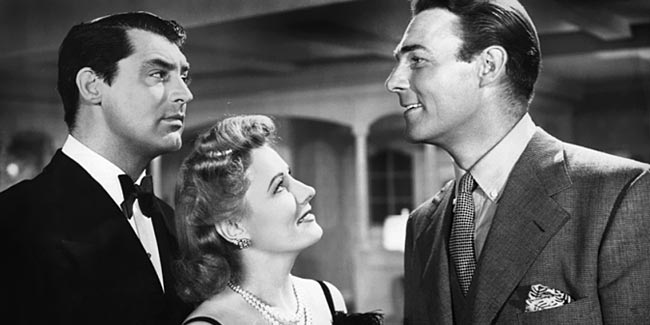 Inspired by Alfred Lord Tennyson's poem, Enoch Arden, My Favorite Wife was nominated for three Oscars including Best Original Screenplay, Best Art Direction, and Best Original Score. Initially going to be remade in 1962 as Something's Got To Give with Marilyn Monroe, Dean Martin, and Cyd Charisse, they experienced multiple problems as Monroe kept failing to appear for work. She was fired and then rehired but died before filming could be completed. Ultimately the project was re-cast and re-done with Doris Day and James Garner in 1963's Move Over Darling. Lux Radio Theater broadcast a 60 minute radio adaptation of the movie on December 9, 1940 with Gail Patrick reprising her film role.
Boom Town
Release Date: August 30, 1940
Starring: Clark Gable, Spencer Tracy, Claudette Colbert and Hedy Lamarr
Directed By: Jack Conway
Tagline: Where men are rough and tough…and like their women the same way!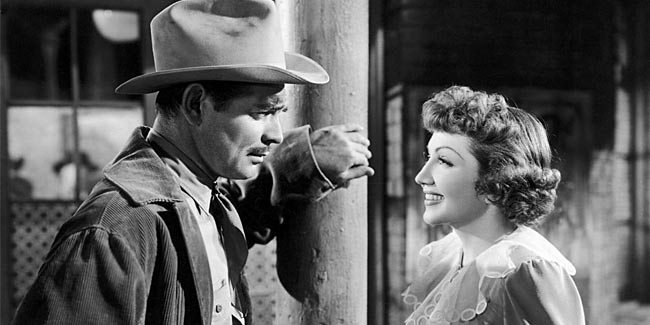 Boom Town was nominated for two Oscars for Best Cinematography and Best Special Effects. Clark Gable's father was an oil driller in Oklahoma and Gable worked with him as a teen providing some insight into the subject of the film and his character. Lifelong friends, this was the third and final film that Clark Gable and Spencer Tracy would do together. Spencer Tracy contracted afterwards that any other films made later would give him equal billing with Gable. As MGM wasn't sure how to handle this, they never again did a movie together. It was also the last film that Gable would do with Claudette Colbert, the only other one being It Happened One Night which was released six years before. It was one of Clark Gable's most successful films at the Box Office second only to Gone With The Wind.
The Philadelphia Story
Release Date: December 26, 1940
Starring: Cary Grant, Katharine Hepburn, James Stewart
Director: George Cukor
Tagline: Broadway's howling year-run comedy hit of the snooty society beauty who slipped and fell – IN LOVE!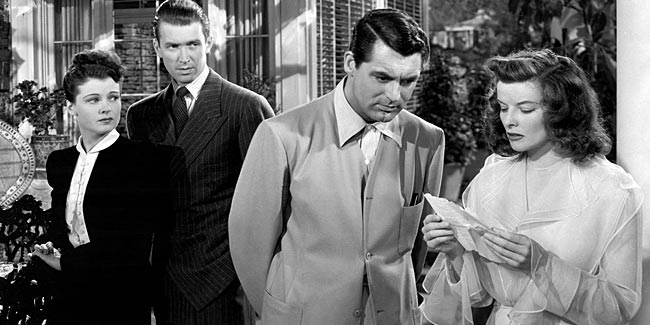 Jimmy Stewart won the Best Actor Oscar for his role in The Philadelphia Story. The movie also won an Oscar for Best Adapted Screenplay and was nominated for four more. Cary Grant donated his entire salary to the British War Relief Society. The playwright Philip Barry wrote the play for Broadway specifically for Katharine Hepburn. Howard Hughes bought the film rights and gave them to Hepburn with her forgoing a salary for a percentage of the profits. This was Hepburn's attempt to recover from her rumored curse as "Box Office Poison" so when Cary Grant demanded top billing, no one argued. In 1995 it was selected to be preserved in the National Film Registry at the Library of Congress for its cultural and historical significance. The film was remade in 1956 as High Society with Grace Kelly, Bing Crosby, and Frank Sinatra.