Anniversary Love: 17 Movies That Turn 25 in 2015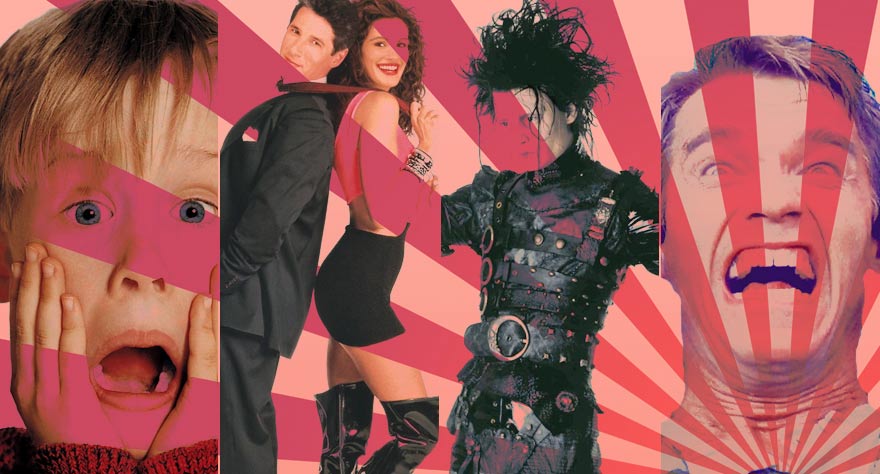 It's our five-year anniversary this week! And to continue with the theme, we are sharing movies that share this year with us as a landmark! We've already done 8 Movies That Turn 50 in 2015. The following films came out in 1990 so this year they will celebrate their 25th Anniversary.
1990 Highlights
Big things were going down in the world when these movies came out in theaters. In February alone, the Communist Party relinquished sole power in the Soviet Government leading to the dissolution of the USSR and Nelson Mandela is released from prison after 27 1/2 years of incarceration in South Africa. The Western Alliance ends the Cold War and East and West Germany are reunited. Not all is happy, however, as the Persian Gulf War begins in August when Iraqi troops invade Kuwait and Margaret Thatcher resigns as the British Prime Minister in November. As far as history being made in the entertainment arena, the X-Rating is replaced by NC-17, The Simpsons debuts on FOX to instant acclaim, and Seinfeld debuts on NBC. This is the same year that Milli Vanilli owns up to lip-synching and has their Grammy revoked and the Hubble Space Telescope is launched.
The Grifters
Release Date: January 4, 1990
Starring: Anjelica Huston, John Cusack, Annette Bening
Directed By: Stephen Frears
Tagline: Seduction. Betrayal. Murder. Who's conning who?
Based on Jim Thompson's pulp novel of the same name, John Cusack loved the book so much that he wanted to option it in high school. When he was cast he accepted much less than was his going rate at the time. Produced by Martin Scorsese, he called in Stephen Frears who had just finished directing Dangerous Liaisons. It was nominated for four Academy Awards including Best Actress, Best Supporting Actress, Best Director, and Best Adapted Screenplay. The last scenes were so intense for Anjelica Huston that it took hours to emotionally recover after filming it and she spent the night throwing up.
Tremors
Release Date: January 19, 1990
Starring: Kevin Bacon, Fred Ward, Finn Carter, Michael Gross, Reba McEntire
Directed By: Ron Underwood
Tagline: They say there's nothing new under the sun. But under the ground…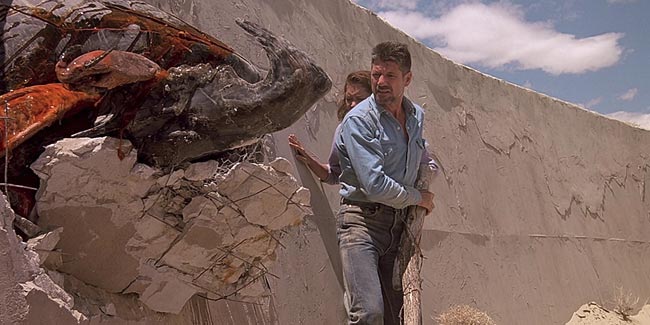 This was the first film in which Reba McEntire acted. Filming for Michael Gross began the day after the final episode of Family Ties. Tremors was not a box office smash in theaters but became a cult hit once it went to VHS, making back three times its budget. There have been three direct-to-video sequels and one attempt at a television series that lasted from March to August of 2003. Tremors 5: Bloodline with Jamie Kennedy is set to be released in October of this year. Michael Gross is the only actor to have appeared in all five movies and star in the short-lived TV series.
The Hunt For Red October
Release Date: March 2, 1990
Starring: Sean Connery, Alec Baldwin, Scott Glenn, James Earl Jones, Sam Neill
Directed By: John McTiernan
Tagline: Invisible. Silent. Stolen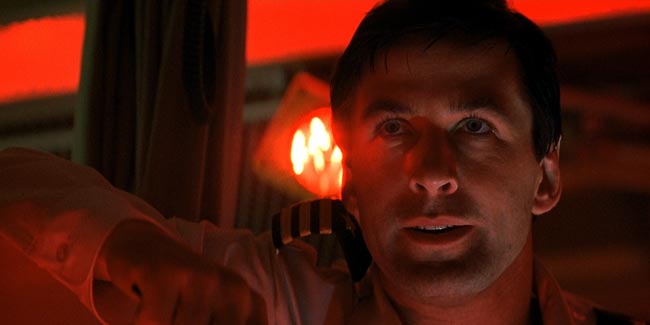 Based on Tom Clancy's 1984 debut novel, it is the first to feature the character of Jack Ryan, ex-Marine turned CIA analyst. It won the Academy Award for sound editing. It is rumored that they spent $20,000 on a hairpiece for Sean Connery. John McTiernan has a penchant for missing directorial opportunities for sequels; because of filming conflicts with The Hunt for Red October, he was unable to direct Die Hard 2. And he also was not able to direct the sequel to The Hunt for Red October because he was directing The Medicine Man (also with Sean Connery). There is also a bit of an easter egg in The Hunt For Red October. At the end Jack Ryan brings a teddy bear home—it is the same teddy bear John McClane arrives with in Die Hard.
Pretty Woman
Release Date: March 23, 1990
Starring: Julia Roberts, Richard Gere, Jason Alexander
Directed By: Garry Marshall
Tagline: Who knew it was so much fun to be a hooker?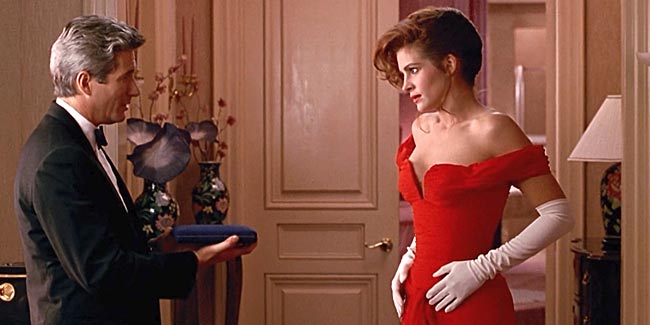 Set in Los Angeles, this would be Ralph Bellamy's final performance. It was also one of the highest grossing films in 1990, the highest ever for a romantic comedy. Julia Roberts won a Golden Globe for Best Actress and received an Academy Award nomination in the same category. It is still one of the most financially successful romantic comedies of all time. Along with When Harry Met Sally, it served to reincarnate the genre on the whole seeing as Hollywood hadn't churned out any that would fit that specific bill since the Doris Day/Rock Hudson days. The soundtrack was released on Valentine's Day in 1990 and went platinum three times.
Teenage Mutant Ninja Turtles
Release Date: March 30, 1990
Starring: Judith Hoag, Elias Koteas, Josh Pais
Directed By: Steve Barron
Tagline: Lean, green, and on the screen!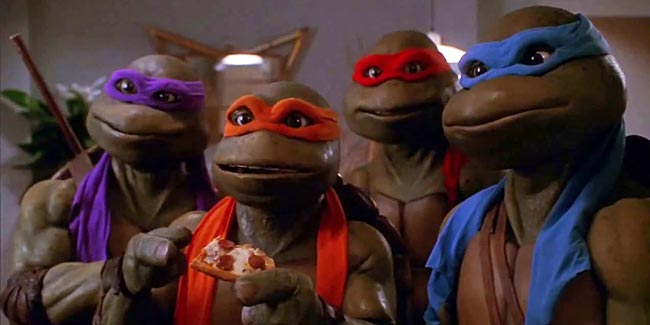 Featuring Corey Feldman as the voice of Donatello and a very young Sam Rockwell as "Head Thug," this was the first film adaptation of the Teenage Mutant Ninja Turtles franchise. It serves as an origin story, mainly, with the introduction of April O'Neill and Casey Jones to the teen reptiles. It is still the second highest grossing independent film of all time and was the ninth highest grossing film of the year. The turtles were created in Jim Henson's Creature Shop in London and at the time he said they were the most advanced thing he had ever worked with. Many major production companies including Disney and Warner Bros. turned down the film but it finally found distribution through the then-small New Line Cinema. The sequel released also achieved success however the third installment released in 1993 was a flop. Another attempt to bring another sequel in, this time with CGI turtles, was released in 2007. In 2014 they rebooted the franchise starring Will Arnett and Megan Fox.
Total Recall
Release Date: June 1st, 1990
Starring: Arnold Schwarzenegger, Sharon Stone, Michael Ironside
Directed By: Paul Verhoeven
Tagline: They stole his mind, now he wants it back.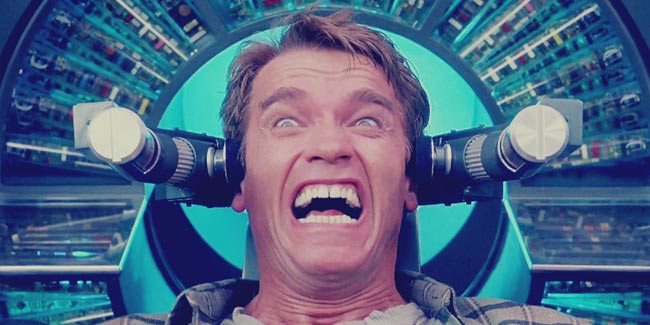 Arnold Schwarzenegger had a huge role in having this film finally developed. It had been in the writing stages for 16 years before he picked it up. One of the most expensive films ever made for that time period, it is loosely based on the story "We Can Remember It For You Whole Sale" by Philip K. Dick. The original score was composed by Jerry Goldsmith and won the BMI Film Music Award. Piers Anthony did a novelization of the film that corresponded pretty well with it. 2002's Minority Report originated as a sequel to Total Recall, however it was put on the back burner and once it finally did get picked up it got re-written so many times and it was produced as a completely independent film. It was remade in 2012 with Colin Ferrell and Kate Beckinsale.
Ghost
Release Date: July 13th, 1990
Starring: Patrick Swayze, Demi Moore, Whoopi Goldberg
Directed By: Jerry Zucker
Tagline: Before Sam was murdered, he told Molly he'd love and protect her forever.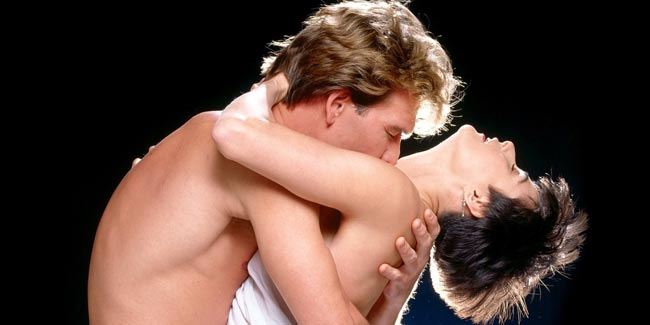 Whoopi Goldberg won both an Oscar and Golden Globe for Best Supporting Actress for her role as a begrudgingly helpful psychic in Ghost. The film was nominated for five Academy Awards and besides Best Supporting Actress, Bruce Joel Rubin took home the Oscar for Best Original Screenplay. It was a huge financial success and was the highest grossing film of 1990. Sandwiched between Road House and Point Break, this was quite a serious turn for Patrick Swayze's acting skills and he was nominated for a Golden Globe for his performance.
Problem Child
Release Date: July 27, 1990
Starring: Michael Oliver, John Ritter, Jack Warden
Directed By: Dennis Dugan
Tagline: Attila the Hun. Ivan the Terrible. Al Capone. They were all seven once.
This was not the movie that Scott Alexander and Larry Karaszewski wanted to write. They had initially intended for it to go along the lines of the many grown up films starring kids such as Mr. Mom and Kindergarten Cop. It had been inspired by a real life news article of a couple who sued an orphanage for not disclosing the issues that they had been having with their adopted son who had already been returned to the orphanage for his behavior problems multiple times. Alexander and Karaszewski imagined something dark and satirical. Universal Pictures, however, demanded that it be rewritten as a children's movie. Anticipating a huge flop, they were surprised to find that it was met with a successful release. It inspired one theatrical sequel and one TV movie sequel as well as a cartoon. Just a side note, the day this movie released, Zsa Zsa Gabor began her three day jail sentence for slapping a cop.
The Witches
Release Date: August 24, 1990
Starring: Anjelica Huston, Mai Zetterling, Jasen Fisher, Rowan Atkinson
Directed By: Nicolas Roeg
Tagline: Saving the world from witches is a tall order for a boy they've turned into a mouse!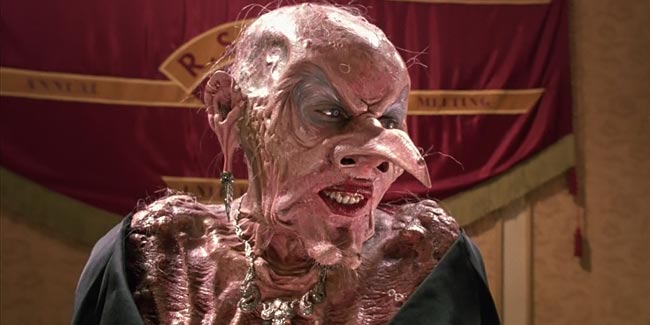 Based on the book by Roald Dahl, Jim Henson Productions took this movie on. This would be the last movie distinct with Henson's personal touch before he died and the last movie based on one of Dahl's books made while the author was still alive. Though it didn't do well in the box office, it has since been very well-regarded. It has a very rare Rotten Tomatoes score of 100%. Generally it is seen as a vehicle by which we can enjoy a unique and incredible performance by Anjelica Huston. Cher was originally thought of for the casting of the Grand High Witch but she was busy filming Mermaids.
Goodfellas
Release Date: September 21, 1990
Starring: Robert De Niro, Ray Liotta, Joe Pesci
Directed By: Martin Scorsese
Tagline: Shooting people was 'no big deal'.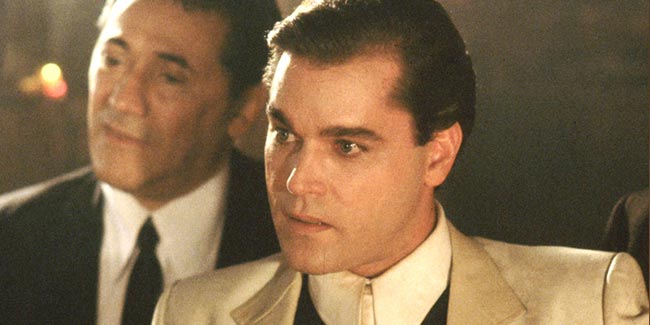 Joe Pesci won an Oscar for Best Supporting Actor for his role in this film but it was nominated for five more including Best Picture, Best Director, Best Supporting Actress, Best Film Editing, and Best Adapted Screenplay. It also won the BAFTA awards for Best Screenplay, Best Direction, and Best Film. Based on Nicholas Pileggi's Book "Wise Guys" about the real life of mobster Henry Hill, Martin Scorsese cold called Pileggi to ask if he could adapt it into a film, he was that impressed. It is also preserved in the film registry of the Library of Congress based on its cultural significance.
Home Alone
Release Date: November 16, 1990
Starring: Macaulay Culkin, Joe Pesci, Daniel Stern, Catherine O'Hara
Directed By: Chris Columbus
Tagline: A family comedy. Without the family.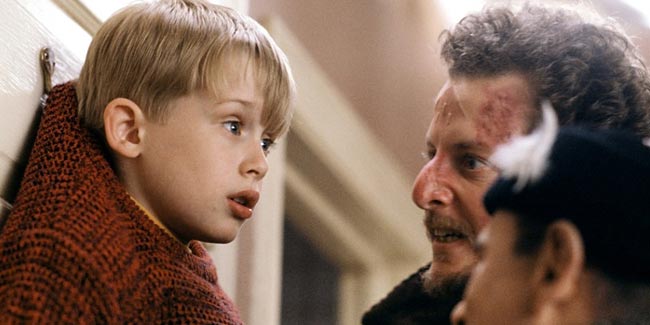 Written and produced by John Hughes, this was the second movie to be released starring Joe Pesci in 1990. With an original score by John Williams, its music was nominated for two Oscars. The idyllic, and very large, McCallister Home (seriously, what DID those parents do for a living?) is in Winnetka, Illinois. The film was so financially successful in the box office that by the time its theater run was over it was the third highest grossing film of all time, and the highest grossing comedy ever. Two years later it would release a well received sequel with all of the original cast returning. There was a third sequel that had all different actors but it wasn't nearly as successful as either of the others. The fourth movie was only made for TV and was the only one John Hughes did not write the screenplay for.
Dances With Wolves
Release Date: November 21, 1990
Starring: Kevin Costner, Mary McDonnell, Graham Greene
Directed By: Kevin Costner
Tagline: Lt. John Dunbar is about to discover the frontier…within himself.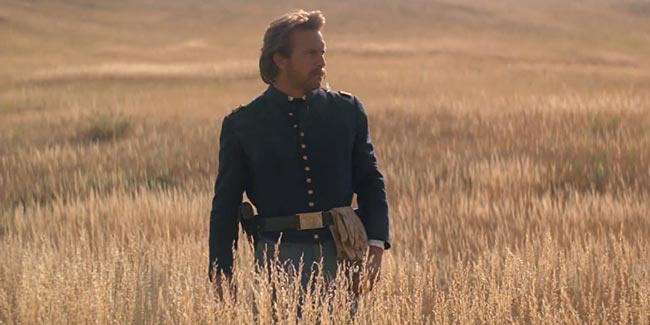 Almost sweeping the Oscars with seven wins, Dances With Wolves won the Academy Awards for Best Picture, Best Director, Best Adapted Screenplay, Best Cinematography, Best Sound, Best Film Editing, and Best Original Score as well as Golden Globes for Best Picture, Best Director and Best Original Score, by John Barry. This was the first movie that Kevin Costner would produce and direct as well as star in and it was selected to be preserved in the Library of Congress' Film Registry for its cultural significance. The dialogue spoken in the film is largely Lakota with English subtitles. Its positive characterization of Native Americans resulted in Costner being adopted into the Sioux Nation as an honorary member, though it is not without its historical inaccuracies as is to be expected.
Misery
Release Date: November 30, 1990
Starring: James Caan, Kathy Bates, Richard Farnsworth, Lauren Bacall
Directed By: Rob Reiner
Tagline: This Christmas there will be…Misery.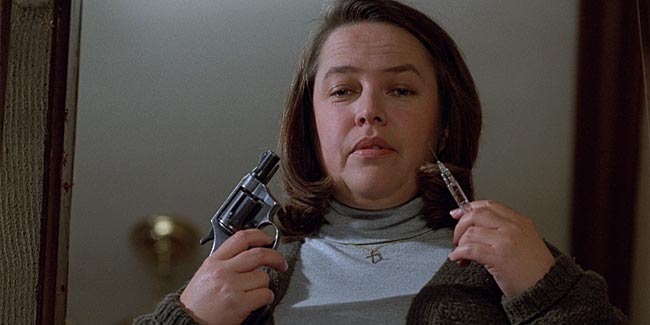 Stephen King's novel comes to life through Kathy Bates' psychopath, Annie Wilkes, for which she won the Oscar and Golden Globe for Best Actress. She was the first woman to receive a Best Acting Academy Award for a horror or thriller. It's the only Stephen King film to win an Academy Award. William Goldman adapted it to the stage as well and it premiered in 2012 at Bucks County Playhouse.
Edward Scissorhands
Release Date: December 14, 1990
Starring: Johnny Depp, Winona Ryder, Dianne Wiest, Anthony Michael Hall
Directed By: Tim Burton
Tagline: His story will touch you, even though he can't.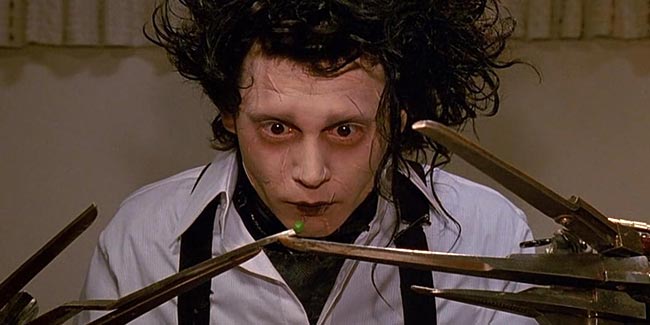 Tim Burton hand-picked Caroline Thompson to write the screenplay for this film after he read one of her short stories. The concept of Edward Scissorhands' character came about from a sketch Tim Burton had done in high school. The film was nominated for an Oscar for Best Makeup and a Golden Globe for Best Actor in a Comedy/Musical. The role of the inventor was written with Vincent Price in mind. His unfinished product, Edward, played by Johnny Depp, is left with scissors for hands when the inventor dies unexpectedly. It was the fourth time Burton would work with Danny Elfman for the original score. Close friends for a long time, their professional collaboration has spanned 30 years.
Mermaids
Release Date: December 14, 1990
Starring: Cher, Bob Hoskins, Winona Ryder, Christina Ricci
Directed By: Richard Benjamin
Tagline: This is our mother. Pray for us.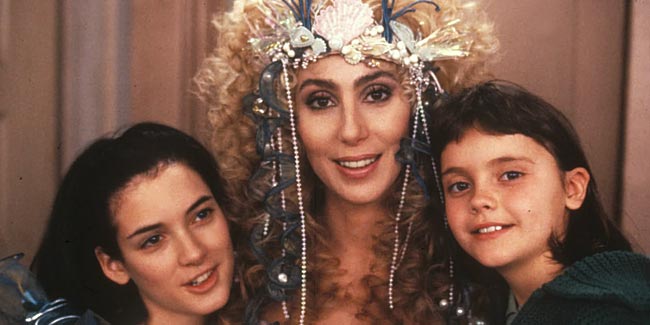 Released on the same day as Edward Scissorhands, in which she also starred, Winona Ryder was nominated for a Supporting Actress Golden Globe after her performance in Mermaids. Though she was a blonde in Edward Scissorhands, Mermaids had her in her natural brunette. Cher plays her non-traditional mom going it alone in the early 1960's. Christina Ricci makes her feature film debut as Ryder's young sister. It's based on a novel of the same name by Patty Dann that had been published four years earlier in 1986.
Hamlet
Release Date: December 19, 1990
Starring: Mel Gibson, Glenn Close, Alan Bates, Helena Bonham Carter
Directed By: Franco Zeffirelli
Tagline: The extraordinary telling of a classic tale.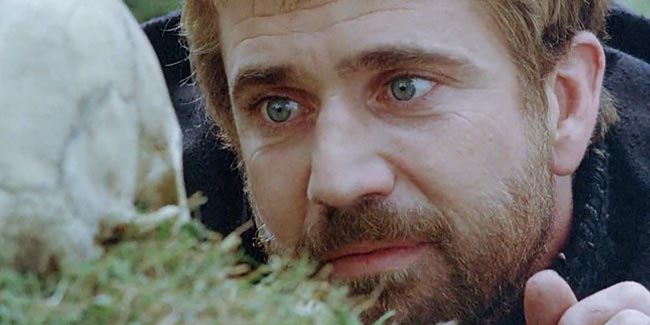 It is the first film produced by Mel Gibson's Icon Productions which Gibson founded because no other production company had wanted to take on a Shakespearean film. Hamlet received Academy Award nominations for Best Art Direction and Best Costume Design. This was Glenn Close's only attempt at a Shakespearean role either on stage or on-screen. Meanwhile, Gibson had already played Juliet in an all male production of Romeo and Juliet in Australia.
Awakenings
Release Date: December 22, 1990
Starring: Robert De Niro, Robin Williams, Julie Kavner
Directed By: Penny Marshall
Tagline: There's no such thing as a simple miracle.
Based on Oliver Sacks' 1973 memoir around his work with encephalitis patients and the successful usage of L-Dopa medication. It was nominated for three Academy Awards: Best Picture, Best Adapted Screenplay, and Best Actor (Robert De Niro) and Robin Williams was nominated for a Golden Globe for Best Supporting Actor. Vin Diesel debuts his acting skills as an uncredited orderly. Opening to a limited release in December qualified it for that years Academy Awards. Its wider release didn't occur until January of 1991, however.