We Are The Best!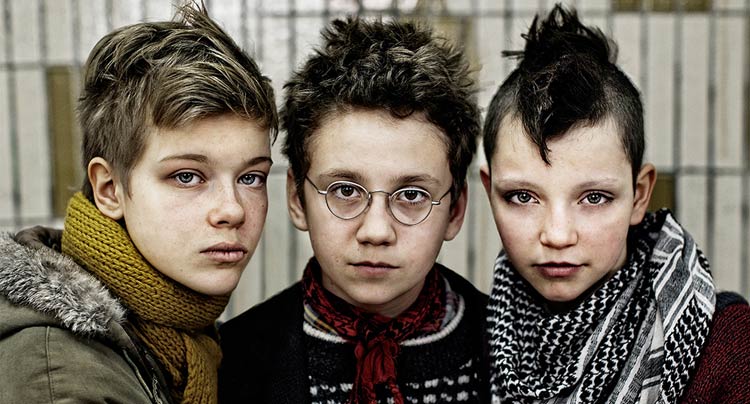 Moodysson might have just made one of the best definitions of punk on film.
"Punk is dead" is a phrase heard several times throughout We Are the Best!, but it's certainly not true for pre-teen girls Bobo (Mira Barkhammar) and Klara (Mira Grosin). The film takes place during 1982 in Stockholm, a time when people started moving toward bands like Joy Division or The Human League. Bobo and Klara, on the other hand, refuse to give up on punk, sporting mohawks and androgynous looks. When a hair metal band makes fun of the two girls for their looks, they get revenge by booking out the band's practice space at a local rec centre. Bobo & Klara play around with some instruments and, despite having no musical background, decide to form a band.
There isn't much of a narrative to Lukas Moodysson's film, but why should there? Bobo and Klara form their band on a whim, and the film carries itself with the same kind of free-wheeling sense of spontaneity. It isn't long before a third member, the long-haired Christian student Hedvig (Liv LeMoyne), gets recruited into the band. Hedvig is, like Bobo & Klara, an outcast at school, but her excellent guitar playing skills help the band's only song (a track dedicated to their gym teacher called "Hate Sport") form into something cohesive.
Moodysson, adapting his wife Coco's graphic novel Never Goodnight, avoids falling into the usual traps plaguing childhood drama/coming of age tales through his decidedly undramatic approach. These are 12 to 13-year-old girls after all, and while they have problems nothing is given enough dramatic weight to detract from the core relationship between Bobo, Klara & Hedvig. That isn't to say the film doesn't touch on big topics; Bobo deals with her parents' divorce along with her own insecurities, boys threaten to tear the band apart, and there's even time for a religious debate when Klara teases Hedvig about her beliefs. These events are never life-changing on their own, but cumulatively end up defining these girls as they begin to grow older.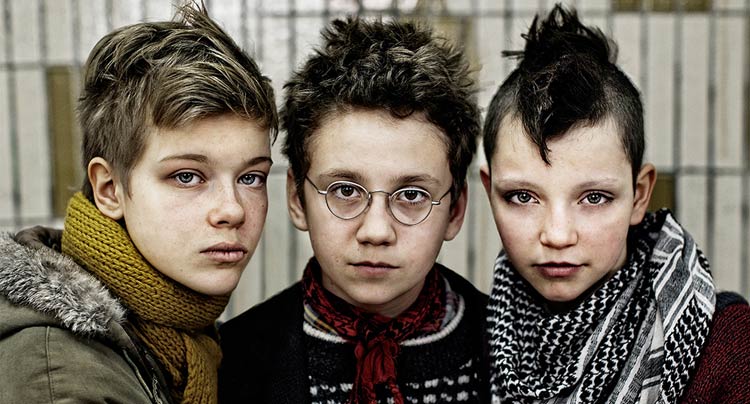 But for the brief time Moodysson looks at his trio of young punks, he keeps it light. For all of the girls' cursing, fighting and rebellious attitudes, there's still a sense of youthful innocence to everything they do. Their punk song is nothing more than a protest against gym class, their relationships nothing more than holding hands with a boy they like. While the girls may have political views (especially Klara), their attraction to punk is more about defiant rebellion against the status quo. By showcasing so many innocent acts of protest, Moodysson might have just made one of the best definitions of punk on film.
The childlike innocence found throughout We Are the Best! owes quite a lot to Barkhammar, Grosin and LeMoyne. Barkhammar and Grosin have a friendliness to them beneath their intimidating looks, a quality where they're more than happy to befriend anyone on their side. LeMoyne initially joins the band out of a need for friendship, eventually developing into the glue holding their band and friendship together. All three actresses, amazingly making their debuts, are so effortless and natural in their roles it lends a documentary feel to the film. Moodysson's film is hard to dislike, and while it puts more emphasis on the light in light-hearted, We Are The Best! is time well spent.
We Are The Best trailer
We Are The Best! Movie review