Tig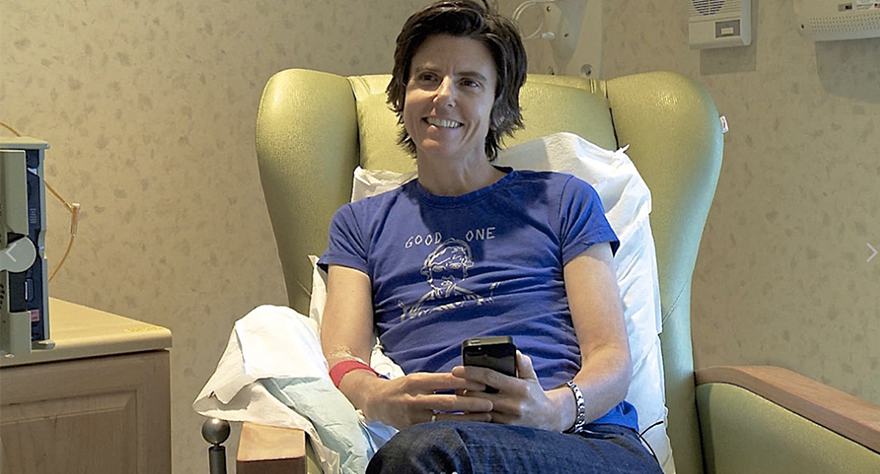 Unnecessary drama and emotional manipulation take away from Tig Notaro's inherently powerful life story.
Because stand-up comedians make their living from making people laugh, it's heartbreaking to watch the life of a comedian completely unravel. They say laughter is the best medicine, but few laughs come out of this documentary featuring the somber story of comic Tig Notaro's personal and medical troubles. Within a three-month span, Notaro endures several life-changing experiences. The first came while working on the set of Lake Bell's 2013 indie comedy In a World…, where she collapsed from an illness that was later diagnosed as the serious bacterial infection C. Difficile. Then just one week later, her mother—a major influence on Notaro's humor—died in an accident. Several months later, doctors diagnosed Notaro with invasive stage II breast cancer.
This series of catastrophic events would leave most people begging for mercy, but not Notaro. Only a few days after being diagnosed with cancer, she performed what would become her most famous stand-up routine to date. After being introduced on stage by fellow comedian Ed Helms (The Hangover, The Office), she grabbed the microphone and opened with, "Good evening, hello. I have cancer. How are you? Is everybody having a good time? Diagnosed with cancer." The claps from the audience quickly fade when they begin to realize she's speaking the truth. But instead of turning the set into an awkward pity-party, Notaro overcomes this with her ability to tell stories—even sad ones—in a genuinely funny way, causing the audience to erupt with laughter and tears at the same time. The set became a viral hit after comedian Louis C.K. tweeted that it was one of the most masterful comedy sets he's ever seen.
For those already aware of this live set (which had a successful album release in 2012), much of Tig's first half can feel a bit repetitive. The documentary uses several audio clips from the set, displaying her words on-screen with simple, yet effective, typography. Doing so makes listening to these segments easier to watch, especially for someone not hearing these clips for the first time. While the documentary provides some additional insights into Notaro's personal life, such as detailing with the frustrations of rebuilding her stand-up routine, the film most benefits those most unfamiliar with Notaro's story.
In Tig's second half, directors Kristina Goolsby and Ashley York follow Notaro as she prepares for her big performance one year after her life-changing set. But these moments start making the documentary feel more like an intrusive reality television program. In a confessional style interview, Notaro reveals her friendship with In a World… co-star Stephanie Allynne has turned into a crush. The crew then tag along with Notaro and Allynne on a few dates, but just when their relationship begins to blossom, they break-up. And that's when the film begins to feel manipulative. It uses carefully edited scenes with emotional background music to force unnecessary drama into the documentary. Given the filmmakers' background in reality television (their credits include Intervention, True Life, and TransGeneration) it's not surprising to find some of those elements here, but they are noticeable enough to make the tone uneven.
Unfortunately, these manufactured moments make Tig's undeniably tragic story less effective, so while Tig shows the strength and determination of a comic dealing with hardships while trying to push her material to new boundaries, the extra drama added to the narrative feels unnecessary given the inherently dramatic nature of her situation. As a comedian, Notaro is a natural storyteller, so the film works best when it allows her to share her own story through intimate interviews and archival footage. But by only offering small bits of what feels like the real Tig, the documentary remains too calculated and close to the surface despite its good intentions.
Tig premieres on Netflix on Friday, July 17.
Tig Movie review