The Ides of March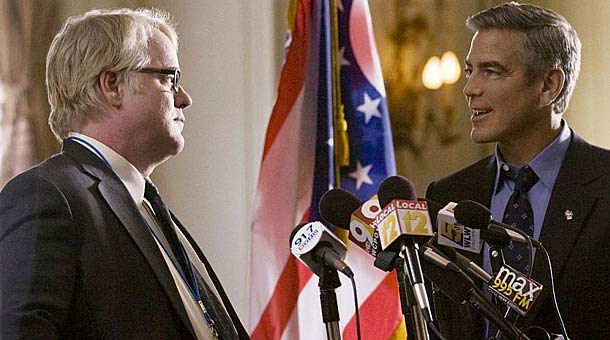 George Clooney directs and stars in his latest film, The Ides of March, which focuses on people involved in American politics and the scandals that often come with them. The film also shows how people evolve in politics from a passionate driven nobody who legitimately believes in what they are doing to a position climber who only cares about gaining power. These are all things most already know so you are not likely to walk away with anything new but thanks to the excellent cast giving strong performances it is not a deal breaker.
It is one week from the Ohio Democratic primary, which is one of the most important primaries because normally it puts the winner in a position to win the party and thus in the running for president in the general election. Mike Morris (George Clooney) is a Democrat governor who is looking to win this primary. Along his sides are his senior campaign manager Paul Zara (Philip Seymour Hoffman) and his press secretary Stephen Meyers (Ryan Gosling).
An example of how brilliant Stephen is, he comes up with a plan that would mandate 18 year olds to do 2 years of service of some kind whether that be in the army or the Peace Corps and in return their college will be paid for. They know that is a bold plan to announce but they also know the voting demographic will be for it since it does not affect them and the age group it does affect is too young to even vote.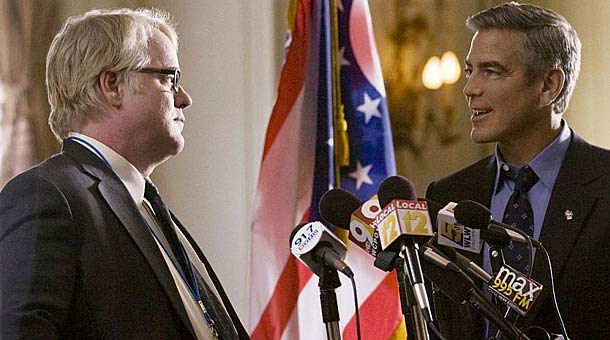 Stephen makes the mistake of agreeing to meet with Tom Duffy (Paul Giamatti), who is the running mates campaign manager. Tom tries to lure Stephen into jump ship from his current position and work for his guy Senator Pullman. Stephen declines and that is when Tom lets him know that the race is much closer than he thinks. Tom informs him that they are in position to capture North Carolina's delegates from a deal with the governor.
Stephen lets his team know of the situation and Paul comes up with a plan. Walk away from Ohio immediately and take a loss and head over to North Carolina to offer the governor a higher position if Morris is elected for his endorsement vote. Morris does not go for it and decides to stick it out in Ohio.
Meanwhile, a young intern named Molly Stearns (Evan Rachel Wood) takes interest in Stephen. They meet up outside of work where it is admitted that she has wanted him for some time now. He knows that they must keep this a secret but what he does not know is that he will soon discover a secret that could end the campaign in a heartbeat.
The ensemble cast is comprised of a collection of well-seasoned actors and actresses. A group that you would expect great performances from and they fulfill those expectations. With a cast of; George Clooney, Ryan Gosling, Philip Seymour Hoffman, Paul Giamatti, Evan Rachel Wood and Marisa Tomei, you just cannot go wrong in terms of performance.
Although the entire cast was great, the obvious stand out was Gosling. Watching his character development was my favorite quality of the film. You see Stephen changed from a guy who just wanted to win the polls to a guy that just wanted to get ahead in power.
If there is one thing you take away from The Ides of March it is that all politicians are dirty, even the ones you think are the good guys. Scandals are just the nature of being in politics, being under the microscope on everything you say and do does not help. It is nothing that most people did not already know which is why the storyline is fairly compelling but ultimately one that is not hard to predict how the scene would end once it had started.
The Ides of March Movie review