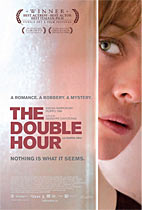 The Double Hour
By far the neatest part of the film happens 1 hour 1 minute in when a huge twist is shown, right on a double hour.
Some call The Double Hour a foreign art house thriller while I would lean slightly more toward film nior, maybe it's all of the above. I saw glimpses of Tell No One in this heart pounding Italian thriller from all of the twists and turns in the plot. One thing is for certain, the film begs to be watched more than once.
We first witness Sonia Bechis (Kseniya Rappoport) at work as a chambermaid cleaning a hotel room of a young woman. She announces to the person she will start first on the bathroom. It is only a few minutes later that Sonia hears a thud from the other room. Upon checking out the noise, she discovers that the woman has jumped to her death out the window.
Sonia seeks companionship through the means of speed dating. Her luck does not seem to be going her way, she has not found an interesting guy yet and she is on her last round. That is when she meets Guido (Filippo Timi), a seemingly polite gentleman who you can tell is not like the others. Unfortunately, time runs out before they really get a chance to talk much.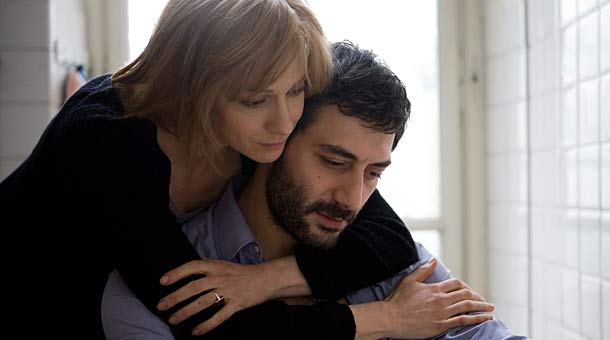 But coincidence takes over when the two run into each other as they are leaving. Guido is very forward with her by inviting her over to his place but she must turn it down as she works early tomorrow. After glancing at his watch, he notices it is 23:23, a double hour from which the title of the film comes from. He explains a double hour is much like a shooting star, you are granted a wish on it. The wish must have come true because it then cuts to the two of them having sex together.
As a romantic relationship forms we start to find out more about Guido. Like the fact he is an ex-cop. However, when asked what happened that that career he is short and vague by replying, "Nothing." Perhaps he has something to hide? Or maybe the somewhat recent death of his wife has something to do with it?
Guido ends up taking Sonia to the large estate he currently looks after as a watchman/security guard. Behind the property is a vast forest in which he takes her out on a walk to. On their hike together he seems very paranoid and suspicious, he is constantly looking around him. As the two find a place to rest, they lean in to kiss when a man in a ski mask suddenly appears with a gun.
The two get tied up as a small gang steal artwork and other expensive valuables from the house. Once the criminals have everything they wanted, one of them goes back in to make sexual advances toward Sonia. That is when Guido lunges at the man with the gun but ends up getting shot and killed.
Just as the tagline of the movie states, "Nothing is what it seems", the film weaves you back and forth between what happens and what you think happens. Describing any details beyond this point would be a disservice. It is precisely what makes this film so entertaining.
Both characters find happiness when together, a much needed break from depression that filled their lives before. Both characters have a sketchy past and damaged souls, a perfect match for each other. They are both as innocent looking as they are passionate.
Both the leads, Rappoport and Timi, were tremendous in their roles. You are led to believe that they both have something to hide, the actors did a great job of selling it. Their chemistry together seemed to be exactly what the director was going for, a strong connection but something is slightly off. Rappoport and Timi were rewarded with Best Actress and Best Actor awards respectfully at the Venice Film Festival in 2009.
The Double Hour is filled with enough twists that a few holes arise but not enough for it to ruin the point of the film. Director Giuseppe Capotondi mixes in a little bit of everything in the film, a romance, crime mystery, and even some haunting scenes. By far the neatest part of the film happens 1 hour 1 minute in when a huge twist is shown, right on a double hour. An amazing and thoughtful touch.