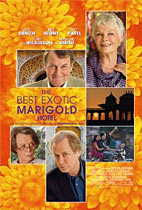 The Best Exotic Marigold Hotel
It is easy to see why it is a hit for the targeted audience but it falls short of something spectacular.
The Best Exotic Marigold Hotel is a film about adapting to new circumstances and learning to trust from the most unexpected places. Converted into a screenplay by Ol Parker based on the novel These Foolish Things by Deborah Moggach, comes a film about elderly British citizens who are about to embark on journey that will expand their horizons.
Each with their own reason, a several British senior citizens decide to spend some of their retirement time in India. We are introduced to each of them separately because they do not yet know one other. However, together they sit next to one another in the airport as they await their flight to India. The one thing most of them share in common is that they all seem to have some level of racism.
Evelyn (Judi Dench) is going in hopes to start her life over. Graham (Tom Wilkinson) is going back to resolve an issue he had there from his youth. Couple Douglas (Bill Nighy) and Jean (Penelope Wilton) are looking to save money after losing much of their retirement savings. Muriel (Maggie Smith) is on an experimental medical program where surgery takes place in India. Norman (Ronald Pickup) is a on the prowl to pick up woman (preferably half his age) to feel young again and Madge (Celia Imrie) is seeking a rich man to take care of her.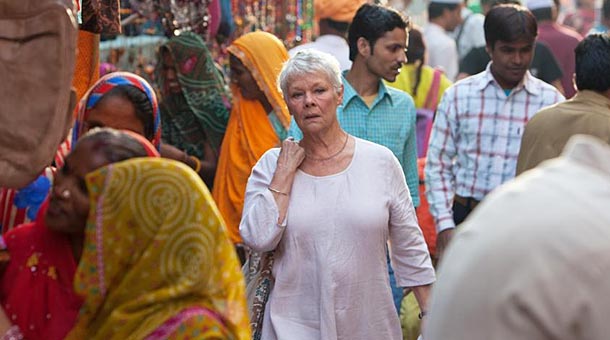 When they arrive at the hotel it is suddenly apparent that the advertisements for The Best Exotic Marigold Hotel were a little misleading. It was promised to be a beautiful luxurious hotel when in reality it is a major work-in-progress that is infested with cockroaches and birds. The owner of the hotel is the kind and ambitious young entrepreneur Sonny (Dev Patel) who inherited the failing hotel from his father.
Most of the group is completely overwhelmed by the vast amount of people and how difficult the culture is in India. One describes it like a wave; only if you resist it will it knock you over. While other struggle in various amounts, the exception in the group is Graham. He is confident and understanding of the culture because he grew up there.
While the whole cast is noteworthy, Judi Dench and Tom Wilkinson steal the show. Both deliver performances that are charming. Though the purpose of Dev Patel's character tries to play the jack of all trades but focuses on comic relief he comes off as over-the-top.
Director John Madden not only received a lot of help from the cast but also the location of the film. Lots of vibrant and contrasting colors pop off the screen to represent India. Overcrowded streets with tiny vehicles zooming by also helps surround the viewer in the exotic setting. The Best Exotic Marigold Hotel is simply gorgeous to look at.
The Best Exotic Marigold Hotel does not do much heavy-lifting but rather lets the veteran cast carry the film. It is an incredibly easy film to watch because it is mostly cheerful and uplifting. But it is also very safe so it plays out just exactly how you would expect it to. For these reasons it is easy to see why it is a hit for the targeted audience but it falls short of something spectacular.