St. Vincent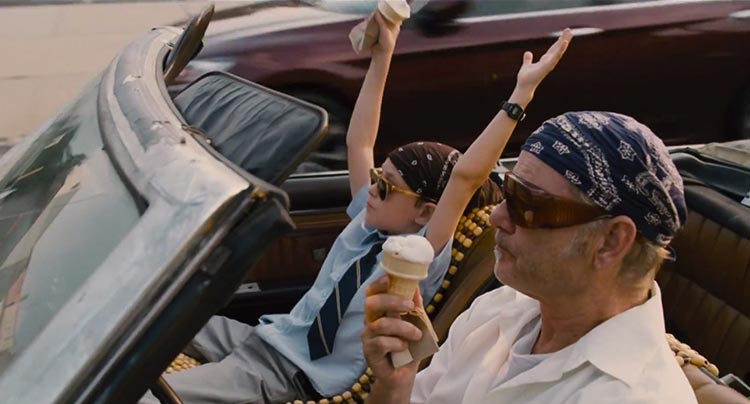 Bill Murray takes the grumpy old man meets clever kid scenario to new heights.
Bill Murray as a sourpuss isn't a stretch. He has played unlikeable to absolute likability on many occasions, especially as the grand master curmudgeon Scrooge in Scrooged and as the primadonna news anchor in Groundhog Day. Using him in older age as the prosaic "Grumpy Old Man" seems a natural progression. So here he is in writer-director Theodore Melfi's newest film St. Vincent and it would be easy to write the film off for its somewhat uninspired lead casting and its familiar storyline. But strangely what makes St. Vincent work isn't the believability of Bill Murray in the role based on past work, or that he brings any of his usual sensitivity to the role, it's that for once, he doesn't. He keeps up his coarseness throughout the entire film, and strangely, it works.
In the film, Murray is Vincent, a Brooklyn native living alone, spending his days gambling, drinking, dodging those he owes money, and shacking up with Daka (Naomi Watts), the pregnant Russian prostitute who counts as his only friend. Disturbing his usual routine is Oliver (Jaeden Lieberher), the new kid next door, whose single mother Maggie (Melissa McCarthy) is at her wits end trying to provide for her and her son while dealing with her ex's custody battle. After bullies at school steal his house keys, Oliver spends an afternoon with Vincent and an unlikely babysitting situation emerges. Vincent needs money, Maggie needs childcare, it all works out. Except of course that Vincent isn't exactly babysitter material. His idea of supervising Oliver includes trips to the race track, threatening Oliver's bullies, visiting his alzheimer-stricken wife in her convalescent home, and hanging out in his favorite bar.
At first glance the film's eventual plot conclusion seems a given. In these situations an emotional transformation seems inevitable. And while the incredibly clever Oliver does end up seeing the good in Vincent, deciding to feature him in a school project around finding everyday saints, the film focuses more on forgiveness and modern patchwork family formation than personal growth. Lieberher and Murray's chemistry sells it. It would be easy to focus on Murray's performance as the impetus for the film working, but Lieberher plays Oliver as more than just a sorry sort of kid, infusing him with real empathy and cleverness.
McCarthy's usual rambling gimmick is put to best use here, for once giving her a chance to do so with the emotional realism of a frazzled mother. Chris O'Dowd is maybe a bit obvious in his part as a progressive Catholic school teacher, but as always he picks up the humor and adds his own indelible touch to it. In fact so many enjoyable characters really throw into light the one that just doesn't work, which is Naomi Watts' Daka. Whether or not making her Russian was deliberate in order to make her dimwittedness seem more excusable, or worse, a cheap joke poking fun at Russian accents, Daka stands out like a sore thumb as unoriginal and unfunny. I'd prefer not to blame Watts, and instead blame Melfi, but she owns the role and plays it up. It's certainly part of why St. Vincent isn't spotless.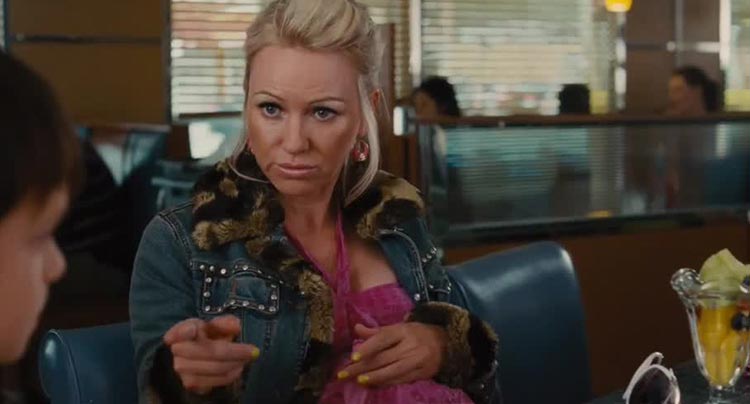 Because the script is based on many of his own personal experiences and people he's known, it seems harsh to pinpoint Melfi's plot holes (for one, he successfully uses a health setback to throw off the story, but then makes too light of the reality of recovering from such an ordeal), but they do exist. Terrence Howard has a small but substantial role as a loan shark lackey trying to collect from Vincent, but there's no clear resolution on his story thread. Vincent's inevitable super-grump moment seems a little out of step in the film's storyline. Some sharper editing might have helped there.
All in all, St. Vincent is everything you do expect, and a few things you don't. Murray does this particular role quite well (why else would he have done two Garfield movies if a grumpy cat wasn't relatable to him?) and he pushes the film beyond the obvious. The emotional climax isn't as hard-hitting as it could be, but audiences will enjoy St. Vincent for its humor and performances, not for any depth Melfi may have been hopeful to convey. And to be honest, who needs another sappy tale of late-life redemption? I'd rather watch Murray be crotchety from beginning to end.
St. Vincent Movie review