Spare Parts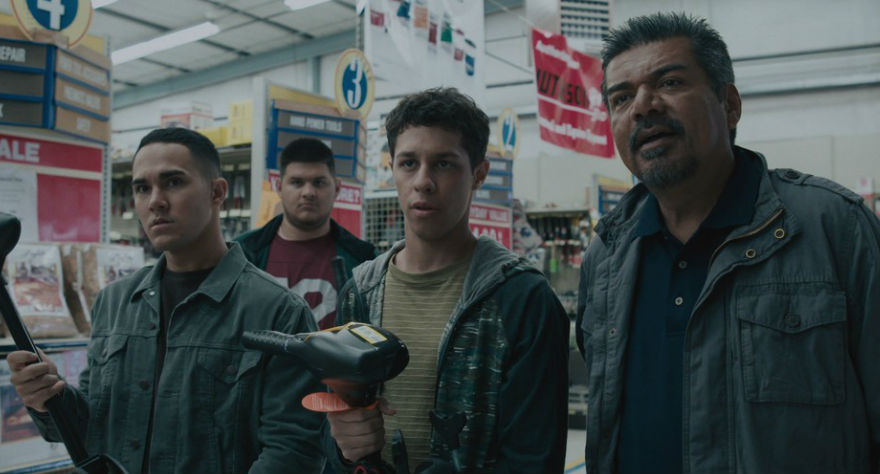 A perpetually underwhelming underdog sports movie that doesn't do the true story justice.
Spare Parts follows four Hispanic high school students (three undocumented) from Carl Hayden Community High School in Phoenix, Arizona who in 2004 entered an underwater robotic competition and bested some of the best colleges in the country (including former champions MIT), winning first place with a robot made of PVC pipe and cheap car parts. It's an incredible, classic underdog story, and you'd think transferring it to the big screen would be a lay-up. Sadly, that's not the case here.
There are two ways to make a movie like this: you can make an artful interpretation of the true story that elevates it and provides new insight, or you can make a clichéd, basic movie and hope the true story's built-in drama carries you through to the other side. Unfortunately, director Sean McNamara chose the latter route. Though some of its elements are very good, Spare Parts is a mostly adequate, formulaic team-building movie where every single scene and line feels overly familiar, as if you'd seen them before in another feel-good kids movie. (That's probably because McNamara is best known for directing Disney Channel movies like The Suite Life Movie and The Even Stevens Movie, though I don't hold that against him.)
The film's script, penned by Elissa Matsueda, uses a wonderful 2005 Wired article written by Joshua Davis as a guideline and is anchored by George Lopez, who plays the boys' mentor and instructor, Fredi Cameron (a composite of the boys' two real-life coaches). After quitting his longtime job as an engineer (for troubling reasons later revealed), he comes to Carl Hayden in hopes of landing substitute teacher position. He's met by the school's no-nonsense principal (an overblown Jamie Lee Curtis), who gives him the gig because the school is in desperate need of teachers.
Oscar Vazquez (Carlos PenaVega) is a straight-laced pretty boy whose dreams of joining the Army are shattered when his undocumented status prohibits him from enlisting. Determined to apply his talents in another arena, he finds information about the underwater robotics competition and convinces Fredi to be their supervisor, provided he can put together a team of kids. He recruits Cristian Arcega (David Del Rio), a nerdy, brilliant engineer; Lorenzo Santillan (Jose Julian), a talented, sorta slimy mechanic; and Luis Arranda (Oscar Guitirrez), a big kid who can…lift heavy stuff (that's literally the only reason he's on the team).
The characters are so archetypal that even the marketing for the movie acknowledges it (there's a promotional picture of Cristian fiddling with electronics with "THE BRAIN" written underneath him in big, heroic letters). Each kid has drama to deal with at home (except Luis–he just doesn't want to be pigeonholed as the "big dumb guy"), and they all don't get along at first, but eventually they learn to work together and…need I go on? You know all the moves. If you've seen The Mighty Ducks, or any underdog sports movies of the same ilk, Spare Parts is going to be déjà vu all over the place.
Lopez is an underrated, versatile actor and keeps the film alive with his sharp humor and earnest delivery. He has great chemistry with the boys, though doesn't gel quite as well with Curtis or Marisa Tomei, who plays a fellow teacher he has a soft romance with. He's excellent in an intense scene where he's forced to intervene in Lorenzo's home life and confront his abusive father (Esai Morales), and he's even better in a later scene in which he reveals to Tomei's character the real reason he quit his job. The younger actors do fine with what they're given, but what they're given is run-of-the-mill, so none of them stand out. They're best in scenes with no dialogue, where we see them just hanging out and bouncing around on hotel beds, being boys. Alexa PenaVega (who just recently married co-star Carlos PenaVega and combined their last names to make a last-name baby) plays Oscar's girlfriend, Karla, who vows to stick by her man, threat of deportation be damned. She's a fine actor, but again, the script fails her.
The final act of the film is its most successful. Watching the team show up to the competition with their DIY robot (they call him "stinky") and outperform the college kids (and MIT's super-expensive robot) is a treat. Each team has to navigate their robot through an underwater obstacle course to perform difficult tasks like measuring wall-to-wall distance and extracting liquid from a container (without contaminating it with pool water), and it's a lot of fun to watch (Lopez's reactions are hilarious). Spare Parts will likely be a crowd-pleaser, especially to those familiar with the story, but those expecting something new to be brought to the table are out of luck. The real story is unbelievably inspirational, but McNamara's film doesn't come close to capturing that same magic.
Spare Parts Movie review