Sick Birds Die Easy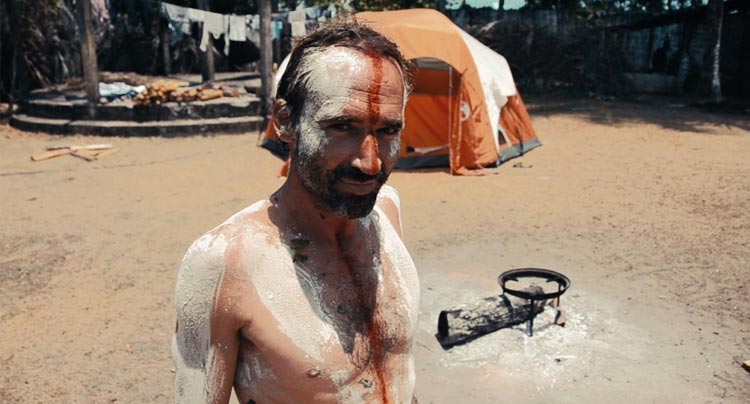 An absolute trip in every sense of the word.
If you spent the better part of the 00s listening the emo/indie bands on the Saddle Creek record label (Bright Eyes, The Faint, Cursive, Maria Taylor) like I have, there is a good chance you have seen the work of Nik Fackler before. Fackler began his filmmaking career by making music videos for those bands and is currently in an amazing Omaha based band called Icky Blossoms (seriously, check them out). Back in 2008 he made his screenwriting and directorial feature film debut with Lovely, Still, which earned him an Independent Spirit award nomination. Strange does not begin to sum up his recent film, Sick Birds Die Easy, which is part docufiction, part social experiment, and utterly insane as a group of friends explore their understanding of reality in the jungles of Africa…on acid.
Sick Birds Die Easy begins by informing the audience about an insanely powerful psychedelic plant called Iboga, which many believe to be an ancient miracle plant that can actually cure drug addiction. This plant produces a three daylong dreamlike state of enlightenment that is accompanied with nausea and frequent vomiting, with the purpose of cleansing your body both physically and spiritually. You may be asking why you have never heard of this miracle plant considering its powers. That is likely because Iboga was deemed illegal in the U.S. back in 60s because in the eyes of the law it is placed under the same categorization as LSD.
The only place on earth where Iboga grows is in the juggles of Gabon, Africa, so naturally that is exactly where Fackler and his "fucked up" friends go. And fucked up they are. One of the friends he brings along is a crazy conspiracy theorist named Ross, who is eager to share his beliefs about how vegetables came from aliens and the health benefits of consuming your own urine. Ross becomes the main focus of the documentary because of his outlandish opinions, but also his dependence on drugs. Fackler's other friend, Sam, is a drunken musician who lives off his parent's trust fund. Together they all go on an epic acid fueled journey into the juggles of Africa. What could possibly go wrong?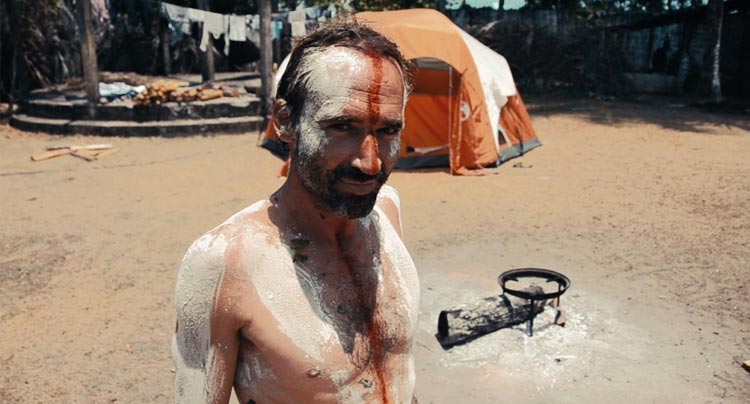 At about the halfway mark, the documentary begins to feel somewhat like The Blair Witch Project. One of their tour guides splits shortly after venturing into the jungle and the other becomes suddenly ill and dies the next morning. Everyone freaks out about being lost and why the crew insists on filming still. Furthermore, most of this segment is captured on a shaky handheld camera. Just like The Blair Witch Project, the documentary discreetly blends scripted outcomes with natural looking situations.
The director admits that the finished product you see in Sick Birds Die Easy is not one that Fackler set out to make. Presumably, the social experiment went awry at some point, most likely from all the drugs involved. But instead of giving up on the documentary he altered the blueprint of the production. And to be honest, it probably worked in his favor. Fackler's calm, soft-spoken voiceovers offer philosophical enlightenment that brilliantly juxtaposes the absurdity that is captured on screen. Just like its drugged up subjects, the documentary begins to show fatigue near the end, but that does not diminish the wild and hilarious journey that comes before it. Sick Birds Die Easy is an absolute trip in every sense of the word.
Sick Birds Die Easy trailer
Sick Birds Die Easy Movie review