Nobody Else But You
The thing that hurt it the most was almost everything seemed too coincidental making it hard to believe what is taking place was real and not so illusive.
Nobody Else But You is a light neo-noir French thriller about a celebrity model that hides behind her famous figure in public while her personal life is crumbing around her. Her sudden death inspires a writer to become a detective to try to solve the murder mystery. Aside from the dialog and the plentiful use of male nudity, the film felt more American than it did French.
David Rosseau (Jean-Paul Rouve) is a writer that is under a contract with a publisher but has yet to write anything. In fact, he does not even have a title for the novel yet. On his way to redeem what was left for him in a will, he visits small town called Mouthe, which borders France and Switzerland. It is widely considered to be "no man's land", where the snow fall hard enough to cause the TV signal to go out and the lights to flicker. While driving through he notices local policemen on the side of a road. As he passes by them he notices a stretch with a sheet covering someone, all that you see is bright blonde hair.
Sure enough, on the news the next morning there is a report that a famous model named Martine Langevin (Sophie Quinton) has passed away. They report that the woman made famous from the cheese commercials had passed away with sleeping pills nearby and that the case was closed. David suddenly gets inspired and has his story.
It is quite obvious that being a detective is a career that David should have chosen to do. The first thing he does after hearing the news is to find out more about Martine's death. David investigates the area she was found dead in, breaks into where she lived, and even shows up at the morgue to examine her. He does all of this before we see him do any writing. For being a novel writer he sure has a knack for detective work.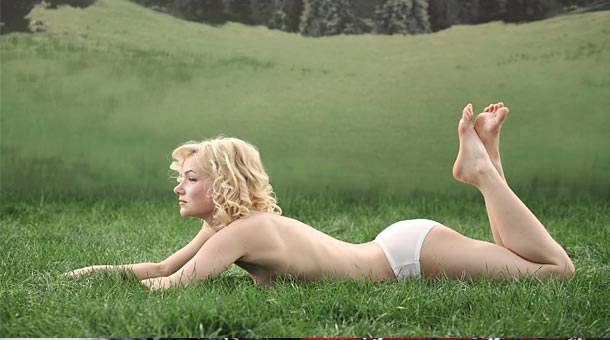 I question whether or not he being a writer was really needed. Sure, there are some parts of the film that do reference the fact he was a writer and that she liked his novels but it felt like more of an afterthought than a crucial plot point. With how good he is at playing detective, I feel like he chose the wrong career path.
He becomes increasingly frustrated that the authorities are considering the case closed so quickly. So much so that he begins to suspect that there is something they are covering up. Eventually there is one brave police officer that shares his suspicions and is willing to investigate the case with him.
She hides behind her celebrity face, often referring herself as an alter ego. In days near hear death her love for Marilyn Monroe becomes very apparent. She aspires to be her. They were born on the same date. Both were adored by everyone who laid eyes on them, yet were both depressed on the inside. Not to mention the obvious fact that they are both blonde and celebrity bombshells.
The number 5 makes frequent appearances in the film, if you look closely you can catch them. I first noticed the number 5 as a magnet on Martine's refrigerator. Then as she describes her dream to her psychiatrist you see her walking through a door with the number 5 on it. It is seen on a record that is spinning (at her funeral of all places). I am not sure I caught the significance of the number but director Gérald Hustache-Mathieu wanted it show up a lot.
My favorite aspect of the film was the cinematography done by Pierre Cottereau. Wide shots of snow falling in vast open areas really played in nicely with the mood of the film. I found myself admiring the camera work more than once.
If I had to point out the biggest flaw in the film, it would be the writing. Which is ironic since the main character in the film is a writer. But the storyline felt like it was on a straight path with not much for turns or twists.
Many have stated that the film is similar to that of Fargo, but aside from the similar weather I fail to see that connection. I would say it has more of a Pedro Almodóvar vibe to it. A well shot mystery with a series of flashbacks and some (albeit small) turns.
Even though Nobody Else But You may have been a little light in the plot department, the film is very watchable thanks to the fine acting and good camera work. Although the film is largely a murder mystery, it combines the right amount of dark comedy into the mix. The thing that hurt it the most was almost everything seemed too coincidental making it hard to believe what is taking place was real and not so illusive.