Miss Violence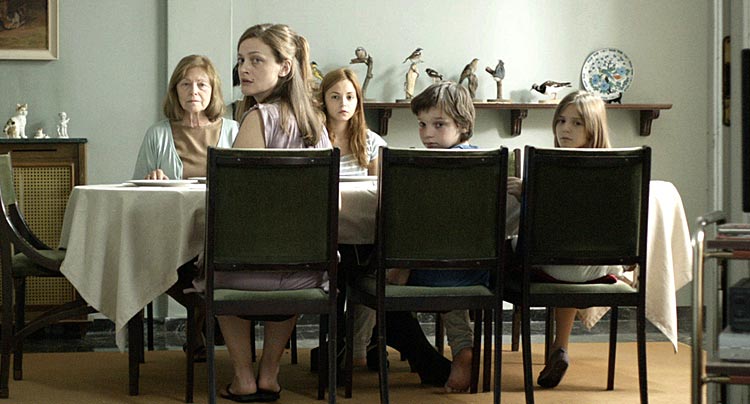 Deserves credit for pushing boundaries, regardless if those boundaries actually needed to be explored or not.
The term Greek New Wave (sometimes called Weird Wave) has been floating around ever since Giorgos Lanthimos's Dogtooth screened at Cannes in 2009. The film instantly won over critics with its unique and absurd style, winning the Un Certain Regard and even an Oscar nomination. Since then there has been a few other notable Greek films including Attenberg, Alps (also by Lanthimos), and L. Being a big fan of this recent movement, I became excited to learn of a new arrival from Alexandros Avranas called Miss Violence. This sophomore effort from the young director earned him a Best Director award during its premiere at the Venice Film Festival last year. Miss Violence is every bit as controversial as the previously mentioned films, however, the impact doesn't stay with you for near as long. Even still, Avranas shows that he is a director worth keeping an eye on in the expanding pool of talented Greek filmmakers.
At first glance, nothing seems out of the ordinary about the Greek family celebrating the 11th birthday of their young daughter Angeliki (Chloe Bolota). But after just a few minutes it becomes noticeable how dysfunctional they really are. Angeliki barely cracks a smile when her family presents a cake to her and sings Happy Birthday. As soon as her family isn't paying attention, she heads to the balcony, looks directly into the camera with a big smile on her face, then leaps to her death. Adding to the strangeness, her family reacts as if they're not surprised or even concerned with what just took place. It's one hell of a bizarre opening sequence.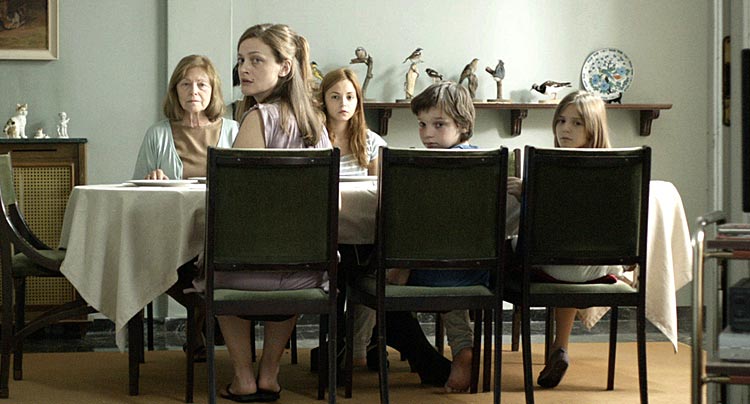 Compared to the first five minutes, the rest of Miss Violence is considerably slower. This is due to deliberate pacing by Avranas who gradually reveals the family's secrets over the next 90 minutes. When the Child Projection service shows up after the so-called "accident", the middle-aged patriarch (Themis Panou) turns suspiciously shifty. Little by little it becomes clear why he acts this way—the first clue appears during his daughter Eleni's (Eleni Roussinou) gynecologist visit where the doctor mistakes him to be her husband.
When the truth is eventually revealed, it's essentially confirming what was suspected (and feared) all along. Therefore the conclusion, as appalling as it is, comes as no surprise due to the heavy hinting throughout. While there's no doubt that the findings are downright disturbing, the impact gets reduced a bit because Miss Violence doesn't hide the fact it's aiming for shock value with its exploitation. Granted, you'll likely find yourself shaking your fist at the screen by the time the credits roll, the payoff doesn't feel earned. On the other hand, when the characters look into the camera it's almost as if they are crying out for help directly at us. There's an eerie sense of self-awareness that the film uses wisely, even when it's manipulating our emotions.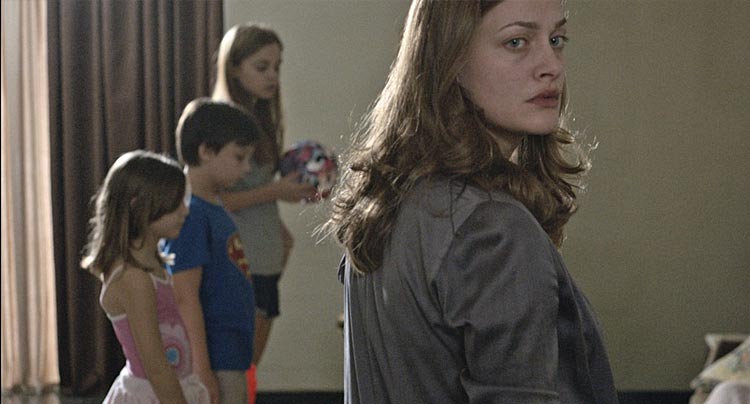 Avranas adopts many of the aesthetics found in other films that have come out of Greece recently. Because the film centers around a dysfunctional family, Dogtooth in particular comes to mind. Miss Violence uses more camera movement though, especially during a scene involving child punishment when the camera spins in cricles around the characters. But the framing is just as tight and calculated as Dogtooth, Alps, and L. Also, Miss Violence incorporates a similar washed out color palette, perhaps depicting the bleak outlook of these characters or even the looming economic collapse of Greece.
If daring cinema is what you're after then Miss Violence delivers. Though don't be thrown off by the title of the film, violence isn't the main offender here, it's the sexual and psychological exploitation that will churn stomachs and generate heated conversations. Avranas follows in the footsteps of fellow Greek filmmakers by delivering a grim and highly disturbing piece of cinema. While Miss Violence falls a little short when compared to other Greek New Wave cinema, the film deserves some credit for pushing boundaries, regardless if those boundaries actually needed to be explored or not.
Miss Violence Movie review