Miss Bala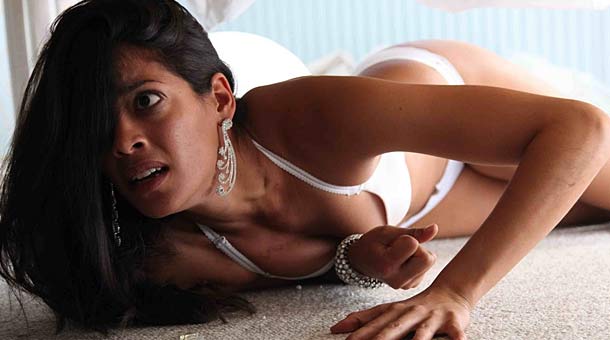 Despite some flaws in some areas, the technical production of the film was done wonderfully.
Miss Bala is Spanish film about how much corruption the Mexican drug wars have. The storyline is engaging the whole time even though there are times it drags a little. Miss Bala was Mexico's official submission for the Best Foreign Language Film for the 84th Academy Awards, however, it failed to make the shortlist of films selected as nominees. Despite some flaws in some areas, the technical production of the film was done wonderfully.
Laura Guerrero (Stephanie Sigman) is a 23 year old who wants to be part of a beauty pageant called Miss Baja. She is from a small town near Tijuana and lives with her father and younger brother. We do not really know what her relationship is with her father but we know that her little brother means a lot to her. He is always willing to cover for Laura when she sneaks out to compete in the pageant.
Laura and her friend Suzu were hoping to better their chances of being recruited for the pageant by going to a party at a nightclub. Laura knew something did not feel right at the nightclub though. Moments later a few men with guns burst into the club and begin shooting. She was able to escape as others around here were not so fortunate. She is barely relieved when she makes it out because she knows that Suzu may not have.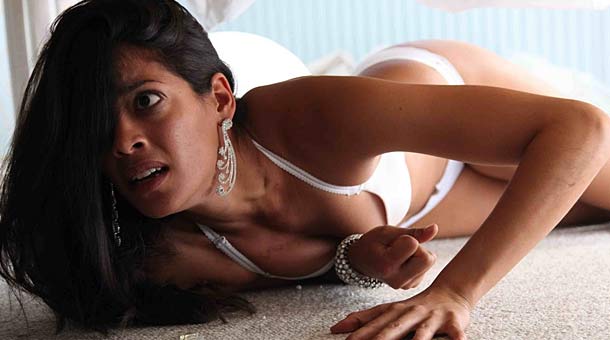 The next day she asks if a police man on the street if he could help her find out of her friend survived the accident or not. He instructs her to hop in the car as makes a call into dispatch over his radio. Strangely, the next call he gets is on his cell phone. He pulls over to the side of the road and tells her that he is going inside to pick up his lunch. Then all of a sudden some people drag her out of the police car and throw her into a van.
It turns out that the people that took her in are part of an organized crime gang. They tell her they will help her find her friend and get her into the beauty pageant if she helps them out with some favors of their own. She complies as if she had much of a choice. Just like that they get her into the pageant.
She does what is commanded of her but just like anyone in her position would do, she does attempt to flee on a few occasions. However, they are unsuccessful and only seem to make matters worse. The gang invades her family's home to blackmail her into being their pawn for smuggling money and other illegal activities.
The best quality in Miss Bala was it's ability to tell the story with conviction even though there are a few times her luck seemed too unfortunate to believe. Most of the credit for that has to go to director/co-writer Gerardo Naranjo. Stephanie Sigman shines bright in the lead role of the dark thriller. Even though her character felt too passive throughout the film, she gave up on finding her friend, does not put up much of a fight, etc., the acting made up for it.
As good as the camera work and acting was in Miss Bala, the timing of the film felt a little off. The beginning of the film felt rushed into the plot. We are introduced to Laura and instantly she wants to be part of a beauty pageant but we are left guessing at her background. You eventually come to empathize with her character but it seemed long overdue by the time you do.
Miss Bala Movie review