Lovelace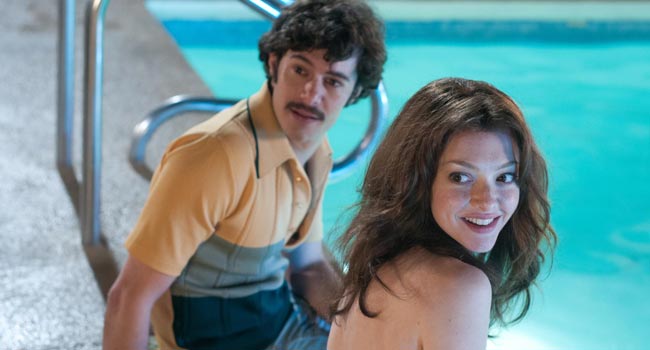 Lovelace attempts to produce laughs, chills, and entertainment, but fails to deliver any of those qualities.
Co-directors Rob Epstein and Jeffrey Friedman bring the story of Linda Lovelace, a celebrity in the adult entertainment industry, to the very screen that brought her fame into mainstream culture from her seductive role in Deep Throat. Lovelace was made for half of the amount that Deep Throat was made for back in 1972 (not including adjustment for inflation) with seemingly a quarter of the amount of inspiration. The film attempts to produce laughs, chills, and entertainment, but fails to deliver any of those qualities.
One of the first things you are likely to notice about Lovelace are the aesthetics of the film; a high contrasting warm color palette shot on grainy film stock against a rocking soundtrack helps recreate the time period. Beginning in 1970, Linda Lovelace is (Amanda Seyfried) tanning and talking about her sex life (or more accurately the lack thereof) with her best friend Patsy (Juno Temple) in the backyard of her parents' house. The Virgin Mary statue in the front yard serves as a symbol of her conservative upbringing and a nice contrast to what is about to unfold.
Linda is swept off her feet by an older man named Chuck Traynor (Peter Sarsgaard)—a topless bar owner who views Linda not only as girlfriend but a potential worker. The film skips ahead, something that happens quite frequently, to the two living together in New York, where Traynor's abusive and manipulative side begins to show. One of the best scenes of the film is when Traynor decides to exploit her oral sex skills in an upcoming production of a pornography film aptly titled Deep Throat (which ends up being a massive box office hit). Linda's naïve personality is put on display when a makeup artist discovers bruises on her legs that Linda passes off as just being clumsy—an obvious lie that fools nobody.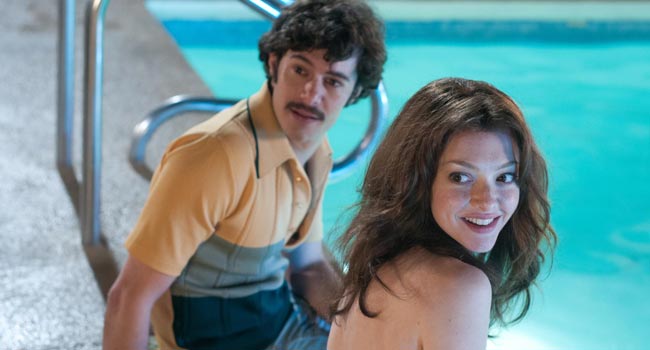 The closing credits inform us that Linda spent twenty years speaking out against domestic violence and the pornography industry—the film only captures the former while practically skipping the latter. Even though Lovelace does not glorify the porn industry, it does not exactly condemn it either. With all the attention on the domestic violence Linda endures, the adult-film industry is portrayed much tamer than one would think.
Inconsistency plagues the film more than anything else. While most of the scenes play out with so much exaggerated drama that it feels like it was made for the Lifetime Channel, others are chock-full of campy sex jokes that lighten the mood too much. This combination not only made the tone of the film unclear, but also much less effective when it attempts to have an emotional impact on the audience later on.
Despite setbacks in other areas of the film, the acting performances found in Lovelace are top notch; aside from the surprisingly unconvincing James Franco as Hugh Hefner. Amanda Seyfried takes on the daring role as wide-eyed innocent girl turned porn star in perfect stride. Peter Sarsgaard handles the duality required of the role flawlessly; going from charming in one scene to terrifying in the next. Even the smaller roles from Sharon Stone, Robert Patrick, and Bobby Cannavale are equally as good.
Lovelace is a story that is practically served on a silver platter considering it is a real-life story of an ordinary woman turned overnight adult-film star, who eventually speaks out against a brutal and abusive relationship with her manager and pornography industry, yet somehow this biopic manages to be both unexciting and unemotional. On top of that, Lovelace never ventures below the surface of the story that most people are vaguely familiar with already. Credit the cast for going well beyond the material they were given, without their performances the film would be a complete catastrophe.
Lovelace trailer:
Lovelace Movie review