In Secret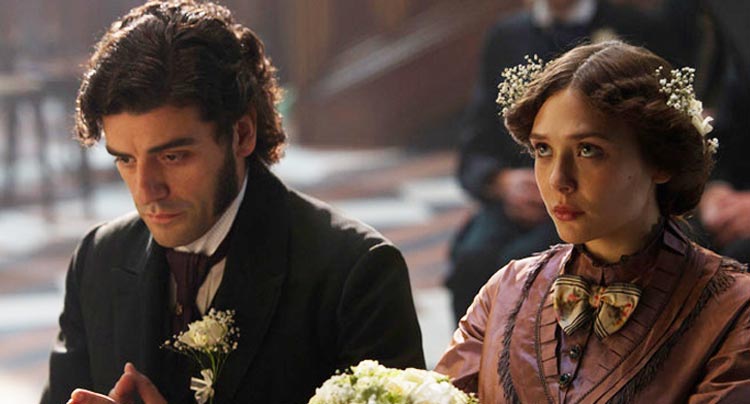 Strong performances and beautiful imagery just can't hold together what is essentially a bleak tale of two lovers.
Émile Zola's definitive novel Thérèse Raquin has been translated to screen and stage too many times to count. Perhaps because it's the definitive tale of forbidden lust gone way, way wrong. Though nobody recently has done as straightforward a rendition as first time feature filmmaker Charlie Stratton attempts with In Secret. Using an overqualified cast, he attempts to breathe new life to this gritty tale of the Parisian lower class in the late 19th century, but not even his actors can make up for what is essentially a staging of life's worst case scenarios played out by beautiful people.
Émile Zola is considered one of the authoritative writers in the literary realm of naturalism, the focus of which is natural behavior and speech and which goes against any kind of romanticism. In Secret is certainly at times murky, even vulgar with it's scenery of low-class life in 19th century Paris, but it seems to be trying so hard to be "natural" that it ends up being incredibly depressing. Each scene building on the next as a study in "what else can go wrong?"
Elizabeth Olsen (Martha Marcy May Marlene, Silent House) plays Thérèse Raquin, an orphaned girl left by her father to be brought up by her aunt Madame Raquin, played by the ever-fantastic Jessica Lange. Madame Raquin lives in the French countryside with her sickly son Camille (Tom Felton of Harry Potter fame) and when they are of age, Thérèse finds herself engaged and then quickly married to her childhood friend without much say in the matter. Camille decides he wants to pursue a job in Paris and moves his family to the city where his mother opens a dress shop. Thérèse is confined to a loveless life of dull monotony until Camille brings home a friend from work that he also knew from childhood, Laurent (Inside Llewyn Davis's Oscar Isaac).
Never was there a brooding artistic Parisian who couldn't sweep a sexually deprived orphan off her feet. Before rhyme or reason could ever put in a word, they've delved into an illicit love affair and are soon plotting the only foreseeable way to be with one another: Camille's untimely demise. Of course, as a naturalistic tale, they couldn't possibly find happiness in their actions and the act that soon frees them to love one another starts to wilt their obsessive love.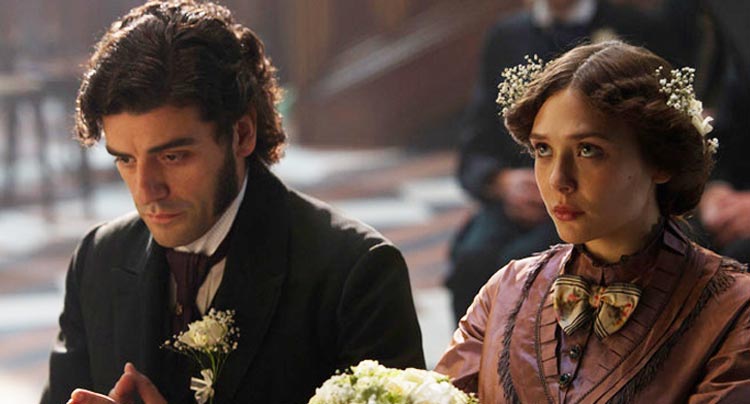 Elizabeth Olsen is well cast, and even pulls off a convincing British accent (forgetting of course that the story takes place in Paris). Her bright eyes and rounded mouth make her almost too romantic for what Zola undoubtedly meant to be a realistic sort of woman. She is always engaging to watch, however, and her descent into love-induced madness is well performed. Naturally, there aren't many who could outshine Jessica Lange. Her take on the selfish and pampering Madame Raquin, especially as she grieves for her perfect son and then befalls an even greater personal tragedy, is pure Oscar material and reminded me greatly of her multi-dimensional role in American Horror Story: Asylum. It seems tragic that the dark nature of In Secret means her performance will likely be overlooked.
Oscar Isaac is wasted on Laurent and Tom Felton is a little too well cast for the gaunt and putrid looking Camille. The entire cast is what will undoubtedly drive many people to the theaters to see In Secret, and they are indeed performing at their best. It's Charlie Stratton, who both wrote and directed the film, who couldn't take an old and joyless fiction and  try to do what Zola never seemed able to accomplish, bring a sense of relatable naturalism. Instead he plays up a gruesome reality, including some terrifying and out-of-place-feeling scenes that would have been better suited for a horror film.
Credit needing to be given where due, the costume design of the film, expertly crafted by French designer Pierre Yves Gayraud, is captivating to look at. And Uli Hanisch, the production designer, deserves accolade for capturing some definite 19th century Parisian grit, especially involving a particularly morbid morgue and street scenes including butchers and whores.
In the end, strong performances and beautiful imagery just can't hold together what is essentially a bleak tale of two lovers seemingly determined not to allow themselves to be happy. While scandalous in its day, Thérèse's tale is woefully lacking in a new approach and thus in any real appeal with modern audiences.
In Secret Movie review