Brooklyn (NYFF Review)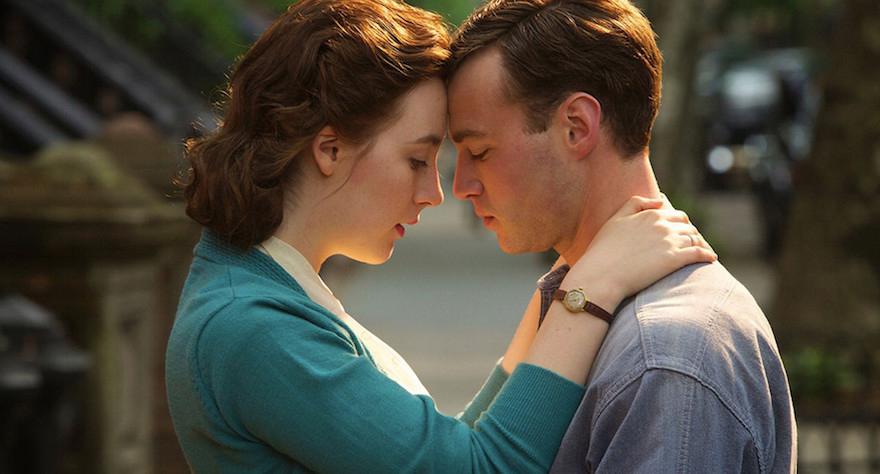 Saoirse Ronan shines as a young Irish immigrant choosing between two lives and two loves.
Weaving a young Irish immigrant's story into a heartfelt, romantic drama, Brooklyn exudes an entire diary's worth of emotion with a light-handed touch. Based on Colm Toibin's 1950s-set novel of the same name, Brooklyn follows Eilis Lacey (Saoirse Ronan) as she leaves her home in Ireland for a new life in America, torn between where she's comfortable and where she finds opportunity. She arrives as a timid but amenable girl, unsure of what to say or simply too afraid to say it. Director John Crowley (Boy A, Closed Circuit) portrays a world in which the people around Eilis are consistently decent. In Brooklyn, the biggest obstacles facing new immigrants are loneliness and having been displaced.
After arriving in America, Eilis struggles to discover her sense of belonging. Stuck in a boarding house for Irish women run by Mrs. Kehoe (a wonderfully snappy Julie Walters), Eilis unhappily toils away at a department store, silently crying when she opens letters from home. It isn't until she meets Tony (Emory Cohen), a handsome and soft-spoken Italian plumber, that Eilis starts to smile. His courtship of her is palpably sweet. As she finally opens up with him, talking up a storm through their first dinner together, Eilis' restrained glee is contagious.
Nick Hornby (An Education, Wild) peppers the film with eloquently poignant lines of dialog. When Eilis first meets with the Irish priest (Jim Broadbent) that sponsored her voyage across the Atlantic, he tells her that homesickness is like any other malady and that it can linger for a while before getting passed onto someone else. The understated manner in which the script allows Brooklyn's characters to articulate their hopes and fears creates earnestly powerful moments. There's only one short romantic speech in the film and damned if it isn't a more genuine expression of love than anything to have come from a Nicholas Sparks adaptation.
In a role perfectly suited to the emerging 21-year-old Irish star, Saoirse Ronan captivates in the part of Eilis. She conveys the anxiety of unfamiliar situations, as well as the joy of developing a real connection to others. Her growth from deferential girl into self-assured woman is a gradual process, enlivened through the subtlety of her acting. It's an outstanding performance, rich with sentiment and sweetness. Emory Cohen's charismatic presence is a treat, too, providing an affable quality in support of Ronan's more serious demeanor. His sincerity as Tony is appealing without becoming preposterous. Even Domhall Gleeson, whose role as a potential new suitor in the story should elicit scorn, proves to be delightful.
The section in where Eilis gets forced into returning to Ireland adds complications to a film largely missing them. She returns as a radiant figure, her bright, American clothes distinguishing her from the crowd. Often, Crowley positions Eilis as a splash of color within a muted frame. As Eilis wavers on her fate, Brooklyn refuses to show its hand. It's easy to imagine different audiences leaning towards separate conclusions from this love triangle, but its ending is a fitting, beautiful final note.
There's nothing revolutionary about the love story depicted in Brooklyn; however, the restraint it shows with its dramatic tension makes the film a pleasant, tender drama. In fleshing out Eilis as a woman with a full life who aspires to more than just marriage, she becomes an endearing protagonist in a genre that often lacks those. Brooklyn is a gorgeous illustration of an immigrant's experience in the mid-20th century, complimented by the touching romance at its core.
Brooklyn (NYFF Review) Movie review