Adore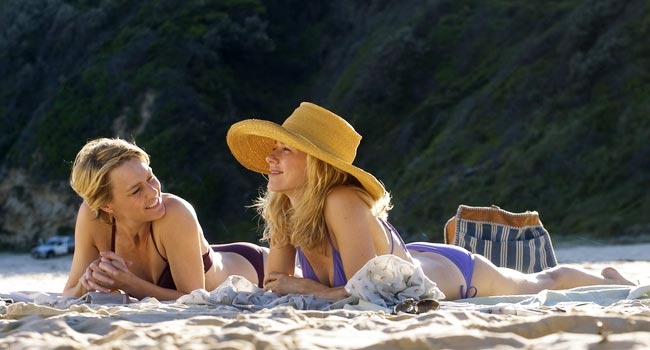 Unfortunately Adore's promising premise never fully ripens into something worth biting into.
Premiering at the Sundance Film Festival under the name Two Mothers (an arguably more fitting title) has been since changed to Adore, Anne Fontaine's film about two best friends who end up in relationships with each other's sons. Due to the on-the-nose dialog the characters are not able grow beyond two dimensional, and although the film begins as a wild ride with a tantalizing setup in tow, it puts itself in cruise control for most of the way.
Lil (Naomi Watts) and Roz (Robin Wright) have never parted ways since growing up together in a serene Australian beach town. The two best friends are now neighbors and each have a son of their own, who are now young adults and have also remained best friends since childhood. From the very beginning you could sense an offbeat relationship between Lil and Roz, which is only magnified when Lil's husband passes away and the two get even closer. While they both deny that any sexual attraction between them exists, Roz's husband believes otherwise.
But as it turns out, the sexual attractions that unfold are even more taboo than one would have initially thought. One of the first indications of an attraction between Roz and Lil's son Ian (Xavier Samuel) is when they share a smoke together, something that makes Roz feel sinful because she has not smoked in such a long time, but Ian assures her that feeling sinful is not a bad thing. Flirting quickly escalades into a sexual encounter that is witnessed by Roz's son Tom (James Frecheville), who immediately makes his intentions with Lil abundantly clear.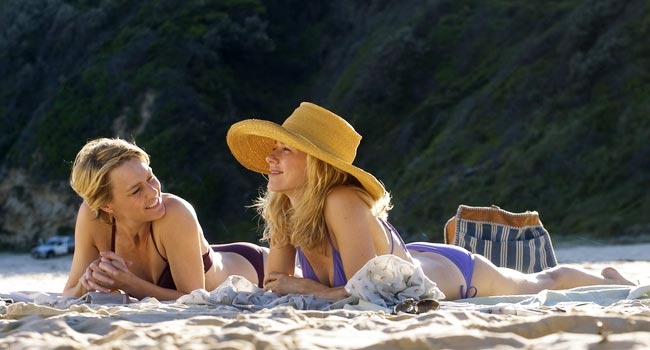 Adore plays out only a little less soap opera- esque than the story sounds. First of all, everything mentioned takes place in the first thirty minutes of the film, allowing opportunity for the story to develop when the film jumps ahead two years after the initial encounter. Secondly, the characters are wise enough to realize that the age gap will eventually become a factor, though it does not make the situation any less difficult for everyone involved.
However, the film cannot completely rid itself of its melodramatic tent poles. Sure, the story carries on but nothing that happens outside the first thirty minutes is at all surprising or half as exciting as what came before it. Adore is very unbalanced in its emotions by coming off far too dramatic in some scenes while being too nonchalant during others.
There is so much beauty packed in every aspect of Adore that it actually becomes a little overwhelming. Residing on a postcard beach that is completely surrounded by crystal clear water makes it easy for the cinematographer Christophe Beaucarne to capture the stunning imagery. There is rarely a scene where the sun is not shinning or the water begging to be occupied. Though the attractiveness does not stop with scenery, the chiseled young men look like they walked straight from the runway, even their own mothers (who are equally as gorgeous) comment on how they "look like young gods". I realize that it sounds like I am complaining about how everything looks beautiful, but aside from its unconventional setup nearly everything else found in the film is too perfect and calculated. Adore seems to reside in a fantasy world that is proven when the characters never seem to age along with the timeline.
Considering Adore is based off a novel written by a female and also directed by one, you would not assume the female leads would be so utterly inert. Both mothers have seemingly no control over the situation and easily give into the sons desires without much of a fight. The film does not do itself any favors by completely missing the emotional angle that it tries so hard to attain and instead generating unintentional humor. Unfortunately Adore's promising premise never fully ripens into something worth biting into.
Adore trailer:
Adore Movie review