The Eagle Huntress (Sundance Review)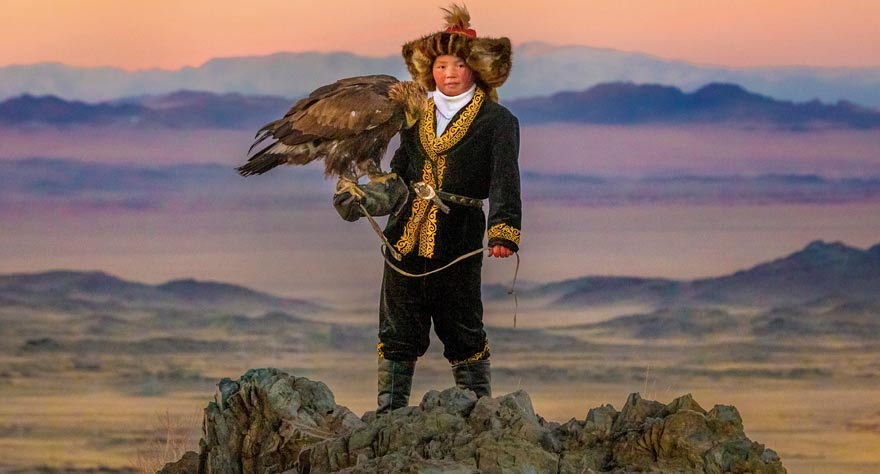 The timing of The Eagle Huntress is perfect when you consider how much white males dominate the movies (the Academy is finally taking action to correct this). The star of this indie documentary is neither white nor male. Instead, The Eagle Huntress features a determined 13-year-old Mongolian girl named Aishoplan, who hopes to become the first ever female Eagle Hunter in the practice's 2,000 years of existence. Capturing breathtaking views of snowy Mongolian landscapes, the documentary offers a bird's eye view into the life of a true heroine.
Motivated to prove naysayers who claim women are "too weak" and "don't belong in eagle hunting", Aishoplan trains in the ancient art of eagle hunting with her father. Her first task is to capture her own eagle. This white-knuckle feat requires scaling steep cliffs to reach the eagle's nest, all while the adult eagle soars overhead. Only a step away from death, watching her accomplish this put me on the edge of my seat. After rigorous training, Aishoplan sets her sights on competing in the annual Golden Eagle Festival, something no female has ever done before.
The Eagle Huntress is the rare documentary that makes you interested in a subject you never thought you'd care about. The documentary sends an inspirational message of never giving up for what you believe in, along with not being afraid to change the status quo. With the help of big name executive producers (Morgan Spurlock and Daisy Ridley) backing The Eagle Huntress, hopefully this beautifully shot and uplifting documentary will reach the audience it deserves.
Rating:
8

/10