Stoker on Blu-ray & DVD June 18th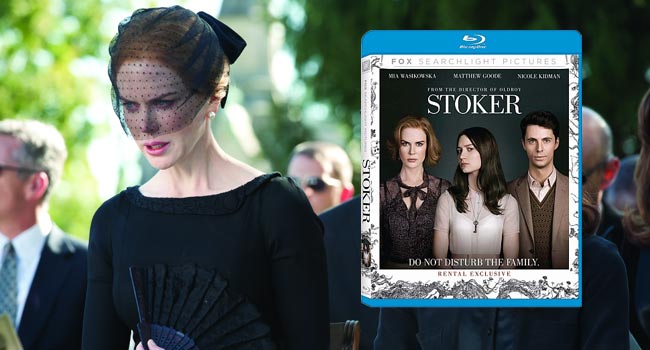 Ever since Park Chan-wook's breakthrough hit Oldboy premiered at the Cannes Film Festival in 2004, he has exploded onto everyone's radar as a director to follow. His latest film, Stoker, is the director's first film in English and stars some big-named American celebrities; Nicole Kidman, Mia Wasikowska, and Matthew Goode, just to name a few. It was announced today that Stoker will be available on Blu-ray and DVD on June 18th.
Official Synopsis
Following the tragic death of her father on her eighteenth birthday, India Stoker (Wasikowska) meets Charlie (Goode), her charismatic uncle, whom she never knew existed. When Charlie moves in with India and her unstable mother (Kidman), both are drawn to his charming and calming demeanor. But it soon becomes clear that Charlie's arrival was no coincidence, and that the shocking secrets of his past could affect India's future…or shatter it completely.
Blu- ray Special Features
An Exclusive Look: A Filmmakers Journey
Deleted Scenes
Theatrical Behind the Scenes: Mysterious Characters, Designing the Look, Creating the Music
Red Carpet Premiere: Emily Wells' performance of "Becomes the Color"
Free Song Download of "Becomes the Color" by Emily Wells
UltraViolet
Hypnotherapy
Image Galleries and more!
STOKER Blu-ray & DVD Specs
Street Date: June 18, 2013
Prebook Date: May 22, 2013
Screen Format: Widescreen 2.40:1
Audio: English 5.1 DTS-HD MA / 5.1 Dolby Digital DVD, English 5.1 Descriptive Audio, Spanish: 5.1 Dolby Digital / 2.0 Surround Dolby Digital DVD, French: 5.1 Dolby Digital / 2.0 Surround Dolby Digital DVD
Subtitles: English, Spanish
U.S. Rating: R
Total Run Time: 99 minutes
Closed Captioned: Yes