Sound of My Voice to be on Blu-ray and DVD October 2nd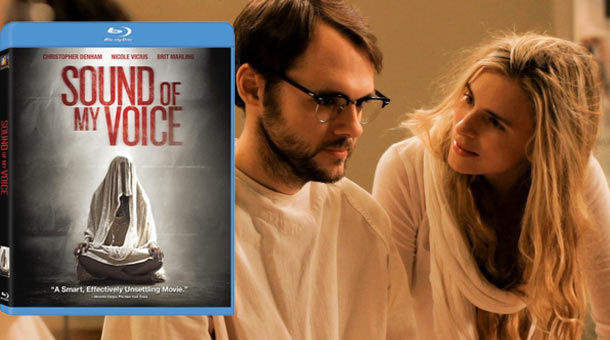 Fox Home Entertainment just gave a street date of October 2nd for Zal Batmanglij's Sound of My Voice on Blu-ray and DVD. Along with the release date they gave some details on what the special features will contain as well as full specs on the film.
Synopsis:
Brit Marling is "intoxicating" (The Huffington Post) and "stirring" (PEOPLE) in the year's most talked-about psychological thriller. A filmmaker (Christopher Denham) and his girlfriend (Nicole Vicius) set out to expose the beautiful leader of a cult (Marling), who claims to be from the future. But the more they explore, the more danger they face in this "intricate and taut thriller" (Claudia Puig, USA Today) from writer-actress Marling and writer-director Zal Batmanglij.
Special Features:
DVD:
The Making of The Sound of My Voice
Maggie Featurettes
Theatrical Trailer
BD – all of the above plus:
The Making of The Sound of My Voice
Fox Movie Channel Presents: Direct Effect Zal Batmanglij
Fox Movie Channel Presents: Writer s Draft Brit Marling
Specs:
Sound of My Voice Blu-ray & DVD
Street Date: October 2, 2012
Screen Format: 16:9 (2.35:1)
Audio: English 5.1 DTS-HD-MA
French 5.1 DD
Spanish 5.1 DD
Subtitles: English, French and Spanish
U.S. Rating: R
Total Run Time: 01:53:57 / 01:44:18 (DVD)
Closed Captioned: Yes