The Industry's Brightest Gather for SFFS Fall Celebration Panel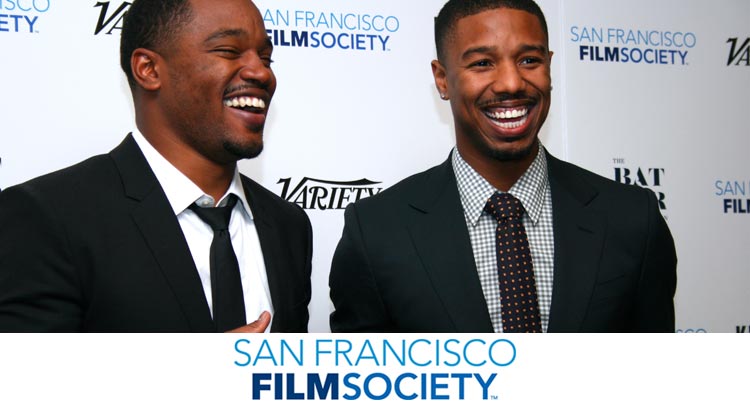 This past Thursday in San Francisco, the San Francisco Film Society held their inaugural Fall Celebration, honoring four films that look to be contenders come Oscar season: Nebraska, Fruitvale Station, Her, and The Square. Patrons gathered at elite social club The Battery to celebrate cinema and raise money for the Society.
Filmmakers and actors from the films were in attendance to participate in a panel before the night's festivities, including directors Alexander Payne, Ryan Coogler, Spike Jonze, and Jehane Noujaim, and actors Michael B. Jordan (Fruitvale Station) and June Squib (Nebraska). The questions tossed at the star-studded panel covered a wide range of topics, from origin stories to locations to budgets to filmmaking processes.
Hometown Hero
Bay Area native Ryan Coogler was visibly proud and humbled to be in San Francisco representing Fruitvale Station, his debut feature which reconstructs 22-year-old Oscar Grant's last day on earth, before he was shot and killed by a transit officer in a BART station in Oakland. Coogler remembered being deeply affected by the news of Grant's death, but felt the media lost the human angle of the incident. "Nobody was really talking about the fact that Oscar was a human being," he recalled. "He wasn't just a symbol…he was a 22-year-old guy who had hopes and dreams and relationships, and it all got cut short."
The movie was filmed mere miles from where the panel was taking place, which Jordan (who plays Oscar) emphasized was key. "It was very important–especially to Ryan," he said. "[Ryan] just didn't see the film being shot anywhere besides here, where it happened, where Oscar was from." Coogler got the green light to shoot in the Bay Area with some help from an influential supporter. "It's always easier when you have somebody like Forrest Whitaker writing a letter or making a phone call," Jordan said about the film's famous producer and mentor to Coogler.
When asked about the state and future of the film industry, Coogler seemed to have an optimistic outlook. "The studio films that we've seen succeed this year…some have been about comic book characters from pre-existing franchises that studios could put money behind. But, we've had others that have been incredibly human. The more we see projects that can make a lot of money and also have human connections…we'll see studios doing more of those."
This slideshow requires JavaScript.
Big Studios and Indies Get Along…in Nebraska
Alexander Payne's Nebraska–a road trip movie about a father (Bruce Dern) who takes his son (Will Forte) with him on a pilgrimage from Montana to Nebraska to collect prize money he's won from a lottery–is a studio film shot in gorgeous black and white, with no major stars in its cast, one of those "human" films Coogler was gushing about.
Payne, whose first film, Citizen Ruth was shot over 40 days, was blown away when he asked Coogler how long it took to shoot Fruitvale (20 days.) "It takes me 20 days just to walk to the bathroom!" he joked.
When asked if anyone at Paramount, the film's distributor, questioned the bankability of the project, Payne assured us that there weren't any studio heads poking around the production. "To Paramount's credit, no one [questioned that.] They gave me carte blanche. Once we agreed [on the] 13 and a half million base budget, they left me totally alone."
Something in the Way She Moves…
Her, Spike Jonze's latest window into his brilliant, hyperactive imagination, follows a sad-sack writer named Theodore (Joaquin Phoenix) as he begins to fall for an operating system named Samantha (voiced by Scarlett Johansson), something like a super-advanced version of "Siri" tailored to be Theodore's perfect companion. Despite a premise absolutely dripping with social satire, Jonze insists no grand statements exists at the core of Her. "I wasn't trying to make a comment or a satire about society," Jonze explained. "…the character of the operating system is just a voice, but we tried to create a character that is a fully developed being with their own longings, needs, and passion."
"One of the things that was important to us when we were designing the movie was to design this very warm world…a heightened version of the world we're in," Jonze said of the significance of place in cinema. He further elaborated on geography's emotional significance: "L.A. is this place where the weather's always nice, the ocean is there, the mountains are there…but even in that light, in this world, the loneliness and isolation maybe hurts in a specific way."
The Never Ending Story
Documenting the lives of six protesters in the Egyptian uprising that started in 2011 in Tahrir Square (and continues to this day), director Jehane Noujaim's The Square went through a major change earlier this year when the state of the revolution continued to evolve. The film premiered at Sundance, where it won the audience award, and concluded with president Mohammed Morsi stepping down, to the joy of the Tahrir protesters. But "the story kept changing," Noujaim explained.
Morsi's replacement turned out to be just as disagreeable as he was, so the people, outraged, returned to the square. "Initially, we [followed] the bringing down of a dictator to the election of a new president. That was the political continuum," she continued. "The more interesting story was when all of our characters were back in the streets again."
So, Noujaim and her crew returned to Tahrir, filmed additional footage, re-edited the film, showed it at the Toronto International Film Festival, and got another audience award. Despite the ever shifting political landscape in Egypt, Noujaim is positive the project is finished. "Our characters have gone through a full arc."
For more info, visit SFFS.org