Giveaway: Win The Place Beyond the Pines Soundtrack and Poster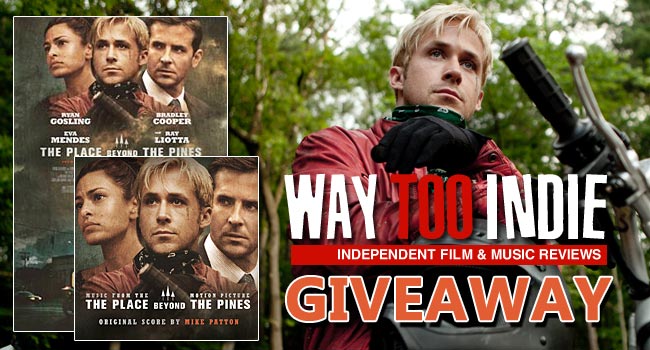 The upcoming film from the director of Blue Valentine, which also stars Ryan Gosling, looks as if he has another emotionally powerful story on his hands. The Place Beyond the Pines explores the bond between fathers and sons as a traveling motorcycle stunt man (Ryan Gosling) attempts to reconnect with his former lover (Eva Mendes) who gave birth to their child unbeknownst to him. At the same time, an opportunity that he cannot pass up arises that has him running from the law.
Way Too Indie is giveaway: a T-Shirt, the Official Soundtrack of The Place Beyond the Pines, and a Poster to two (2) winners.
How do you enter the giveaway?
Simply email me (dustin AT waytooindie.com) your favorite Ryan Gosling film.
Make sure to follow us on Twitter and Facebook for the latest on independent movie reviews.
Details on The Place Beyond the Pines:
Release Date: March 29, 2013
Nationwide Release: April 12, 2013
Genre: Drama
Directed by: Derek Cianfrance (Blue Valentine)
Written by: Derek Cianfrance, Ben Coccio, Darius Marder
Starring: Ryan Gosling, Bradley Cooper, Eva Mendes, Rose Byrne, Mahershala Ali, Dane DeHaan, Emory Cohen, Ben Mendelsohn, Ray Liotta
#BeyondthePines
Watch the trailer of The Place Beyond the Pines:
Details of Official Soundtrack for The Place Beyond the Pines:
Mike Patton, American singer-songwriter and multi-instrumentalist best known as the lead singer of the alternative metal/experimental rock band Faith No More delivers a sweeping and brooding score. Like a red thread, his music guides the audience through this multi-generational story often linking characters and locations.
In addition to Mike's score, the album features an eclectic selection of music by the likes of Vladimir Ivanoff (Miserere Mei), Arvo Park (Fratres), Bon Iver (The Wolves), and Ennio Morricone (Ninna Nanna Per Adulteri), among others.
Track Listing
1. Schenectady
2. Family Trees
3. Bromance
4. Forest of Conscience
5. Beyond the Pines
6. Evergreen
7. Misremembering
8. Sonday
9. Coniferae
10. Eclipse of the Son
11. The Snow Angel
12. Handsome Luke
13. Please Stay – The Cryin' Shames
14. Miserere Mei – Vladimir Ivanoff
15. Fratres for Strings and Percussion – Arvo Part
16. Ninna Nanna Per Adulteri – Ennio Morricone
17. The Wolves (Act I and II) – Bon Iver
Movie poster for The Place Beyond the Pines: