Giveaway: Win Stoker on Blu-ray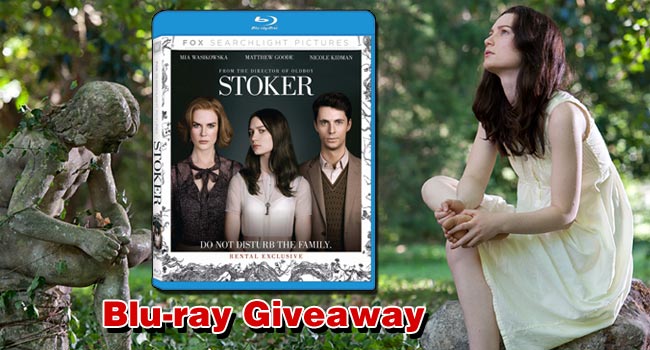 Way Too Indie has teamed up with Twentieth Century Fox Home Entertainment to give one reader a chance to win a Blu-ray copy of Stoker, the latest film from the critically acclaimed filmmaker Chan-wook Park (Oldboy, Thirst). Stoker is his first English-language film which stars Nicole Kidman and Mia Wasikowska. The film features a dark and twisted story about an odd-ball family with sinister secrets. And thanks to Park's artistic abilities, this mystery thriller is not only poetically told, but poetically displayed with its visuals.
How do you enter the giveaway?
Simply email me (dustin AT waytooindie.com) or tweet us at @WayTooIndie the answer:
Which iconic tale of vengeance did Chan-wook Park also directed?
a) Die Hard: With a Vengeance
b) Oldboy
c) Irreversible
d) Hard Candy
Stoker is Available on DVD and Blu-ray on June 18th!

Watch the trailer for Stoker:
Follow Twentieth Century Fox Home Entertainment on Twitter @FoxHomeEnt