Giveaway: Jon Stewart's Directorial Debut 'Rosewater' Blu-ray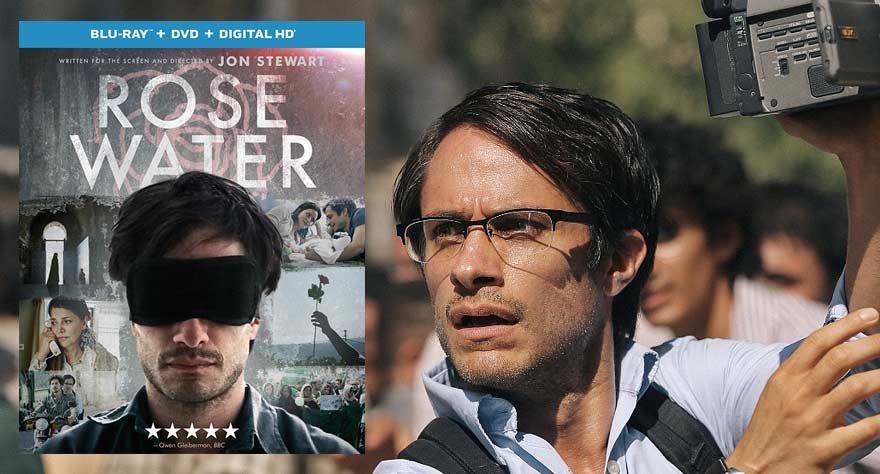 Political comedian Jon Stewart (The Daily Show) makes his writing and directing debut with Rosewater, a film based on the best-selling memoir by Maziar Bahari and Aimee Molloy. The film follows journalist Bahari (played by Gael García Bernal) as he attempts to report on the monumental 2009 presidential election in Iran before he was falsely accused of being a spy. For this, Bahari was arrested by police and detained in an Iranian prison for 118 days. Universal Home Entertainment is releasing the political thriller on Blu-ray, DVD, Digital HD, and On Demand on February 10, 2015, and we're giving away a Blu-ray copy to two lucky subscribers of our WTI Daily newsletter.
How do you enter the giveaway?
Win Rosewater on Blu-ray by entering your email address below to subscribe to Way Too Indie's daily newsletter. We'll pick the two (2) winners at random.
Subscribe To Our Newsletter
Additionally, enter the official Rosewater sweepstakes for a chance to win a trip to New York City and a taping of the Daily Show here:
http://www.rosewatersweeps.com
The Blu-ray™ Combo Pack includes a Blu-ray, DVD and DIGITAL HD with UltraViolet
Blu-ray™ unleashes the power of your HDTV and is the best way to watch movies at home, featuring 6X the picture resolution of DVD, exclusive extras and theater-quality surround sound.
DVD offers the flexibility and convenience of playing movies in more places, both at home and away.
DIGITAL HD with UltraViolet lets fans watch movies anywhere on their favorite devices. Users can instantly stream or download.
Bonus Features on Blu-ray and DVD
Iran's Controversial Election
The Story of Maziar Bahari
Real Spies Have TV Shows
What Happens in New Jersey…
A Director's Perspective
Rosewater Blu-ray
Watch Trailer for Rosewater