Giveaway: American Hustle Original Soundtrack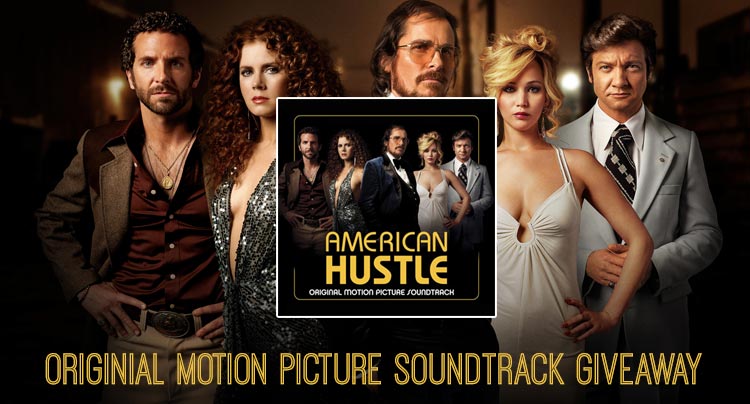 David O. Russell's American Hustle hauled in an impressive ten Oscar nominations this year, which tied Gravity with the most nominations for a motion picture. In order to commemorate the double digit Oscar nominated film, we are giving away 5 copies of the American Hustle Original Soundtrack.
"American Hustle – the Original Motion Picture Soundtrack, is an Album of Music from the Oscar nominated Motion Picture, available now – featuring a previously unreleased song by Jeff Lynne with Classic Recordings by Duke Ellington, Elton John, the Bee Gees, Wings and More."
How do you enter the giveaway?
Using the form directly below, you have the ability to earn 4 entries in the giveaway. You will get one entry for telling us who is your favorite band from the 70s. You can get bonus entries for following us on Twitter, tweeting at us, and/or liking us on Facebook.
Details
Five winners be selected at random. If you are chosen, you will be notified by email. Winners must respond within three days of being contacted. If you do not respond within that period, another winner will be chosen.
Soundtrack Listing
1. "Jeep's Blues" by Duke Ellington
2. "Goodbye Yellow Brick Road" by Elton John
3. "White Rabbit" by Mayssa Karaa
4. "10538 Overture" by Electric Light Orchestra
5. "Live and Let Die" by Wings
6. "How Can You Mend a Broken Heart" by The Bee Gees
7. "I Feel Love" by Donna Summer
8. "Don't Leave Me This Way" by Harold Melvin & The Blue Notes
9. "Delilah" by Tom Jones
10. "I've Got Your Number" by Jack Jones
11. "Long Black Road" by Electric Light Orchestra
12. "A Horse With No Name" by America
13. "Stream of Stars" by Jeff Lynne
14. "Live To Live" by Chris Stills
15. "Irving Montage" by Danny Elfman