Gay Seniors Doc to Screen in Russia Following 'Gay Propaganda' Law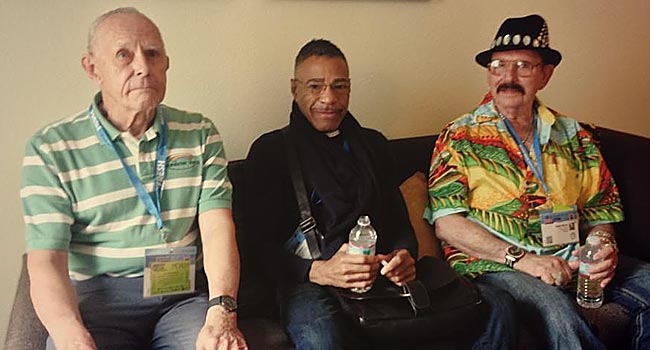 Following an event in Russia documented in the HBO Doc Pussy Riot: A Punk Prayer, in which members of the feminist punk rock group Pussy Riot performed a guerrilla-style anti-Putin rock show in an Orthodox cathedral in the Cathedral of Christ the Savior in Moscow, the State Duma, Russia's lower house of parliament, passed a "Gay Propaganda" law that fines or even imprisons anyone who offends people of faith by providing information about homosexuality to minors.
Anti-gay sentiment in Russia is quite prevalent amongst the Russian people today, despite the government decriminalizing homosexuality in 1993 (after 60 years of homosexuality being considered a crime following a ruling by the Soviet government under Joseph Stalin in 1933.) In a recent poll, it was found that nearly half of Russians believe members of the LGBT community shouldn't be afforded the same rights as straight citizens.
In the past week, gay rights protesters have been embroiled in a heated battle on the street level, resulting in violent attacks from rival anti-gay protesters with no police to intercept the beatings (via http://www.bbc.co.uk/news/world-europe-22862210). The reaction of the Western world to the law has been unsurprisingly negative, especially since Russia will be hosting the G-20 Summit and the Winter Olympics in 2014.
Tomorrow, Friday, Septmber 13th, Before You Know It, an American documentary by director PJ Raval about the lives of gay seniors, will be traveling overseas and screening at the Saratov Sufferings International Film Festival in Saratov, Russia amid the turbulent political climate surrounding the polarizing Gay Propaganda law. The film, which premiered at this year's SXSW, follows three aging men who cope with the many challenges that come with both being gay and being elderly in America. We saw it at the San Francisco International Film festival and enjoyed it, and we also had an illuminating conversation with both director PJ Raval and Dennis Creamer, one of the three central subjects of the doc.
Before You Know It is a unique, revealing, and inspirational look into the lives of three gay men who have lived through some of the most monumental shifts in gay rights in America, including the recent legalization of gay marriage in several US states. Hopefully, tomorrow's screening of the documentary, a window into the worlds of three wonderful, fascinating people, will help to move the needle in favor of the Russian LGBT community. The war Vladimir Putin is waging on homosexuals is terrifying, but you can never underestimate the power and influence of cinema on the psyche of a nation. Mr. Raval and his subjects' film will, at the very least, spark a healthy, critical discussion about the LGBT community that will hopefully constitute a change of Russia's frightening gay rights policies.
For more information on the film and additional screenings, visit beforeyouknowitfilm.com