2013 SFIFF: Crystal Fairy, Before You Know It, Nights With Theodore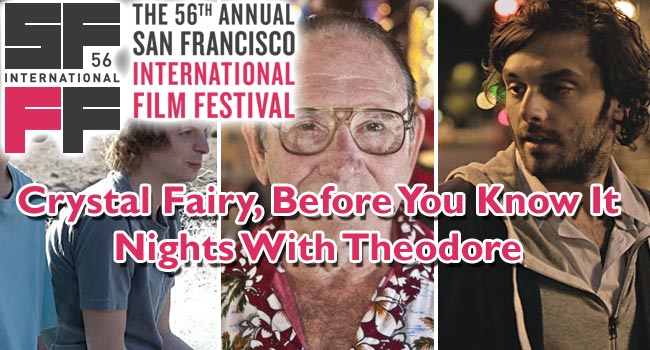 Crystal Fairy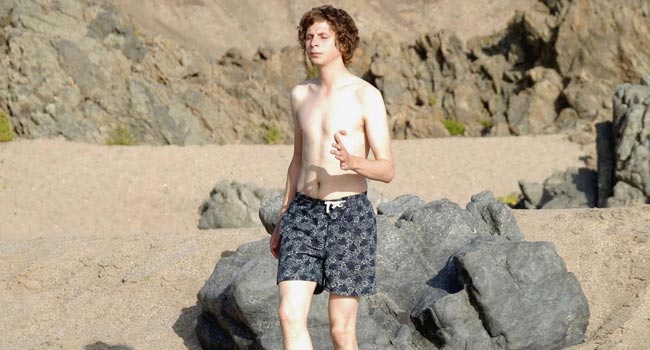 The ever-awkward Michael Cera plays Jamie, a self-absorbed asshole who goes on a road trip through Chile with some friends to find some San Pedro—a cactus which, when ingested, sends you on a different kind of 'trip' altogether. The problem is, on the eve of their quest for the cactus, Jamie—in a drunken stupor—invites a hippie-ish wild child named Crystal Fairy (Gaby Hoffmann) to join them on their journey. Much to Jamie's surprise, Crystal Fairy takes him up on his drunken offer, and the two develop a harsh, contentious relationship. Tensions rise, and when the group finally acquire the precious plant, things escalate even further.
Cera, typically cast as the good-hearted, smiling, neurotic type, gets a change of pace in this role, playing one of the most dislikable, insensitive people you could imagine. You know, he's that guy. A group of friends are having a good time, joking around. Then, his ornery ass starts walking their way. "Oh god, here he comes. This asshole." He's that guy. Hoffmann is just as convincing as the cloyingly spiritual Crystal Fairy. She's obsessed with everything astral and cosmic, and relentlessly pushes her strange lifestyle on the group—"Smell this! It's chamomile. Chaaaaamomile."
Director Sebastian Silva shows a lot of creativity in how he crafts a story, turning left when you think he'll turn right, zigging when you expect him to zag. His visual style is tasteful (you'll find no clichéd psychedelic trip-out scenes here), and he captures Jamie and Crystal Fairy's opposite energy perfectly.
Look for our full review around the film's release in July, along with an interview with Michael Cera and Director Sebastian Silva.
Before You Know It
Some of my favorite documentaries are ones that give a voice to the voiceless. Following three very different subjects, all gay men in their twilight years, Before You Know It sheds light on a community that deals with a difficult paradox—they are desexualized by society because they are old, and yet, their sexuality is one of the driving forces in their lives.
Dennis is a lonely widower who discovered his sexuality after his wife's death. Robert is the matron of a bustling community of drag queens who gather at his bar, 'Robert's LaFitte'. Ty, Harlem born and raised, is the head of SAGE, a group that serves aging, gay members of the community. All three have unique lifestyles, but the common thread is that they all belong to a group of people who are doubly neglected. As we observe them struggle with their issues, as we go through their daily routines with them, as we learn their histories, we suddenly find ourselves familiar with a group of people most of us likely never paid any mind. This film helps to make sure these people are neglected no longer.
Director PJ Raval applies very little spin to the film, simply placing us in the subjects' world to sit, watch, and absorb their lives. Ty's story is filmed during an historic time in gay rights history, but Raval admirably keeps the film focused on Ty. The closer Raval zooms in his camera on the characters, the more we relate to them. The film is about a very specific community, but there's a universal message being delivered here—they're old, and we will be too someday.
RATING: 7.8
Stay tuned to Way Too Indie for an interview with director PJ Raval and subject Dennis.
Nights With Theodore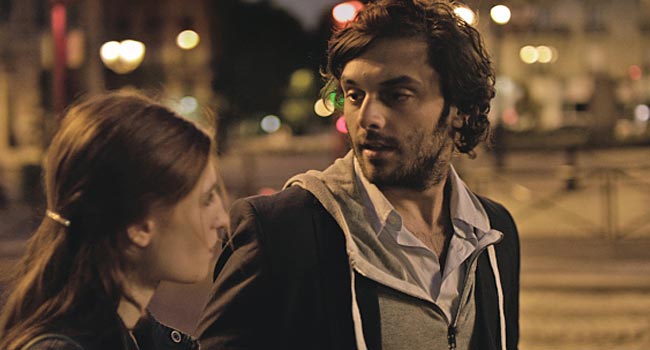 Centered on a couple's obsession with spending long nights in a park in Paris, Sebastien Betbeder's kooky, messy romance feels like an overly-fluffed and elongated short film. A couple meets at a party, hook up in a spooky park, and the nocturnal trysts slowly but surely begin to poison their lives in vaguely supernatural ways. The idea is intriguing, but Betbeder mucks it up by adding in pretentious asides and flourishes that feel like extra weight.
Betbeder inserts footage of a real-life interview with a psychiatrist who specializes in environmental psychology. The segment does add a strange gravity to the film, though what it adds is heavily outweighed by what it detracts, as it is as jarring a scene as I've seen in years, killing what little momentum the film had. The film's opening, detailing the park's long and storied history, is actually quite nice, creating an air of mystery that unfortunately dissipates quickly.
Aesthetically, Nights With Theodore is shoddy. A lot of the nighttime shots look downright murky, and though a foggy Parisian park at night should be a cinematographer's dream, most of the shots are as uninteresting as the flat characters.
Pio Marmai and Agathe Bonitzer as Theodore and Anna, respectively, are talented, but are never given the opportunity to let their characters breathe. Odd distractions like the psychiatrist scene break up any connection we begin to make with the two, and there's a pervading sense of distance between them and us that feels a little off. The pair do have some legitimate chemistry, but the thin story gives them little to chew on. Is it a movie about a park or a summer romance? Who knows? Betbeder certainly doesn't.
RATING: 5