Cannes 2013 Lineup Announced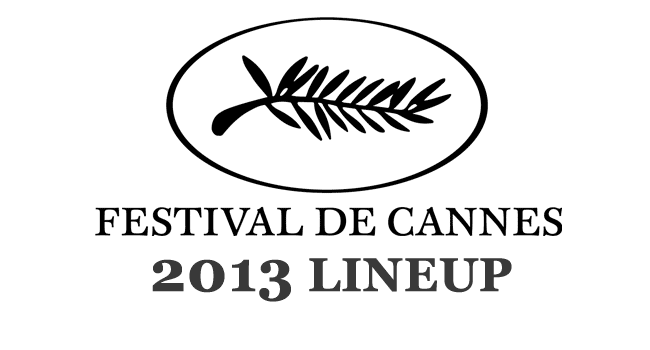 The wait is now over as the lineup for the 2013 Cannes Film Festival has been announced this morning. While a few film festivals such as Sundance and Berlin have already given us a small taste of what is in store for 2013, Cannes ultimately sets the stage for what is to come for the rest of the year's festival circuit. Also, it is my pleasure to announce that Way Too Indie has been accredited to attend the festival this year, so stay tuned during May 15th through May 26th while we bring you up-to-date coverage during the Cannes Film Festival.
Now back to the lineup, it has been known for quite some time that The Great Gatsby would be the opening film of the festival and yesterday it was announced that Sofia Coppola's The Bling Ring would open the Un Certain Regard program. This morning the rest of the lineup for the Cannes Film Festival was finally announced. Some of the more anticipated films that were announced today were; Coen Brothers' Inside Llewyn Davis, Nicolas Winding Refn's Only God Forgives, Steven Soderbergh's Behind The Candelabra, Paolo Sorrentino's The Great Beauty, and Sundance standout Fruitvale Station previously entitled just Fruitvale.
Unfortunately, absent from the announcement was Steve McQueen's follow-up to Shame, Twelve Years a Slave. There was also no works from the onslaught of projects Terrence Malick has going on. And many people were disappointed to hear that Bong Joon-Ho's rumored to play film, Snowpiercer, would not be done in time for the festival.
The full lineup for 2013 Cannes Film Festival:
Opening Film:
(Out of Competition)
The Great Gatsby (director Baz Luhrmann)
Official Selection
Behind The Candelabra (director Steven Soderbergh)
Borgman (director Alex Van Warmerdam)
Un Chateau En Italie (director Valeria Bruni-Tedeschi)
The Great Beauty (director Paolo Sorrentino)
Grisgris (director Mahamat-Saleh Haroun)
Heli (director Amat Escalante)
The Immigrant (director James Gray)
Inside Llewyn Davis (directors Joel & Ethan Coen)
Jeune Et Jolie (director Francois Ozon)
Jimmy P (director Arnaud Desplechin)
Michael Kohlhaas (director Arnaud Despallieres)
Nebraska (director Alexander Payne)
Only God Forgives (director Nicolas Winding Refn)
Only Lovers Left Alive (director Jim Jarmusch)
The Past (director Asghar Farhadi)
Like Father, Like Son (director Hirokazu Kore-eda)
A Touch Of Sin (director Zhangke Jia)
Venus In Fur (director Roman Polanski)
La Vie D'Adele (director Abdellatif Kechiche)
Shield of Straw (director Takashi Miike)
Out of Competition:
(Films are played but do not compete for the main prize)
All Is Lost (director J.C Chandor)
Blood Ties (director Guillaume Canet)
The Last of the Unjust (director Claude Lanzmann)
Un Certain Regard:
(Films from cultures near and far; original and different works)
Anonymous (director Mohammad Rasoulof)
As I Lay Dying (director James Franco)
Nothing Bad Can Happen (director Katrin Gebbe)
Bends (director Flora Lau)
The Bling Ring (director Sofia Coppola)
Death March (director Adolfo Alix Jr)
Fruitvale Station (director Ryan Coogler)
Grand Central (director Rebecca Zlotowski)
L'Image Manquante (Rithy Panh)
L'Inconnu Du Lac (director Alain Guiraudie)
La Jaula De Oro (director Diego Quemada)
Miele (director Valeria Golino)
My Sweet Pepperland (director Hiner Saleem)
Norte, The End of History (director Lav Diaz)
Omar (director Hany Abu-Assad)
The Bastards (director Claire Denis)
Sarah Would Rather Run (director Chloe Robichaud)
Wakolda (director Lucia Puenzo)
Special Screenings:
Max Rose (director Daniel Noah)
Weekend Of A Champion (director Roman Polanski)
Muhammad Ali's Greatest Fight (director Stephen Frears)
Stop The Pounding Heart (director Roberto Minervini)
Seduced & Abandoned (director James Toback)
Otdat Konci (director Taisia Igumentseva)
Bombay Talkies (directors Anurag Kashyap, Dibakar Banerjee, Zoya Akhtar, Karan Johar)
Closing Film:
(Out of Competition)
Zulu (director Jérôme Salle)
Director' Fortnight:
(Sidebar event held in parallel to Cannes)
Above the Hill (director Raphael Nadjari)
Até ver a luz (director Basil da Cunha)
Blue Ruin (director Jeremy Saulnier)
The Summer of Flying Fish (director Marcela Said)
Henri (director Yolande Moreau)
Ilo ilo (director Anthony Chen)
Jodorowsky's Dune (director Frank Pavich)
L'Escale (director Kaveh Bakhtiari)
The Dance of Reality (director Alejandro Jodorowsky)
The Rendez-Vous of Déjà-Vu (director Antonin Peretjatko)
Les Apaches (director Thierry de Peretti)
Me Myself and Mum (director Guillaume Gallienne)
Magic Magic (director Sebastián Silva)
On the Job (director Erik Matti)
The Congress (director Ari Folman)
The Last Days on Mars (director Ruairí Robinson)
The Selfish Giant (director Clio Barnard)
Tip Top (director Serge Bozon)
Ugly (director Anurag Kashyap)
Ain't Misbehavin (director Marcel Ophuls)
We Are What We Are (director Jim Mickle)
International Critics Week:
(Sidebar event held in parallel to Cannes)
Suzanne (director Katell Quillévéré)
Ain't Them Bodies Saints (director David Lowery)
You and The Night (director Yann Gonzalez)
The Dismantlement (director Sébastien Pilote)
Los Dueños (directors Agustín Toscano & Ezequiel Radusk)
For Those in Peril (director Paul Wright)
The Lunchbox (director Ritesh Batra)
The Major (director Yury Bykov)
Nos héros sont morts ce soir (director David Perrault)
Salvo (directors Fabio Grassadonia & Antonio Piazza)