2012 Chicago International Film Festival Coverage Introduction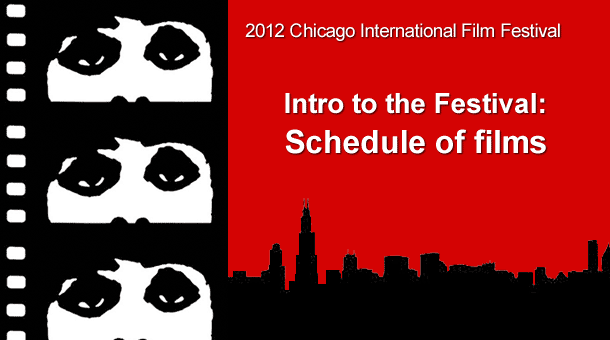 Fall is a great time to watch films. The combination of the days beginning to get colder and the nights getting longer makes the perfect excuse for staying inside to watch films. Festival season is now in full swing which means award season will be following just around the corner. So what better place to enjoy a film festival in the fall than the Windy City of Chicago?
The Chicago International Film Festival (CIFF) is a two week film festival that prides itself on the abundant offerings of world cinema. During the five and a half days I will be there 80% percent of the films I am scheduled to see are foreign. More than half of those foreign films premiered overseas at the prestigious Cannes Film Festival this year. Generally what works best for me is going into films without a whole lot about it, so that is what I will be doing for most of what I see. For the majority of the films I have not even seen the full trailer.
Below are the films that I am planning to cover for Way Too Indie while I am there. However, this is slightly tentative depending on press screenings that may pop up but for the most part this will be it. In addition to festival coverage I will be posting on here, I will also be tweeting like crazy so make sure to follow @WayTooIndie on twitter.
Day #1:

Holy Motors
Day #2:

War Witch – Like Someone In Love – After Lucia
Day #3:

Flowerbuds – Paradise: Love
Day #4:

Once Upon A Time Was I, Veronica – Beyond The Hills
Day #5:

Empire Builder – Not Fade Away
Chicago International Film Festival Trailers:
Holy Motors trailer:
War Witch trailer:
Like Someone In Love trailer:
Flowerbuds trailer:
Paradise: Love trailer:
Beyond The Hills trailer:
Not Fade Away trailer: