Coachella Announcement Rumors: Location Change or Cruise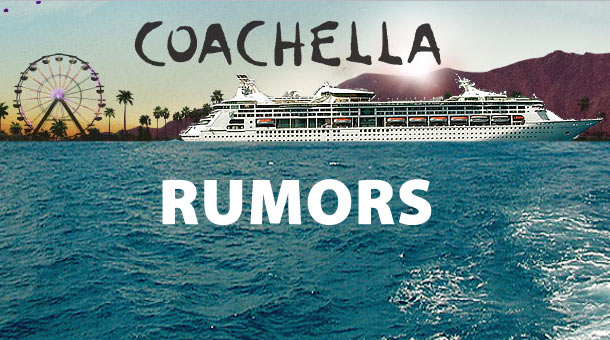 If you ever doubted the power and influence that the music festival Coachella has, this should clear that up. The people behind Coachella can cause the whole indie music scene on the web to go crazy with a simple ambiguous message such as "Tuesday 6PM PDT". That is the exact message they posted on their website yesterday and already the rumors are going wild.
The first rumor that is floating out there is that they will be moving the location of Coachella. A report by The Desert Sun says that the Goldenvoice officals have been thinking about moving Coachella about 8 miles from it's current location (Empire Polo Club) in 2014. Apparently, the thought of moving the location has been considered since 2008.
This location move rumor makes sense as Coachella has been looking for ways to expand the festival. In order to keep up with the demand of tickets, which usually sell out within hours of going on sale, they expanded the festival to take place on two back-to-back weekends. And they still had no troubles selling out. In fact, they generated a gross of $47.3 million over the two festivals (the largest ever recorded for a single concert event). One cannot help but wonder if they had Coachella each month of the year if it could still sell out.
The second rumor is a bit more lavish than the first but some claim there is a good chance of it being true. According to the Los Angeles Times, sources say that Coachella could be starting up its own Coachella-themed cruise. Popular acts such as Weezer and 311 have done themed cruises so it would make sense that if a festival were to do it that Coachella would be the first. There is no word on prices yet but whatever they will be, they will likely sell out fast if history is any indication.
Stay tuned as Coachella makes the official announcement at 6PM tonight. In the meantime, what do you think they will announce?