Coachella 2012 Lineup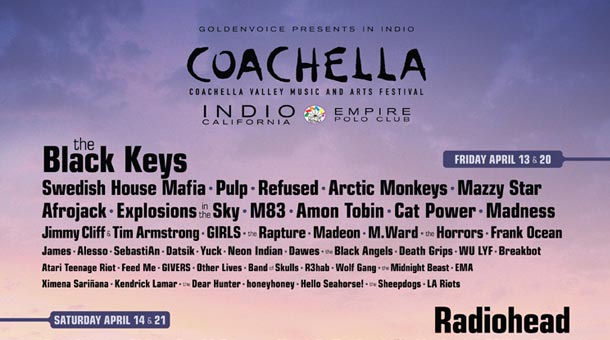 Coachella just announced the lineup for its 2012 festival in Indio, California. The headliners are undeniably stacked; Black Keys (Friday), Radiohead (Saturday) and Dr. Dre & Snoop Dogg (Sunday). As you probably know, 2012 Coachella Music Festival will be held over just one weekend but two, essentially creating two identical festivals back –to-back.
While the headliners are attention grabbers, the rest lineup is even more impressive. Some of my personal favorites are; M83, Neon Indian, Miike Snow, St. Vincent, At The Drive-In, The Weeknd, DJ Shadow, Justice, Calvin Harris, Real Estate, and Cat Power.
The Coachella Music Festival will start on April 13-15 and again on April 20-22. See the full Coachella lineup poster of bands below.