Bonnaroo 2012 Lineup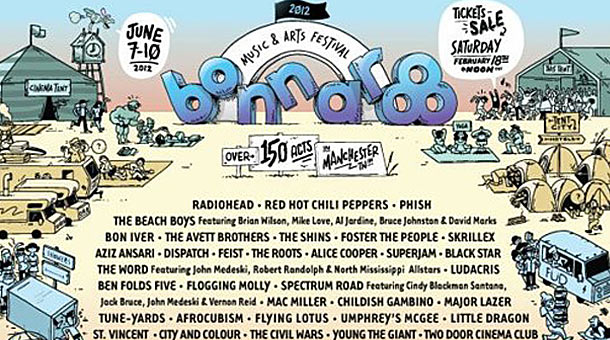 The lineup for this year's Bonnaroo Festival located in Manchester, Tennessee has been announced. The headliners will cover a wide range of music lovers as Radiohead, Red Hot Chili Peppers, and Phish take the top honors.
There is no doubt that Bonnaroo's 2012 lineup is amazing this year. The bill is full of some great artists including; Bon Iver, The Shins, Aziz Ansari, Fruit Bats, St. Vincent, The Avett Brothers, Alabama Shakes, tUnE-YarDs, Delta Spirit, Ben Folds Five, Feist, Skrillex, and Trampled By Turtles.
The Bonnaroo Music Festival will take place June 7th – June 10th. See the Bonnaroo full lineup poster below.