'Birdman' and 'The Grand Budapest Hotel' Lead 2015 Oscar Nominations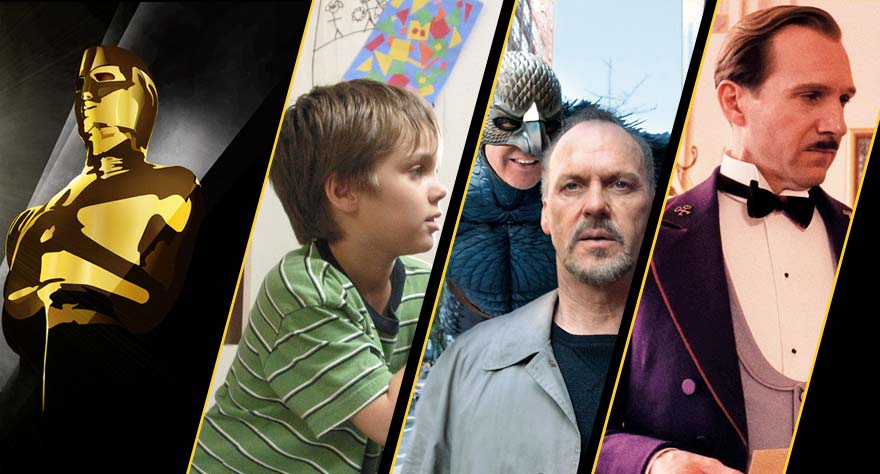 Like them or not, the 2015 Oscar nominations are in.
Snubbing seems to happen every year, apparent front-runners don't receive nominations and the list of nominations are questioned. No The Lego Movie in Best Animated Film. No Life Itself or The Overnighters in Best Documentary Feature. Ava DuVernay and David Oyelowo walk away empty-handed. Gone Girl left out of Best Picture, Best Director, and (strangest of all) Best Adapted Screenplay. Foxcatcher has good enough direction, acting and screenplay, but not good enough for a Best Picture nomination.
Sometimes the list of snubs can shine a light on a great year, which by all means 2014 was (or at the very least, 2014 was better than people think). We all knew that categories like Best Actor, Best Original Screenplay, Best Director, etc. were going to be tight races, so it's too easy for one of our favorites to just miss the cut (like Jake Gyllenhaal).
Shifting to a positive note, Way Too Indie favorites Birdman and The Grand Budapest Hotel led the nominations with nine each. Boyhood received six nominations, including Best Picture, Best Director, Best Original Screenplay and both supporting acting categories. Despite its snubs in all the other major categories, Selma was recognized with a Best Picture nomination. Ida, which was nominated for Best Foreign Language Film, also received a nomination for its stunning black-and-white cinematography. While we expected to see Force Majeure and Two Days, One Night on the list for Best Foreign Language Film, we're equally happy to have Wild Tales and Leviathan. Meanwhile, Whiplash hauled in a whopping six nominations including Best Picture, Best Supporting Actor, Best Adapted Screenplay, Best Editing, and Best Sound Mixing.
Finally, American Sniper, a film that didn't seem to have much buzz, received six nominations. And somehow the dismal Angelina Jolie film Unbroken wound up with three nominations. Let us know what you think in the comments below!
Full list of 2015 Oscar Nominations
BEST PICTURE
American Sniper
Birdman
Boyhood
The Grand Budapest Hotel
The Imitation Game
Selma
The Theory of Everything
Whiplash
BEST ACTOR
Steve Carell – Foxcatcher
Bradley Cooper – American Sniper
Benedict Cumberbatch – The Imitation Game
Michael Keaton – Birdman
Eddie Redmayne – The Theory of Everything
BEST ACTRESS
Marion Cotillard – Two Days, One Night
Felicity Jones – The Theory of Everything
Julianne Moore – Still Alice
Rosamund Pike – Gone Girl
Reese Witherspoon – Wild
BEST SUPPORTING ACTOR
Robert Duvall – The Judge
Ethan Hawke – Boyhood
Edward Norton – Birdman
Mark Ruffalo – Foxcatcher
J.K. Simmons – Whiplash
BEST SUPPORTING ACTRESS
Patricia Arquette – Boyhood
Laura Dern – Wild
Keira Knightley – The Imitation Game
Emma Stone – Birdman
Meryl Streep – Into the Woods
BEST DIRECTOR
Alejandro G. Iñárritu – Birdman
Richard Linklater – Boyhood
Bennett Miller – Foxcatcher
Wes Anderson – The Grand Budapest Hotel
Morten Tyldum – The Imitation Game
BEST FOREIGN LANGUAGE FILM
Ida – Poland
Leviathan – Russia
Tangerines – Estonia
Timbuktu – Mauritania
Wild Tales – Argentina
BEST ANIMATED FILM
Big Hero 6
The Boxtrolls
How to Train Your Dragon 2
Song of the Sea
The Tale of the Princess Kaguya
BEST DOCUMENTARY FEATURE
CitizenFour
Finding Vivian Maier
Last Days in Vietnam
The Salt of the Earth
Virunga
BEST ORIGINAL SCREENPLAY
Birdman
Boyhood
Foxcatcher
The Grand Budapest Hotel
Nightcrawler
BEST ADAPTED SCREENPLAY
American Sniper
The Imitation Game
Inherent Vice
The Theory of Everything
Whiplash
BEST ORIGINAL SCORE
The Grand Budapest Hotel
The Imitation Game
Interstellar
Mr. Turner
The Theory of Everything
BEST ORIGINAL SONG
"Everything Is Awesome" – The Lego Movie
"Glory" – Selma
"Grateful" – Beyond the Lights
"I'm Not Gonna Miss You" – Glen Campbell…I'll Be Me
"Lost Stars" – Begin Again
BEST CINEMATOGRAPHY
Birdman
The Grand Budapest Hotel
Ida
Mr. Turner
Unbroken
BEST EDITING
American Sniper
Boyhood
The Grand Budapest Hotel
The Imitation Game
Whiplash
BEST VISUAL EFFECTS
Captain America: The Winter Soldier
Dawn of the Planet of the Apes
Guardians of the Galaxy
Interstellar
X-Men: Days of Future Past
BEST SOUND EDITING
American Sniper
Birdman
The Hobbit: The Battle of the Five Armies
Interstellar
Unbroken
BEST SOUND MIXING
American Sniper
Birdman
Interstellar
Unbroken
Whiplash
BEST PRODUCTION DESIGN
The Grand Budapest Hotel
The Imitation Game
Interstellar
Into the Woods
Mr. Turner
BEST COSTUME DESIGN
The Grand Budapest Hotel
Inherent Vice
Into the Woods
Maleficent
Mr. Turner
BEST MAKEUP AND HAIRSTYLING
Foxcatcher
The Grand Budapest Hotel
Guardians of the Galaxy
BEST LIVE ACTION SHORT FILM
Aya
Boogaloo and Graham
Butter Lamp
Parvaneh
The Phone Call
BEST DOCUMENTARY SHORT SUBJECT
Crisis Hotline: Veterans Press 1
Joanna
Our Curse
The Reaper (La Parka)
White Earth
BEST ANIMATED SHORT FILM
The Bigger Picture
The Dam Keeper
Feast
Me and My Moulton
A Single Life