2015 Screen Actors Guild Award Winners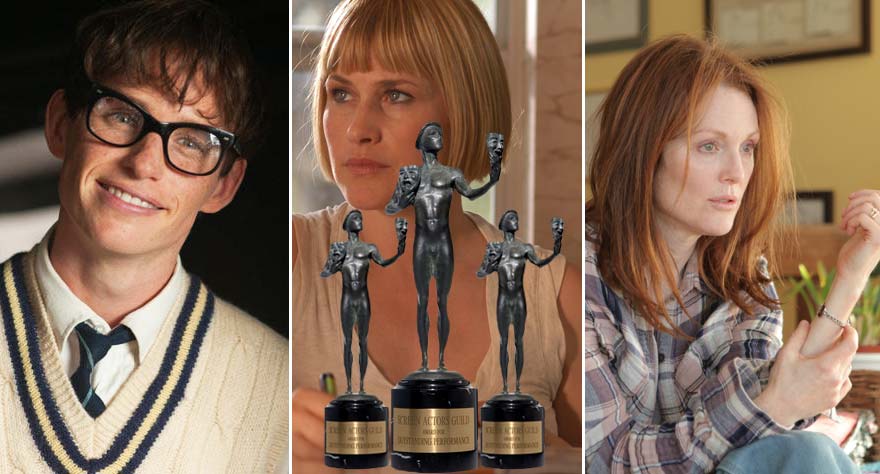 Anyone interested how the acting categories may pan out for the Oscars had their attention on the 2015 Screen Actors Guild Awards tonight, as this award show is much more reliable than say the Golden Globes, though there were a lot of overlap winners in the film categories. In fact, Patricia Arquette (Boyhood), J.K. Simmons (Whiplash), Julianne Moore (Still Alice) and Eddie Redmayne (The Theory of Everything) all repeated their wins in respected categorizes from the Globes two weeks ago. Redmayne continues his streak of edging out Michael Keaton (Birdman) who many consider to be the front-runner. This win might just shake things up for the category come Oscar night. Though Birdman wasn't completely shut out, the film picked up the Outstanding Performance by a Cast award.
Orange Is the New Black picked up two awards on the television side of the awards, one for Outstanding Performance by an Ensemble in a Comedy Series and Uzo Aduba (for the role of Crazy Eyes) won for Outstanding Performance by a Female Actor in a Comedy Series. Kevin Spacey was the only Golden Globes repeat winner this year, earning Outstanding Performance by a Male Actor in a Drama Series in both awards shows. Other winners included Mark Ruffalo (The Normal Heart), Frances McDormand (Olive Kitteridge) and Viola Davis (How To Get Away With Murder).
List of 2015 Screen Actors Guild Award Winners
Film
Outstanding Performance by a Male Actor in a Leading Role
Eddie Redmayne – The Theory of Everything
Outstanding Performance by a Female Actor in a Leading Role
Julianne Moore – Still Alice
Outstanding Performance by a Male Actor in a Supporting Role
J.K. Simmons – Whiplash
Outstanding Performance by a Female Actor in a Supporting Role
Patricia Arquette – Boyhood
Outstanding Performance by a Cast in a Motion Picture
Birdman
Television
Outstanding Performance by a Male Actor in a Television Movie or Miniseries
Mark Ruffalo – The Normal Heart
Outstanding Performance by a Female Actor in a Television Movie or Miniseries
Frances McDormand – Olive Kitteridge
Outstanding Performance by a Male Actor in a Drama Series
Kevin Spacey – House of Cards
Outstanding Performance by a Female Actor in a Drama Series
Viola Davis – How To Get Away With Murder
Outstanding Performance by a Male Actor in a Comedy Series
William H. Macy – Shameless
Outstanding Performance by a Female Actor in a Comedy Series
Uzo Aduba – Orange Is the New Black
Outstanding Performance by an Ensemble in a Drama Series
Downton Abbey
Outstanding Performance by an Ensemble in a Comedy Series
Orange Is the New Black