2013 Oscar Nominations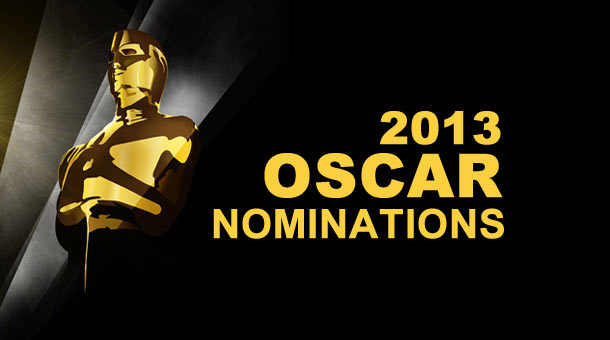 The nominations for the 2013 Oscars were announced this morning with Lincoln brining in the most nominations with a whopping 12, including most of the main categories. Almost every year at the Academy Awards the showdown for Best Picture is normally between just two films, this year may be a little different. I have always thought Lincoln and Zero Dark Thirty are the two films considered to have the best chance at taking the top prize, but with Kathryn Bigelow not getting a nod for Best Director, that severely hurts Zero Dark Thirty's chances of winning Best Picture.
There were a few surprise nominations this morning, most which were welcoming. First off, Beasts of the Southern Wild got a lot more support from the Academy than what some were predicting. The film walked away with a total of 4 nominations, includes ones for Best Picture and perhaps the most surprising, Best Director. You could say because Benh Zeitlin (Beasts of the Southern Wild) got that nod, that it shut out Kathryn Bigelow (Zero Dark Thirty) for that final spot. Quvenzhane Wallis got a well-deserved nomination for Best Actress and although it is unlikely, she would be the youngest award winner if she ended up winning.
Some were worried that The Master would not end up getting any love from the Academy, but we can know breathe a sigh of relief as Joaquin Phoenix, Philip Seymour Hoffman, and Amy Adams were all thankfully nominated for acting awards. Amour got some love (pun intended) in more than just the Best Foreign Language category (where it is thought to be the front-runner in). The film also picked up nominations for Best Original Screenplay, Best Actress, Best Director and Best Picture.
The 85th Academy Awards will air February 24, 2013 at 5:30 p.m., PT/ 8:30 p.m., ET on ABC.
Full List of 2013 Oscar Nominations:
Best Picture:
Amour
Argo
Beasts Of The Southern Wild
Django Unchained
Les Misérables
Life Of Pi
Lincoln
Silver Linings Playbook
Zero Dark Thirty
Best Director:
Michael Haneke – Amour
Benh Zeitlin – Beasts Of The Southern Wild
Ang Lee – Life Of Pi
Steven Spielberg – Lincoln
David O. Russell – Silver Linings Playbook
Best Actor:
Denzel Washington – Flight
Hugh Jackman – Les Miserables
Daniel Day-Lewis – Lincoln
Joaquin Phoenix – The Master
Bradley Cooper – Silver Linings Playbook
Best Actress:
Emmanuelle Riva – Amour
Quvenzhane Wallis – Beasts Of The Southern Wild
Naomi Watts – The Impossible
Jennifer Lawrence – Silver Linings PLaybook
Jessica Chastain – Zero Dark Thirty
Best Supporting Actor:
Alan Arkin – Argo
Christoph Waltz – Django Unchained
Tommy Lee Jones – Lincoln
Philip Seymour Hoffman – The Master
Robert De Niro – Silver Linings Playbook
Best Supporting Actress:
Anne Hathaway – Les Misérables
Sally Field – Lincoln
Amy Adams – The Master
Helen Hunt – The Sessions
Jacki Weaver – Silver Linings Playbook
Best Original Screenplay:
Michael Haneke – Amour
Quentin Tarantino – Django Unchained
John Gatins – Flight
Wes Anderson & Roman Coppola – Moonrise Kingdom
Mark Boal – Zero Dark Thirty
Best Adapted Screenplay:
Chris Terrio – Argo
Lucy Alibar, Benh Zeitlin – Beasts of the Southern Wild
David Magee – Life Of Pi
Tony Kushner – Lincoln
David O. Russell – Silver Linings Playbook
Best Foreign Film:
Amour
Kon-Tiki
No
A Royal Affair
War Witch
Best Cinematography:
Seamus McGarvey – Anna Karenina
Robert Richardson – Django Unchained
Claudio Miranda – Life Of Pi
Janusz Kaminski – Lincoln
Roger Deakins – Skyfall
Best Animated Film:
Brave
Frankenweenie
ParaNorman
The Pirates! Band Of Misfits
Wreck-It Ralph
Best Documentary:
5 Broken Cameras
The Gatekeepers
How To Survive A Plague
The Invisible War
Searching For Sugar Man
Best Film Editing:
William Goldenberg – Argo
Tim Squyres – Life Of Pi
Michael Kahn – Lincoln
Jay Cassidy and Crispin Struthers – Silver Linings Playbook
William Goldenberg, Dylan Tichenor – Zero Dark Thirty
Best Original Score:
Dario Marianelli – Anna Karenina
Alexandre Desplat – Argo
Mychael Danna – Life Of Pi
John Williams – Lincoln
Thomas Newman – Skyfall
Best Original Song:
"Before My Time" – Chasing Ice
"Pi's Lullaby" – Life Of Pi
"Suddenly" – Les Miserables
"Skyfall" – Skyfall
"Everybody Needs A Best Friend" – Ted
Best Production Design:
Anna Karenina
The Hobbit: An Unexpected Journey
Les Misérables
Life Of Pi
Lincoln
Best Costume Design:
Anna Karenina
Les Misérables
Lincoln
Mirror Mirror
Snow White and the Huntsman
Best Makeup:
Hitchcock
The Hobbit: An Unexpected Journey
Les Misérables
Best Sound Editing:
Argo
Django Unchained
Life Of Pi
Skyfall
Zero Dark Thirty
Best Sound Mixing:
Argo
Les Misérables
Life Of Pi
Lincoln
Skyfall
Best Visual Effects:
The Hobbit: An Unexpected Journey
Life Of Pi
Marvel's The Avengers
Prometheus
Snow White And The Huntsman
Best Documentary (Short Subject):
Inocente
Kings Point
Mondays At Racine
Open Heart
Redemption
Best Visual Short Film (Animated):
Adam And Dog
Fresh Guacamole
Head Over Heels
Maggie Simpson In The Longest Daycare
Paperman
Best Short Film (Live Action):
Asad
Buzkashi Boys
Curfew
Death Of A Shadow
Henry