Interview: Aaron Godfred – Little Blue Pill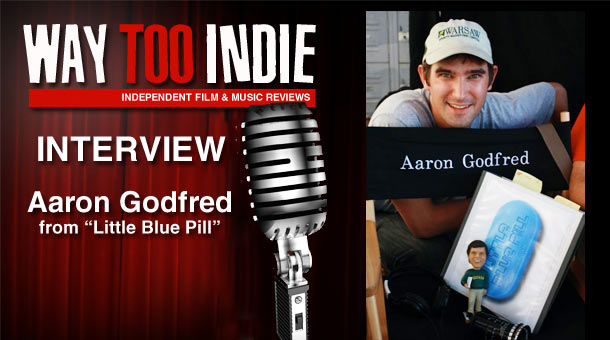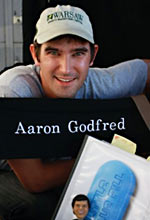 Aaron Godfred directed his first feature film called Little Blue Pill (review) and was kind enough to answer some questions about his indie comedy film. He shares his woes on microbudgeting, the state of California and Ford Motor Company.
How did you come up with the idea for Little Blue Pill? I hope not from personal experience.
I was at my best friend's wedding a couple years ago and the night before, we were sitting in a barn in New Hampshire, drinking wine and telling stories. A friend told me a story about a friend of a friend who accidentally took two Viagra and had a boner for a day. I wrote this on a napkin or coaster and put it in my pocket. I really wish I could find that damn piece of paper. It would be worth millions by now.
Approximately how much did it cost to make Little Blue Pill?
We're at $86,000 and counting. One thing that I've learned is on microbudget films you can't really budget for some items or you'll put a zero in for color correction and then end up hiring someone to do it because you just can't do a good job on your own. Also, the greedy state of California requires an $800 annual LLC fee so even though at this point we haven't made a cent we've now paid the state over $2,400. The LLC was pretty necessary though in case we offended Pfizer or someone got hurt on our set. But every year when I have to write that check I want to call the Governator and tell him off. Having an indie film is like a baby. It's always in need of something and that something has a price tag associated with it.
Considering it was on an indie budget, what was the biggest challenge in terms of lack of money?
Hmm… the biggest challenge was having to get everything for a fraction of what the productions we were competing with for crew and equipment could afford to pay. There are literally thousands of negotiations during the pre, production and post phases and we really needed people who wanted to be partners with us and weren't in it for the big $$$. We had to cut a lot of corners but do it in a way that someone watching the movie back home wouldn't have a clue.
How much of the film was shot in Portland and how many days did you spend filming?
Almost everything that took place outside of the Phalitech interior was shot in Portland. We filmed for three six-day weeks in Portland and a fourth week in Renton, Washington at a surgical training facility that served as Phalitech. We also had two days of pickups in Los Angeles where we filmed at my grandma's house and my director of photography's apartment in Silverlake.
The cast seemed perfectly chosen but obviously none are household names (yet), tell me how you did the casting process for this film.
Thanks. I absolutely love all of the actors in LBP. The lead roles were cast from www.lacasting.com which is a fantastic, fantastic website for casting in Southern California. We held auditions at my grandma's house and then got together and watched the tapes over and over laughing our asses off. The lead actor Aaron Kuban was chosen because every time we saw him audition with the car scene we were rolling around on the floor laughing. Someday I'm going to put that in the DVD extras. The same is said for Adam Carr who plays Oscar.
The supporting roles were all local Portland actors. Jake Rossman, a fraternity brother of mine who lives in Portland acted as our casting director up there and set up a bunch of auditions. I also attended the PATA, Portland Area Theater Alliance, open audition and found a couple more actors there. Portland has a terrific theater community and an emerging film and television scene. I was so happy and honored to get the amazing cast that I did.
Any interesting tidbit you can share with us about the film?
Portland was an amazing place to film because the city was so friendly to filmmaking and the permitting process was efficient and affordable. We all stayed in a dormitory at a local university and one morning at 6am my producer and roommate, Dave Szamet, gets a call from our traffic flagger asking if he's at the right location for the day's filming. He was confused because there were shitloads of production vehicles there and he thought we were a small production. We in fact were a small production with one 3-ton grip truck we nicknamed Shitty Frank.
Dave and I rushed to the location to find out they were shooting a Ford commercial the following day and even though we had permitted the intersection we neglected to permit or purchase the sidewalks and parking. The location manager for Ford made it very clear that their twenty trucks were not going anywhere. At this point, I was freaking out so Dave called our contact at the city film office and he told us to just pick another intersection and shoot. We ended up finding a better one with a train crossing rather than a stop sign and in the end it made the scene that much better. The production value you get from a train in your film is pretty awesome.
How did you get into film?
I started making snowboard videos in Alaska, where I grew up. I went to Best Buy and bought a sweet Sony MiniDV camera, which I still have today, and a fish eye lens. Although I majored in International Business and have an MBA, I never stopped filming stuff. After a year as a consultant in Connecticut, I packed it up and moved to LA to pursue filmmaking full time. Rather than wait tables or bartend to support my filmmaking addiction I worked as a camera rental agent and later an assistant to some agents at William Morris Endeavor. They rep actors and filmmakers from Ben Affleck to Martin Scorsese and I believe Shaq as well. The agency is also what the agency in the HBO show Entourage is based off of. If you are familiar with the show, I was basically Lloyd. While I was there I wrote Little Blue Pill and after two years of going to work in a suit in Beverly Hills, I quit and put LBP in to pre-production.
Tell me about the advertising process and how successful you think getting your film out there is going.
We are partnered with a digital distributor called GoDigital Media Group. They are a bunch of really smart guys who understand the digital space. I'm primarily handling the marketing side of things. With no real budget we've had to get creative and social. Social networking has played a big part in creating awareness for the movie and keeping people posted about what's going on with LBP. Check out our Facebook page at www.facebook.com/littlebluepill and become a fan. We also use Twitter and Youtube.
One of my big initiatives has been to reach out to indie film bloggers and people who support indie film like yourself and your site waytooindie.com. It's people like you who really help to get the word out there to viewers who are passionate about indie film. Also, we're working on some viral initiatives to try to reach a broader audience. The movie is being released on iTunes April 12th and is available for presale now so it's time to get our marketing on. Honestly, I enjoy this part of the process because I can finally put some of the stuff I learned in 6 years of studying business and marketing to work.
What film directors do you look up to the most?
Martin Scorsese, Ben Affleck (after The Town), Todd Phillips, the Farrelly brothers from back in the day, the Cohen brothers, Gaspar Noe, Danny Boon, Don Coscarelli, Stanley Kubrick, David Fincher, Billy Wilder and Mel Brooks.
Considering this was your first feature film, do you have any other projects in the works?
Always. In this town you are only as good as your next movie. I'm putting the finishing touches on a workplace comedy that I'm writing. I also just wrapped production on a fantastically bizarre and interesting horror film called John Dies At The End, which was directed by Don Coscarelli. I was a co-producer on it. This movie is really going to trip people out and I'm so excited to watch it come together. I'm also working on a host of other projects and just trying to get one across the starting line.
Thanks for taking the time to do this interview and insight on independent filmmaking.
Thanks for speaking with me Dustin. I'm happy to share my knowledge of indie filmmaking and priapism (a potentially harmful and painful medical condition in which the erect penis does not return to its flaccid state.)
Little Blue Pill is being released on iTunes April 12th.