Way Too Indie's Best Albums of 2012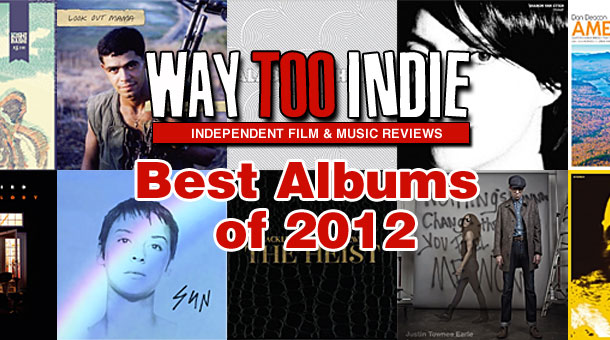 During this last year, I have had the unique opportunity to spend the entire year aboard which means that I have been rather isolated from the hub of the celebrity music world. I missed the passing of Etta James, Davy Jones of the Monkees, and Whitney Houston. I never caught any of the tweets surround the reuniting of the Spice Girls for the Olympics in London and I never had to suffer through the hype surrounding "Call Me Maybe."
Thankfully, though, music has gone digital and even during my foreign hiatus, I have still been able to keep myself connected to the indie music world. This year brought a handful of new releases from indie greats—Of Montreal, Andrew Bird, The Shins, The Mars Volta, M. Ward, Jack White, Regina Spektor, Animal Collective, David Byrne & St. Vincent, the Avett Brothers, Cat Power, the xx, Old Crow Medicine Show, Mumford & Sons, Calexico, and even No Doubt. However, in my opinion, 2012 was an even greater year for the rising stars of indie music. Although many of the artists gracing my top 10 list this year are not exactly new to the scene, they have managed to provide a fresh, yet lasting impression on this ever expanding musical landscape.
Way Too Indie's Best Albums of 2012
#1 Kishi Bashi – 151a


This album still manages to blow me away, even after having it for months. In fact, it is the first entire album to make my top played list. 151a is a complete 35-minute aural experience between the listener and a musician equipped only with a violin, his voice, and a looping machine. With ethereal lyrics and beautiful, intimate riffs, Kishi Bashi's debut is one that will set the standard for music in the years to come.
#2 Hurray for the Riff Raff – Look Out Mama

What do you get when you combine a transient Puerto Rican New Yorker, a transgendered drummer, and a honky-tonk band and mix them with the vibrant world of New Orleans' music? Hurray for the Riff Raff and their newest release Look Out Mama. One part old time, bayou ho-down and one part rockabilly, with a pinch of 1960's fuzzy surfer rock, Look Out Mama is a sunny day sound track and an incomparable showcase of Alynda Lee Segarra's exemplary vocals.
#3 Alabama Shakes – Boys & Girls


Produced by Andrija Tokic (who also produced Look Out Mama) the Alabama Shakes are a pleasant reminder of how great those rocking, southern blues can be. Lead singer Brittany Howard carries the album with her hearty, soulful vocals. She is backed by an extremely talented and consistent band, which manages to display a great amount of musical maturity for their first release. Clearly, they have been doing their homework and Boys & Girls is the perfect testament.
#4 Sharon Van Etten – Tramp


With one of most haunting and distinctive voice in music today, Sharon Van Etten's newest release, Tramp, has not lost the anguish of her earlier albums. However, it feels although she spent these last two years polishing those sentiments and the result is an eloquent display of human emotion.
#5 Dan Deacon – America


For someone who is normally not a fan of electronic music, Dan Deacon's America broke all of my expectations for the ringleader of the DIY dance club world. Self-described as "electro-acoustic," America is a "fluid blend of the rigid perfection found in electronic music and the indistinct irregularities that come from the humanization of music." Deacon accomplished what he set out to do, to capture the essence of America in a single record, a feat I never thought possible, especially from a techo-guy.
#6 Andrew Bird – Hands of Glory

A throw back to his early days as Andrew Bird's Bowl of Fire, Hands of Glory is the fiddle companion EP to the violin pop of Bird's earlier 2012 release Break It Yourself. In my opinion, this is Bird at his finest—he has dropped his Cheshire cat persona to focus on the music above enigmatic lyrics. The result is a well-balanced, engaging album to revive your love in Bird just as it was beginning to fade.
#7 Cat Power – Sun


Chan Marshall is back, ladies and gentlemen, and proving that she can still produce a powerful album. Sun breaks Marshall's long hiatus and offers a side of Cat Power that has remained relatively unexplored in her previous recordings. "Plugged-in and propelled by driving beats and backing vocals, the album is refreshing, confident, and cogitative. Marshall has cut much of the angst that so readily defined her earlier music and the result is eleven tracks with a surprising sense of coherence."
#8 Macklemore & Ryan Lewis – The Heist


Storming the music charts in early October, Seattle MC, Macklemore, and his producer, Ryan Lewis, brought a new edge to hip-hop with their album the Heist. Touching on a wide range of topics from addiction to shopping at thrift shops to consumerism to gay marriage to their loathing with the recording industry, the Heist in a bold yet sensitive contemporary commentary. Musically, it highlights some of the finest indie talent on the west coast, making it equally as impressive as it is lyrically stirring.
#9 Justin Townes Earle – Nothing's Gonna Change the Way You Feel About Me Now


There is a very fine line between country music worth listening to and country music that the world would be better without, but to Justin Townes Earl that line has never existed. Instead there is just music and for JTE, it happens to come in a blend of blues, folk, and a good bit of Americana country. His fifth release is a pleasant reminder that JTE is capable of holding his own as a recording artist, not to be deterred by his turbulent lifestyle or the overbearing presence of his famous father.
#10 Ty Segall – Twins


The last minute addition to this list, I will be very upfront with the fact that I am hardly familiar with this seemingly prolific artist. Regardless, this album rocks—straight up, head banging, grungy, garage-style rocking. It brings you back to those early days when you first stepped away form your parent's soft-rock CD collection and started to explore edgier alternatives. More so, Segall is able to achieve this high energy without screaming and screeching or causing the onset of an epileptic fit. Bravo!
Honorable Mentions
Tame Impala – Lonerism
Another last minute addition to this list, Lonerism is the sophomore release of the Australian psychedelic rock group. These guys take the genre beyond the traditional 1970s feel and leave you lost in the music, dreading the moment the album ends.
∆ – An Awesome Wave
If I could predict the next direction for indie pop in a post-Animal Collective world, these guys would be it. Although I am hardly a fan of the stylization of artists, albums, and song titles, ∆ (Alt-J after the Mac command for the symbol) delivered an innovative album that is as charming as it is eccentric.
Mati Zundel – Amazonico Gravitante
Although I never touch on indie music beyond the English-speaking world, this last album is just too good to not mention—so here's my one pick from my beloved genre of Alt-Latino. Released on the preeminent Argentinean ZZK Records label, Amazonico Graviante combines the traditional folkloric Latino rhythms, such as cumbia, with modern electro-beats. In doing so, Zundel created an album that will define Alt-Latino music for years to come, not to mention the perfect soundtrack for anyone backpacking through Central and South America.