The Underdog: September 2014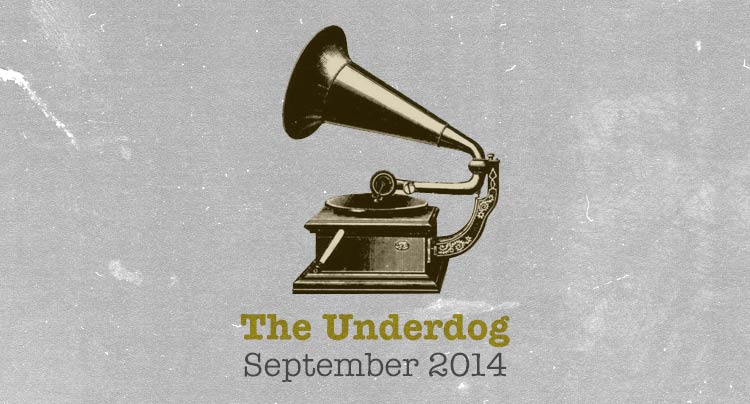 Now that fall is finally here, the big name releases keep coming in even larger amounts. The third edition of The Underdog, then, feels more important than ever: a lot of good new stuff that came out this month got overlooked and remains in the shadow of, say, Aphex Twin or Interpol. For the listener seeking more beyond the established acts of modern day, here are ten lesser-known suggestions for deeper exploration.
Astronauts, Etc. – Sadie
The debut EP from faintly mysterious solo act Astronauts, Etc. is a piano- and synth-bred electrosoul soother. The instrumentals are as beat-driven as they are spacious, slinky, and nocturnal; the vocals are rounded and watery in the same way that the voices of similar acts like Raffertie and Ben Khan strike. There's an obvious sensual touch to it too, but more so in the sweet, melodic manner of the xx than in the traditional R&B sense. Sadie stands in one of the darker corners of the electrosoul movement, but it's pop-oriented enough to draw in fans from all genres and brightnesses.
Ballet School – The Dew Lasts an Hour
This Berlin-based trio partakes in a rich history of Gothic influences, combining an intensely beautiful, watery guitar sparkle with a blissful synthetic sheen and vocals that vary between dreaminess and spikiness. Harmonies in these vocals are common too, adding a lightly psychedelic effect to these already woozy new wave tunes. It's not nearly the first album to borrow heavily from the 1980s, but it's one of the first to truly feel like a lost document of the time. Although the Dew lasts an hour, it's too bad this album only runs two-thirds as long.
Broncho – Just Enough Hip to Be Woman
Are Broncho garage rock's best kept secret? Although they've been active for just about four years, they remain merely an underground sensation despite deserving so much more. In a genre that's so commonly approached with laziness and a lack of creativity, Broncho hit just about all the right marks. Their songs never end too soon, nor do they labor on for ridiculous lengths. Their guitars are drowned in enough reverb, delay, and phaser to add a significant spark to their otherwise traditional chord progressions. Most importantly, the vocals balance detachedness with lucidity, even with the layers of lo-fi haze shrouding them. It's as though this band has distilled all of pop's best qualities into a garage rock format, and any ears lucky enough to stumble upon this great album will wonder where Broncho have been all this time.
Duologue – Never Get Lost
Duologue very nicely fill the post-King of Limbs void created by Radiohead's three year absence. But where that album sometimes felt weak and haphazard, Never Get Lost is immaculately crafted and gorgeously rendered across all ten of its tracks. Percussive skitter appropriated from the Burial catalog pops up on "Sibling" after two minutes of Yorke-esque crooning and haziness; "This Is Happening" lurches forward on some of the most daunting, enveloping synth surges in recent memory. Although listeners are told to never get lost, how can you not lose yourself in this album?
GRMLN – Soon Away
Carpark Records' best-kept secret is back with yet another album full of searing, crystalline garage pop. Overdriven guitars chug away with remarkably high fidelity, and power pop vocal clarity provides the icing on this bright power chord cake. The songs rip with the ferocity of some of punk's harshest, most abrasive tunes, but are far more rooted in upbeat, sunny loudness. A clear idolatry for the melodic, clean-cut punk of Husker Du and Dinosaur Jr. is apparent throughout Soon Away, an album named after a direction in which its songs won't turn any listeners.
Lemonade – Minus Tide
Last year, this band's single "Skyballer" just made our Top 20 Songs of 2013 list. It's tempting to think, then, Lemonade aren't quite Underdogs, but their audience hasn't grown much since then. Minus Tide is an album likely to change that: try not to float away with the shining groove of "Water Colored Visions", the oceanic chillwave thump of "Come Down Softly", or the dance-speckled endeavor of "Clearest." Disco's intersection with chillwave throughout this album results in an inescapable drift, a Tide that's tough to reckon with.
Lowell – We Loved Her Dearly
Maybe the reason Lowell isn't too well-known at the moment is that so many other musicians have found success with this sound. Or, should I say, these sounds; We Loved Her Dearly vacillates between various established electropop motifs that receive a welcoming refresher here. "The Bells" reinstates dainty, glittery pop as a memorable institution; "Cloud 69" makes a spectacle of throbbing, murky cheerleader chants; "I Killed Sara V" plays the piano ballad game with a strong hand; "LGBT" leans in a sultry, surf-indebted direction before blossoming into an entirely different synthpop mode. It's impressive to see one artist so adeptly writing in so many styles, and the chameleonic Lowell stands to earn a slew of new fans for it.
LVL UP – Hoodwink'd
New Jersey gets a bad rep, so much so that LVL UP are now pretending to be from Brooklyn. But these Ridgewood, NJ power pop craftsmen have nothing to be ashamed of; their thoroughly distorted guitar work and low-key but lucid vocals are instantly redeeming. Three different songwriters and vocalists helm the tunes here, so the cohesiveness of these basement jammers can't be overlooked. The songs are alarmingly confident and punchy, as most of them accomplish in less than three minutes what some songs take four or five to do. There's no hoodwinking going on here despite the album title; this is genuine songcraft at its most rewarding.
Lydia Ainsworth – Right from Real
Gothic pop may be the template, but eerie electronic art pop is the result. Lydia Ainsworth's voice faintly echoes Kate Bush (excuse this overly used comparison, which is truly accurate in this case and not just a sexist overreach), and her ghostly, choral electronics owe a debt to Bjork's Vespertine. The eight songs here are incredibly gorgeous and immaculately formed, with synths that impact like cathedral bells without ever overwhelming or being too large in size. Ainsworth's vocals alternate between an Arctic push and a heavenly warmth, and her mildly introverted soundscapes might disquiet listeners in the same manner that Julia Holter is known to. This is all to be expected from her label, Arbutus, which consistently releases some of the most haunting, beautiful art pop out there. Clearly, Right from Real is no exception.
TOPS – Picture You Staring
What was I just saying about Arbutus and art pop? TOPS are another one of that label's signee's, but their music is more fit for the far larger imprint 4AD. Ariel Pink and Blonde Redhead both call (or, for the latter, used to call) this label home, and their psychedelic, watery lounge guitar twang pervades Picture You Staring. The album stands to uproot Mac DeMarco from the slacker haze throne; its greater groove definitely imbues it with more pop power. Most interesting is how the soporific, sunrise vocals and vapor-like guitars echo shoegaze ballads, and TOPS make no effort to conceal their distant relationship with this genre. That they instead wind up with such a soothing, milky sound is reason enough to at least try this album.