Way Too Indie's Top 20 Songs of 2013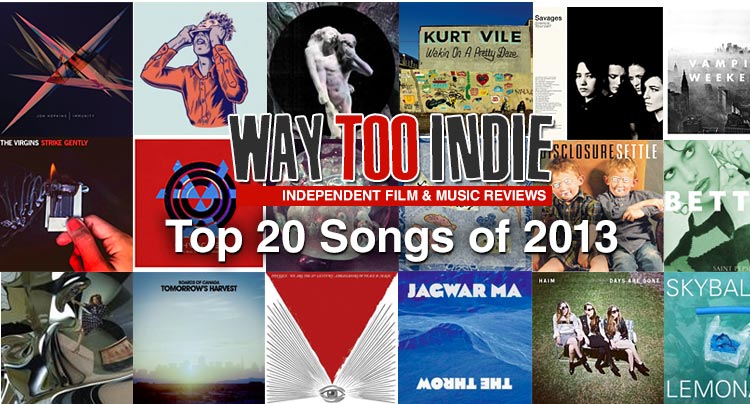 As Christmas approaches, so do the lists. Yes, it's holiday season, but it's also ranking season; each and every year, bloggers, music critics, and your Average Joe music listener all compile lists of their favorite musical works of the year. Typically, there's a preface included, which reads something along the lines of "this was a great year for music, so choosing these picks was extremely difficult!" This introduction is about as guaranteed as the mere existence of the list itself, because, well, those who devote time and effort to discovering (and hopefully enjoying) new music know that it's rare that, at any point in time, a dearth of it exists.
In light of this wonderful wealth of music, don't fret if some of your favorite songs of the year don't wind up on this list; there exists a perpetual abundance of art, far too much for any one human being to perfectly and fully absorb, so it's wholly possible that great works won't achieve the appreciation that many believe they merit. That said, notoriously popular picks such as "Get Lucky" might not be found here, although such omissions stem from indifference rather than malice. Also, lists convey opinions rather than objective fact, and, as Sly Stone once said, "Different strokes for different folks." Anyway, without further ado, let's reflect on this year and twenty of the many great songs it brought us.
Also check out our Best Albums of 2013 list
Way Too Indie's Top 20 Songs of 2013
#20 – Lemonade: "Skyballer"
#19 – Haim: "If I Could Change Your Mind"
#18 – Jagwar Ma: "The Throw"
#17 – Foxygen: "On Blue Mountain"
#16 – Boards of Canada: "Nothing Is Real"
#15 – Glasser: "Exposure"
#14 – Saint Pepsi: "Better"
#13 – Disclosure: "When a Fire Starts to Burn"
#12 – Speedy Ortiz: "Tiger Tank"
#11 – Darkside: "Paper Trails"
#10 – CHVRCHES: "Lies"
#9 – The Virgins: "Flashbacks, Memories, and Dreams"
#8 – Vampire Weekend: "Hannah Hunt"
#7 – Savages: "She Will"
#6 – Arcade Fire: "Reflektor"
Even in light of Reflektor's often pale musings, its title track stands as one of Arcade Fire's greatest accomplishments to date. It continues the band's embrace of disco as hinted by The Suburbs' "Sprawl II (Mountains Beyond Mountains)" — actually, it expands this theme much farther than most listeners would have reasonably expected. Marching forward upon "deep African voodoo rhythms that are the language in Haiti," as vocalist/songwriter Win Butler describes the percussion, "Reflektor" perfectly melds the dance-leanings of producer James Murphy with the cathartic, carrying song structures Arcade Fire perfected on their first three albums. The grandiose instrumentation also present on these albums is restricted to a backing template here, as strings and brass merely paint an outline for these nearly eight minutes of life-sized splendor. It's Arcade Fire's longest song to date, and over its course, there are many moments when dancing is as understandable a response as is being too awestruck to move at all.

Listen to Arcade Fire: "Reflektor"
#5 – Kurt Vile: "Wakin' On a Pretty Day"
When Kurt Vile released "Wakin' on a Pretty Day" in early 2013, it at first seemed intimidating. Coming from Vile, a ten-minute song not only surprised many people, but also felt impossible. How could Vile possibly extend his signature stoner lethargy over the course of ten minutes without descending into boring drivel? Although he doesn't completely avoid such gibberish ("Wakin' at the dawn of day/I gotta think about what I want to say/phone ringing off the shelf/I guess he wanted to kill himself" is one of the most apparently nonsensical verses I've ever heard), on "Wakin'", Vile makes excellent use of his time.
From this song's opening moments, it's clear that Vile's lush guitar tones and Americana-influenced soloing make for pure psychedelic bliss. After an already appealing first four minutes filled with this variation on his typical complacent, chill psych-folk, a brief pause transitions into the song's second half, the true winner here. The first appearance of what might be the year's best guitar riff emerges just about thirty seconds into this section: washed in lush, hazy tones, plucked guitar notes bathe the listener in a listless euphoria. There's nothing exceptional about the riff itself — these notes have been used before, these scales are thoroughly abundant in guitar-based music — but its delivery is riveting. Vile repeats this riff constantly over the course of five minutes, adding minor variations here and there, yet it affects just as strongly each and every time. Nothing to be afraid of here — just sit back and float away.

Listen to Kurt Vile: "Wakin' On a Pretty Day"
#4 – Moderat: "Milk"
Electronic instrumentalists have absolutely nailed the art of repetition. Think about it: Aphex Twin, Boards of Canada, Autechre — these vastly influential acts have perfected the use of cyclic repetition of the same sounds over the course of song. Although this might sound boring in concept, in execution it often pans out as beautiful, possibly more human than the voices heard in the majority of independent music.
With "Milk," Moderat can be added to the list of electronic musicians with a steady hand over repetition. "Milk" lasts ten minutes, yet feels much shorter. Perhaps this pseudo-brevity, both a blessing and a curse, stems from how great the song's repeating bit remains from its first to its last iteration. The clatter of icy percussion, the rise and fall of cold walls of synths, the blurring and refocusing of sampled oohs and aahs: really, these three phrases describe the entirety of the song. Although each featured is layered and de-layered countless times during "Milk"'s blessed ten minutes, the song never stagnates despite its inherently perpetual nature. Amidst all the repetition, it's one of the most moving pieces released this year.

Listen to Moderat: "Milk"
#3 – Jon Hopkins: "Open Eye Signal"
#2 – Youth Lagoon: "Pelican Man"
#1 – Yeah Yeah Yeahs: "Sacrilege"
From the song's relatively minimal opening moments, it's clear that Karen O hasn't lost her ability to alternate between the vilest and purest states of her voice. "Halo! 'Round his head!" perfectly covers the former terrain, while "Falling for a guy/who fell down from the sky" embraces the latter. Once the percussion picks up and provides the bass (a rare instrument in this trio's music) with a greater context, Nick Zinner doesn't take long to throw in a flashy guitar riff similar to the ones for which he's so well-liked. Zinner brings some murkiness and general mystery to the tone of the chorus; this feeling slowly spreads throughout the remainder of the song (although it had been there since the beginning), culminating in, of all things surprising, the addition of a 24-piece gospel choir.
This gospel choir could have easily felt out of place, but the band instead uses it to initiate the song's triumphant emotional peak. As Karen O pleads and prays, the choir follows her lead, eventually themselves becoming the leaders when nearly all other instrumentation drops out. It's a reminder of just how powerful human voices can be, especially in unison, and achieves a victorious feeling that seemingly resolves the tension the song employed in the first place. Sure, it's a change in direction, but when it's this resonant, who cares?

Listen to Yeah Yeah Yeahs: "Sacrilege"