The Underdog: April 2015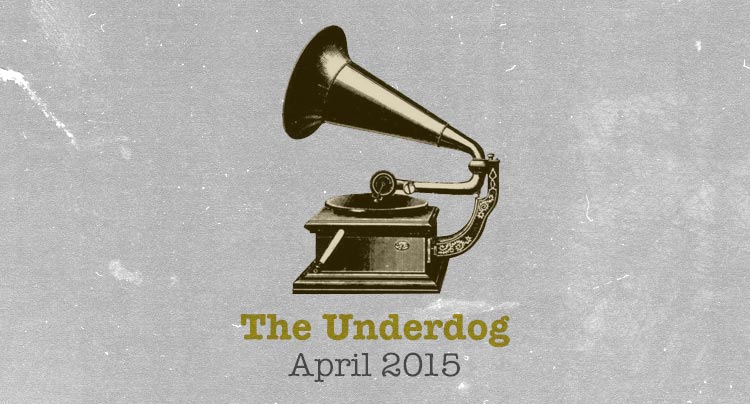 Welcome to the newest edition of The Underdog, Way Too Indie's monthly exploration of great, under-the-radar releases not receiving that much coverage elsewhere. This month's selections are all exciting in their own special ways, and if these words aren't enough to convince you, feel free to check out the clips below each album!
If you're on Spotify, you can follow along all year as we add to The Underdog's playlist to constantly be sampling some of 2015's best indie music.
Ava Luna – Infinite House
"Do you appreciate my company?" This is the first question posed on Infinite House, the third album from Brooklyn five-piece Ava Luna. Over the course of the album, the band's frayed, spastic fusion of post-punk, R&B, doo wop, and Dirty Projectors-esque experimentation ensures that the answer to this question is a strong, unequivocal "yes." Its eleven tracks display a tighter, less erratic version of the "nervous soul" Ava Luna advanced on 2012's Ice Level and 2014's Electric Balloon without sacrificing the quirks and idiosyncrasies that earned this group their small but intensely devoted fan base. Carlos Hernandez can still wail and yelp like few others, as is clear on "Tenderize" and "Best Hexagon", but on Infinite House, he spends more time crooning soulfully and delicately, as on "Black Dog" and "Roses and Cherries." Likewise, Felicia Douglass' creamy, romantic vocals carry over to "Coat of Shellac" from Electric Balloon highlight "PRPL," and Becca Kaufman's words continue to be oddly memorable, anchoring trippy adventure "Steve Polyester" quite nicely. Infinite House may be more streamlined than the two albums preceding it, but it's still a grand experiment, one that answers another question it poses. "Does that resonate with you?" Hernandez shrieks on "Tenderize," and once again, the response is an enthusiastic "yes." (You can read our review of Infinite House here.)
Avid Dancer – 1st Bath
Jacob Summers wants you to dance and to stop playing with his heart. He thinks all your words are gone and wonders why he left you behind. On 1st Bath, his debut as Avid Dancer, he weaves stories of universal familiarity with music that's just as widely appealing. Standard instrumentation, tempos, time signatures, and melodies comprise this album, but the music interests at a level above this normal line. It's a collection of pop songs at heart, but more than that, it's a gathering of poignant memories set to endearing sounds. The intertwined vocal harmonies and springing acoustic guitars of "Whatever's On Your Mind," for example, don't invent any new tricks, instead employing all the old ones to create a genuine piece of music. Elsewhere, the African percussion and milky flow of "I Told You So" entices fragrantly within previously established musical confines. Songwriters' desires, let alone Summers', have rarely sounded so reasonable.
American Wrestlers – American Wrestlers
Familiarity can curse or bless a piece of music. For Gary McClure, who records lo-fi psychedelic pop as American Wrestlers, the fact that his songs sound like you've heard them before ensures their power. The static hiss of his self-titled debut recalls all manner of other acts, and his voice sounds like someone whose name you can't remember despite knowing him well. The intimacy of his songs further enables them to strike a chord, and their finer details take second fiddle to a general state of tranquility and delight. "I Can Do No Wrong" wrings resonance out of a deceptively simple arrangement, and "Cheapshot" buries shoegaze classics underwater to surprisingly wonderful effect. Traveling all this well-trodden territory may not bring any explicitly new discoveries to light, but being happy with what you've got is easy when it's presented so dearly.
Boosegumps – : )
Among twee pop's strongest charms are it's incredibly brief songs and adorably minimal arrangements. : ), Heeyoon Won's newest release as Boosegumps, uses these two qualities splendidly. It compresses eight songs into twenty-two minutes without sacrificing wit (a song here is titled "March Sadness"), and its bedroom recording ensures its friendly familiarity. The album sounds like it's emitting from small speakers in the opposite corner of the same room in which it was recorded, and allows listeners to feel privy to the recording process. This intimacy endows beautifully dim songs such as "Fade Away" and "Art of Losing" with a bright glimmer that guarantees their resonance, and further emphasizes the already peppy tones of "Forever" and "Disappear" with greater sunshine. : )'s vocals only rarely dictate the mood and direction of its songs, but the smile of the album's title bestows upon it a welcoming feeling throughout.
Jessie Baylin – Dark Place
It wouldn't be too gross an exaggeration to claim that Jessie Baylin's voice distantly echoes the deepest parts of Christine McVie's vocal register. This compliment is indeed a grand one, and the folk and jazz influences of Baylin's ghastly, moody, spacious tunes on Dark Place ensure that the impressive Fleetwood Mac comparisons don't end there. "White Noise," for instance, might be Rumours' "Oh Daddy" if it were conceived with today's recording technology. Beyond this one reference point, though, Baylin's third album emulates the most downcast of all 1970s music; specifically, it possesses warm and lush, yet ominous, soundscapes and husky, crestfallen vocals. These qualities might allow it to be mistaken for a lost document of that era, but that's not to say that Dark Place is only valuable for novelty and nostalgia purposes. The songwriting here is plainly affecting, turning phrases like "You are my light, you are my everything/I die in your arms, yeah, that feels nice" ("Lungs") into arrows to the heart. Baylin may have needed to travel to a Dark Place to get her message across, but her journey was clearly quite worth it.
Losergroove – Bananacrusis//Euphoriac//Rodent Noise//Fleur
NYC's Losergroove released four EPs in the summer of 2014, and re-released them all as one remastered collection this month. The diversity of the music contained within this collection isn't a mistake; it's a gathering of four distinct releases living under the same roof. Every three songs, a new EP begins. Bananacrusis is arguably the most country-leaning one; Euphoriac seems to revere shoegaze and dream pop idols; Rodent Noise expands Euphoriac's reach into the freak-folk realm that acts such as Grizzly Bear have traversed excellently; Fleur finishes the journey with a fuzzier take on Euphoriac's goals. The second EP, then can be seen as the album's cornerstone, but each has its merits, and gathered into one nicely flowing album, they all take on new lives, allowing for wonderful listening as one cohesive whole.
The Muscadettes – Side A
The possibilities of what one can do with a reverb-drenched electric guitar may be endless. Faced with this statement, two options are available: experiment like hell, or stick with what you know. Montreal five-piece The Muscadettes, led by a pair of twin sisters, choose the latter option to great success; operating in the same surf rock vein that's guaranteed listeners for acts ranging from the Beach Boys to Best Coast to The Drums, they craft innately appealing, insanely catchy songs that require genuine effort to dislike. Without innovating or bearing any sort of pretense, they sonically channel clear blue skies and crisp, crashing waves on Side A's five tracks. Centerpiece and single "Pearl and Oyster" serves as the best example of this craft: its opening guitars attack with layers of echo and overdrive without sounding cheesy or overdone, and its vocals sound seductive without appearing insincere. "I'm a ripple on your subconscious," begins the song's second verse; after only a short time, so too becomes Side A. (You can read our review of Side A here.)
Pale Blue – The Past We Leave Behind
Mike Simonetti left his role as a top player at record label Italians Do It Better to found both new label 2MR and IDIB-sounding outfit Pale Blue. The Past We Leave Behind thus seems like a very deliberate album title, although musically, it's incredibly retro-gazing too. As with much of Italians Do It Better's output, it borrows from the Italo disco trends of kraut-like synth loops and ominous bass lines so popular in the 1970s. "Dusk in Paris" steadies itself on the push and shove of a repetitive, thick, digital undertow, and hosts Lower Dens' Jana Hunter as a guest vocalist attempting her take on the genre's frequent female lead vocals. "Distance to the Waves" features a more immediately engaging synthetic pattern that recalls Simonetti's former labelmates Glass Candy, and "The Eye" sounds like it was accidentally left off one of Atari's first video game scores. Although Simonetti has left parts of his previous life behind, he's still fully wrapped in other aspects of music's past.
Shana Falana – Set Your Lightning Fire Free
A few too many critics have complained that there isn't anything left with which to experiment in shoegaze, but Shana Falana is proving them wrong. Set Your Lightning Fire Free, her newest album, splices roaring guitar work with drums so reverberant that they might be influenced by African and tribal rhythms. The album shifts the weight of the psychedelic experience to the percussion, a rare technique in a genre so reliant on the guitar to bear its emotional heft. "Anything," arguably the most distinctly shining song present, pounds away with percussive precision; "Second Skin" breezes by on thunderous drums. But when snares and cymbals aren't doing the job, Falana's guitar is growling just as potently; it defines the steady murk of "Go" and the blissful surges of "There's A Way." Falana often stages a battle between guitar and drums, and the loud rallying cries of each team imparts a blaring strength to Set Your Lightning Fire Free that makes the album undeniable.
Weed – Running Back
They're not named after the drug. Rather, this Weed refers to weeding people out of your life, and removing all negative influences from your existence. Given that they write music in a shoegaze vein so frequently trodden these days, it's great that they put extra effort into excising the haters. Yet they really needn't do so; there's a spark and a charm to their approach that distinguishes their songs from the countless other artists citing similar influences. Opening track "Muscles" is aptly named; its guitars cascade with a force and potency not that often felt in this genre, and its vocals sound far weightier than many of its' competitors words. This strength continues throughout Running Back, an album that suggests that imitation can be just as captivating as innovation, and pulls off the uncommon feat of exciting from within previously established stylistic confines.