The Muscadettes – Side A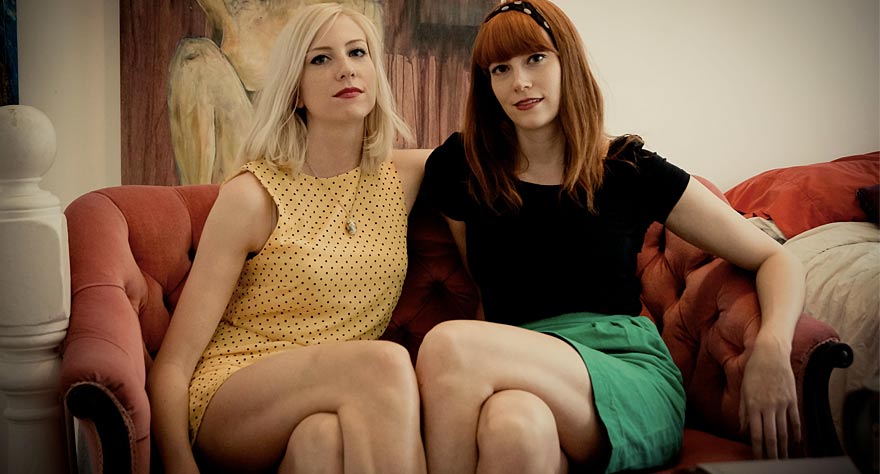 Incredibly bright, catchy, and uptempo, its appeal is undeniable.
Music journalists (myself included) could learn a thing or two from The Muscadettes. This Montreal five-piece, led by twin sisters Chantal and Kathleen Ambridge, displays a full understanding of a classic but forgotten philosophy: Keep It Simple, Stupid. Their songs are straightforward and brief, qualities that assure a similar analysis from typically verbose, long-winded, pretentious music critics. Side A, the first of two EPs that The Muscadettes will release this year (hence its title – one can assume the second EP will be titled Side B), is incredibly bright, catchy, and uptempo, ensuring that its appeal is undeniable except to the most difficult of listeners.
The Muscadettes describe themselves as "raised on 60s surf and 90s grunge", and these influences immediately manifest on Side A. The glorious crashing of warm waves on a humid, skin-scalding summer day instantly comes to mind when hearing the reverb-laden, explosive guitars that open "I'm in Love", and thereby the whole EP. This song's title suggests the youthful, buoyant romance its lyrics depict, a subject universal to early Beach Boys tunes in particular. That The Muscadettes so confidently and quickly echo arguably the most influential surf rock group of all time testifies to their hookiness and craft, a trait that continues into second track "Growing Pains." Traveling even deeper into sunlit bliss is "Like a Wave", a song that jumps out from the pack due to its slower tempo. This relaxation allows a more mature, romantic, and idealistic aspect of the Ambridge twins' voices, musicianship, and lyrical themes to come into play. "Everything is clear", the two harmonize during the song's chorus. "Don't wanna live in fear/of what we are feeling here", they conclude wisely.
"Like a Wave" is quite obviously a metaphorical title, but figurative language only rears its head this blatantly once again on Side A. On key track and second single "Pearl and Oyster", the album's most memorable song, metaphors include "I'm a seashell living in your ocean" and "I'm a white pearl trapped inside your oyster." The imagery works: the track is the album's most memorable not merely because of its incredibly catchy melody, but also because of these words. That said, its sound does bear the band's self-described 90s grunge influences more obviously than on most of the EP: its pounding guitars and bashing percussive groove reminisce far more clearly of bands like Jane's Addiction and The Pixies than they do Dick Dale or, again, The Beach Boys. "Honey Let Go" is the other track here that makes evident The Muscadettes' debt to the sounds of two decades ago: its guitars rip with even more overdrive and reverb than the rest of these tracks, a technique initially advanced as the 1980s gave way to a decade of Nirvana and a second wave of punk.
Some might complain that the lack of innovation on Side A frustrates or disappoints, but those listeners are missing the point entirely. The Muscadettes let the past inform their approach rather than merely duplicating the sonic template of their favorite acts. They were raised on melodic, catchy, guitar-based pop, and that's exactly what they deliver on Side A. Let your guard down and go for a swim; The Muscadettes will enchant you from the shore.
The Muscadettes – Side A Music review