2016 Oscar Nominated Shorts Preview: Animation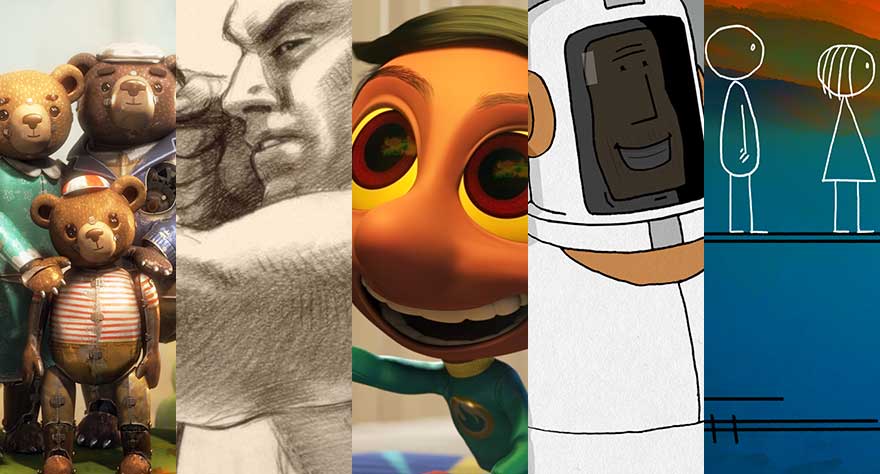 With characters ranging from a bear to a young Hindu boy, themes ranging from familial loss to the Soviet space program, and animation styles ranging from CGI to pencil-and-paper, the field of nominees for the 2016 Best Animated Short Oscar offers something for every taste. And regardless of your preference, there's something for everyone in this year's shorts.
Bear Story (directed by Gabriel Osorio Varga)

The most touching of all five nominees, Bear Story shows a bear telling his story about the fate of his family. The CGI animation of the bear is perfectly fine, but it's magnificent when the bear presents his tale via something akin to a mechanical nickelodeon. There's also an overt animal rights message here too.
Prologue (directed by Richard Williams)

Animation veteran Williams, a three-time Oscar winner, returns with a tale of a battle between Spartans and Athenians. There is not plot, per se; it's simply about a battle of opposing forces. The animation—old-school pencil-on-paper work—is gorgeous.
Sanjay's Super Team (directed by Sanjay Patel)

This animated short was inspired by director Patel's own youth. Sanjay, a young Hindu boy, is made to pray with his father but he yearns to return to the superhero cartoon he was just watching. His meditation turns into a daydream, where the Hindu gods he worships are actually superheroes. Pixar is back with another wonderful short rich in theme and intended much more for adults than for children (despite it being screened before The Good Dinosaur in 2015).
We Can't Live Without Cosmos (directed by Konstantin Bronzit)

Titled ы не можем жить без космоса in its native Russian, this film tells the tale of best friends and aspiring cosmonauts facing the rigors of space training. Bronzit wonderfully blends the joy of youthful dreams, the desire to bring those dreams to life, and the psychological effects when those dreams don't go quite as planned (This film is also part of the 17th Annual Animation Show of Shows. Our review of that can be found here).
World of Tomorrow (directed by Don Hertzfeldt)

This hysterical film, illustrated crudely and presented with unbridled vision, is about a little girl who is visited by a future version of herself. That future version offers lessons in history (past and future), life, love, birth, and death. And quantum physics (This film is also part of the 17th Annual Animation Show of Shows. Our review of that can be found here).
If I had an Academy vote, it would be a tough choice, but I would have to go with We Can't Live Without Cosmos.  Sanjay's Super Team is wonderful for its diversity and a welcome return to form for Pixar (remember Lava?). As for World of Tomorrow, it pulls off quite the stunt of being both dense and hilarious.  But as entire packages go, from story to execution, We Can't Live Without Cosmos delivers better than its fellow nominees.