17th Annual Animation Show of Shows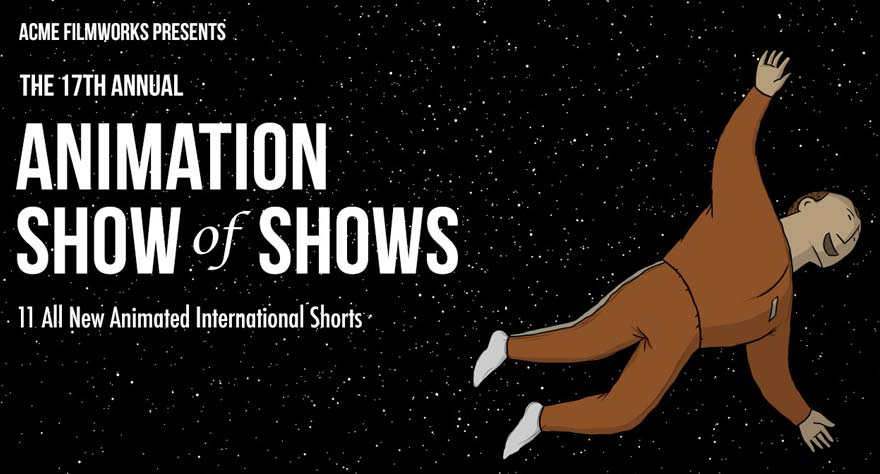 The introduction of this collection of shorts makes it clear that the calibre of animation forthcoming is formidable. Of the 3,000+ entries submitted for consideration, only 11 were selected to be included. Calling this international collection "elite" is an understatement. But something else makes these short films, whose creators employ animation techniques ranging from hand drawings to stop-motion and from paint on glass to CGI, even more special than that. This is the first Animation Show of Shows collection to be screened publicly. Ron Diamond, founder of Acme Filmworks and curator of the Animation Show of Shows for all 16 years of its history, decided to take the 17th annual event on something of a global tour.
Previously, the presentation had been confined to animation studios, festivals, and other exclusive venues. Now, lovers of animation, short films, and movies in general, will have the chance to experience these gems on the big screen. In addition to the short films, four of the artists are spotlighted in "documentary portraits." The 11 shorts and 4 portraits run as one 97-minute program.
For more info on the films and screening details check out www.animationshowofshows.com.
The Story of Percival Pilts
Leading off the program is Australia's 8-minute stop-motion film from Janette Goodey & John Lewis. A young boy named Percival uses pair of stilts and vows never to touch the ground again. The narration cadence invoke memories of Seuss, and what looks like something that might be only light fun offers an interesting perspective on tolerance. This is a delightful film to start with.
Tant de Forets
From Geoffrey Godet and Burcu Sankur of France comes a 3-minute film bursting with color and smoothly animated with sharp lines and crisp, distinctive shapes. The tale is based on the poetry of Jacques Prévert and points to the irony of how newspapers report the warnings of deforestation while simultaneously plundering forests to make paper.
Snowfall
Ireland's Conor Whelan packs an emotional punch in his 4-minute motion graphics entry. A lonely man makes a decision to go to a friend's party and while there, falls for someone. That someone doesn't fall for him. It's both beautiful and heartbreaking. Following the short, Whelan is the focus of the first documentary portrait.
The Ballad of Holland Island House
Created by Lynn Tomlinson from the United States, this short is the most visually striking and uniquely presented of the collection. The style Tomlinson employs is clay painting animation, and the texture of the imagery is so rich you can almost feel it. As for the story, it's the history of an old house on a sinking island in the Chesapeake, presented as a five-minute folk ballad sung by the house itself.
Behind the Trees
The short with perhaps the most clever origins comes from the United States and Amanda Palmer and Avi Ofer. Palmer, who got into the habit of making notes about what her husband, writer Neil Gaiman, said in his sleep, was paperless one night so she dictated her exchange with her sleeping spouse. The result was a funny narrative, so she decided to set it to animation. It works wonderfully (and in less than three minutes).
We Can't Live Without Cosmos
Russian animator Konstantin Bronzit, who was nominated for a Best Animated Short Film Oscar at the 2009 Academy Awards for Lavatory Lovestory, returns with a story about best friends who are aspiring cosmonauts facing the rigors of training for space travel. Their story unexpectedly changes from lighthearted fun to poignant reflection and does so to great effect, never wasting a second of its 16-minute runtime. Bronzit is the subject of the second documentary portrait.
Messages Dans L'Air
France and Switzerland combine to present Csabel Favez's six-minute short, which is set in a world made of paper. The film balances a few unique relationships: a woman and her cat, her cat and the neighbor's goldfish, the goldfish and its owner (a boxer), and the boxer and the woman. A message-offering bird adds a unique dimension to this already multifaceted tale.
Stripy
Babak Nekooei & Behnoud Nekooei create a unique entry for Iran. Set to Brahms's "Hungarian Dances No. 5" and taking place in a dull grey factory, this film does an excellent job illustrating how art cannot be tamed and will not be monetized by commerce. The Nekooeis are the subjects of the third documentary portrait that follows their four-minute film.
Ascension
A terrific team of students from France—Thomas Bourdis, Colin Laubry, Martin de Coudenhove, Caroline Domergue, and Florian Vecchione—collaborate on this CGI film about a pair of mountain climbers who attempting to place a statue of the Virgin Mary atop the highest mountain they can find. The attempt and the results are not as planned for the climbers, but very funny for the viewers. The graphics work here is top-notch.
Love in the Time of March Madness
Another pair of countries—this time the United States and Australia—team-up to present Melissa Johnson and Robertino Zambrano's terrific nine-minute B&W entry. The film is autobiographical for Johnson. It deals with how she managed her uncommon build at such a young age (she was six-foot-four and 127 pounds … in the 8th grade). She went on to make basketball her life until she years for something more. While not the laugh-out-loud funniest entry in the program, it certainly has the most wicked sense of humor. The fourth and final documentary portrait features Johnson.
World of Tomorrow
The program closer—and a film deserving of the closing spot—hails from the United States. It's Don Hertzfeld's hysterical 17-minute film about a little girl who is visited by … well, she's visited by what can correctly be described a future version of herself. That future version offers lessons (lessons that the child can't understand anyway) in history, life, love, birth, death, and quantum physics. The film has already snatched over two dozen awards and is presently on the Oscar nominee shortlist for Best Animated Short Film.
The 17th Annual Animation Show of Shows is a triumph and worth seeking out. Screening details and information about the films can be found at www.animationshowofshows.com.