2015 Most Anticipated Indie Summer Films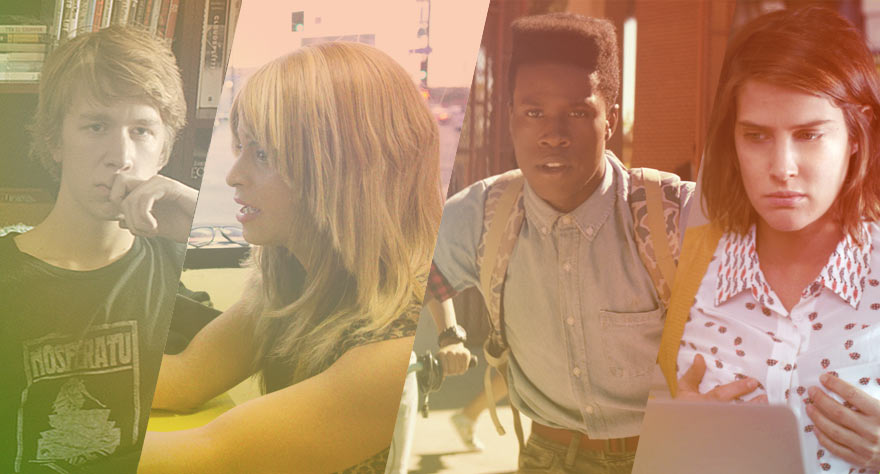 Summer movies are typically thought of as billion-dollar budget shoot-em ups, exotic car chases, loud explosions, and the latest Michael Bay film (which usually has all of those). But summertime offers more than just mainstream blockbusters. There are plenty of independent films fresh off the festival circuit and ready for public consumption in the summer months.
We've compiled our most anticipated indie titles for you to watch this summer. So if you're looking for a break from the next superhero sequel, try some of these.
Slow West
(May 15th)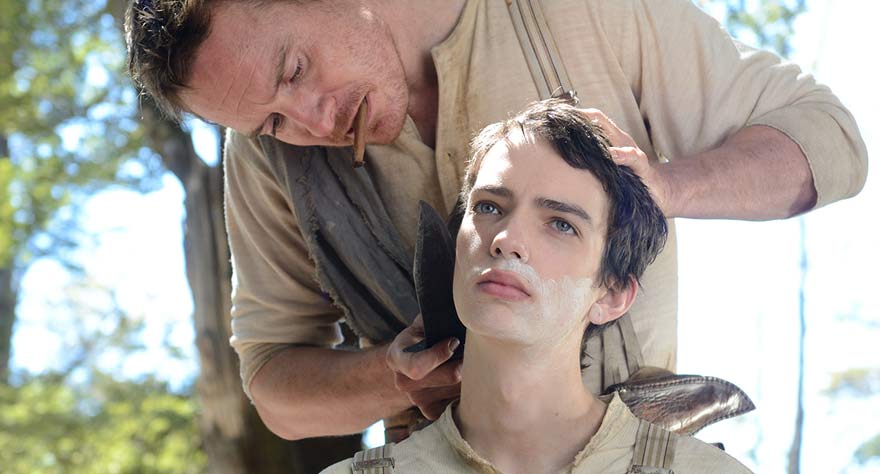 The fact of the matter is, we'll watch anything with Michael Fassbender. The actor has been unstoppable for the past several years, turning out one mesmerizing performance after another. Even more, Fassy is clearly a loyal guy, forging relationships with a handful of directors, which has in turn resulted in some incredible films (12 Years a Slave being the high water mark of his collaborations with Steve McQueen). Now he's at it again with Slow West, this time with first-time feature director John Maclean (the pair teamed up for Maclean's first two shorts, Man on a Motorcycle and the very fun Pitch Black Heist). Slow West, also written by Maclean, is an absurdist western that sees young Jay (Kodi Smit-McPhee) on a journey across the American west chasing after the woman he loves and accompanied by the enigmatic Silas (Fassy). To boot: the film co-stars the always terrific Ben Mendelsohn playing the depraved baddy like only he can. The film popped up first at Sundance earlier this year where it took home the World Cinema Jury Prize for drama—another good sign. All of this piled on top of the ridiculous first trailer and the fact that both of Maclean's shorts are rich—and mostly successful—experiments in mood and great showcases for the actors involved. Consider Slow West an intriguing alternative to the bonkers (Mad Max: Fury Road) and the bubbly (Pitch Perfect 2) on May 15th. [Gary]
Heaven Knows What
(May 29th)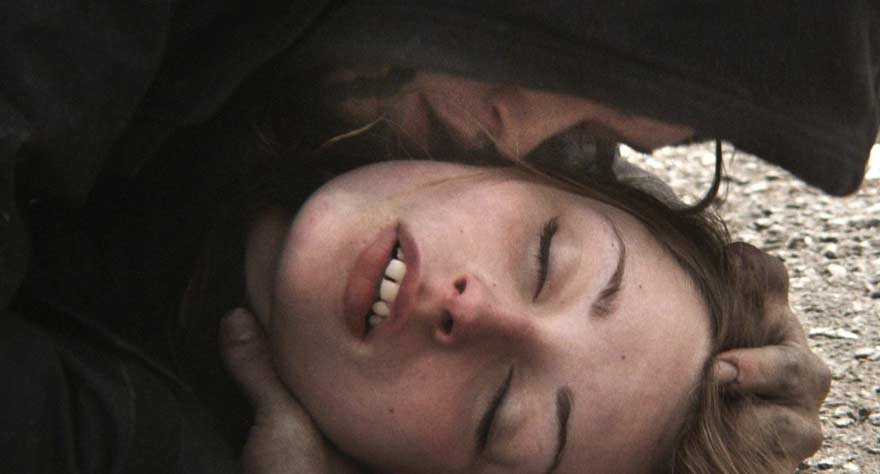 Even when you get the opportunity to cover more than one festival in a year, there's always going to be a movie (or two, or three..) that will inevitably elude you. This was the case with me, last year, during TIFF, where our very own Dustin watched and praised Heaven Knows What and its sensation of "never knowing what's going to happen next that makes for a fixating film." The story is distressingly bleak, following the life of heroin junkie Harley (Arielle Holmes) as she wanders through the drug-addled streets of NYC, making one poor decision after next. In all honesty, though, it's the remarkable tale from behind the scenes that's peaked my interest in this indie, directed by brothers Bennie and Joshua Safdie. It's a case of subject matter choosing its creator, since the Safdies happened on Holmes, a former heroin junkie who used to be homeless, completely by chance. The story of Heaven Knows What is very much a semi-autobiographical account of Holmes' experience. This blurring of the lines between fiction and real-life makes for an especially revealing and fascinating viewing experience, and with the buzz ringing throughout all of last year, my hopes are considerably high for this one. [Nik]
Me and Earl and the Dying Girl
(June 12th)
After winning both the Grand Jury and Audience Awards during its premiere at the Sundance Film Festival back in January, Me and Earl and the Dying Girl was one of the first 2015 films we put on our highly anticipated list. Writer Jesse Andrews adapted the screenplay from his own novel, telling the story of a teenage filmmaker forced to befriend a classmate who has just been diagnosed with cancer. As the two slowly form a friendship, the teenager decides to make a short-film about his dying friend, putting his classic film parodies on hold. Me and Earl and the Dying Girl sounds like a mashup between The Fault in Our Stars and Be Kind Rewind, taking a heartfelt young adult story (minus the cheesy stereotypes) and presenting it with unique stylistic flourishes and Criterion Collection references. Fox Searchlight quickly bought the rights for the film after premiering to standing ovations and glowing reviews from Sundance, and the studio plans to release the film on June 12th. Until then, we'll attempt to contain our excitement and stock up on tissues. [Dustin]
Dope
(June 19th)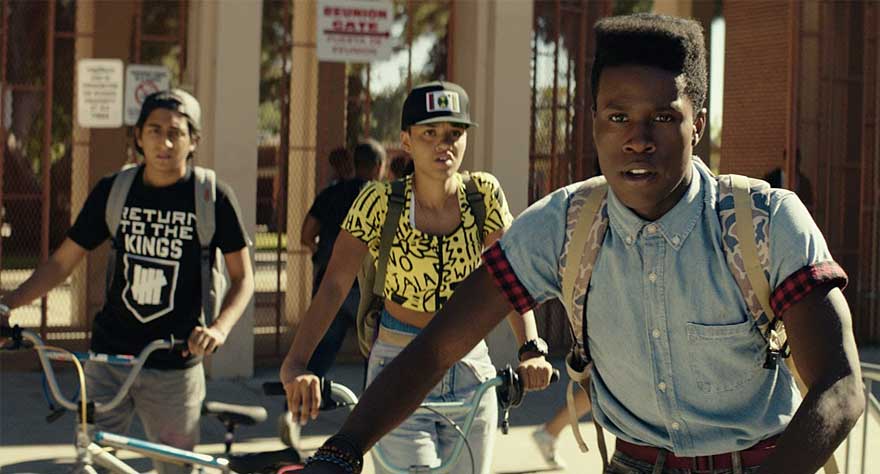 With the accolades it picked up at this year's Sundance—including a lovely little bidding war for its distribution before finally landing with Open Road Films—and as it prepares to close out the Director's Fortnight at Cannes, Dope hardly needs any more festival love before it opens June 19 (though it will get one last send off to theatrical release at the LA Film Festival). This vibrant film, directed by Rick Famuyiwa (The Wood, Brown Sugar), looks like the cool geeky-gangster '90s throwback movie I didn't know I was waiting for. Starring Shameik Moore as Malcolm, a high-schooler trying to get by, keep his grades up, and make it into Harvard while traversing his rough Compton neighborhood, the film looks fast paced and clever. Like John Hughes took the wrong exit off the freeway and landed in the hood. The misadventures of a black teen and his friends, navigating the drug scene with nerdy hilarity just sounds fresh. And since teen tales have been needing a revamp for a while, this one looks like it's got the smarts, the laughs, and sure as heck has the beats. We can't wait to watch—and buy the soundtrack. [Ananda]
Tangerine
(July 10th)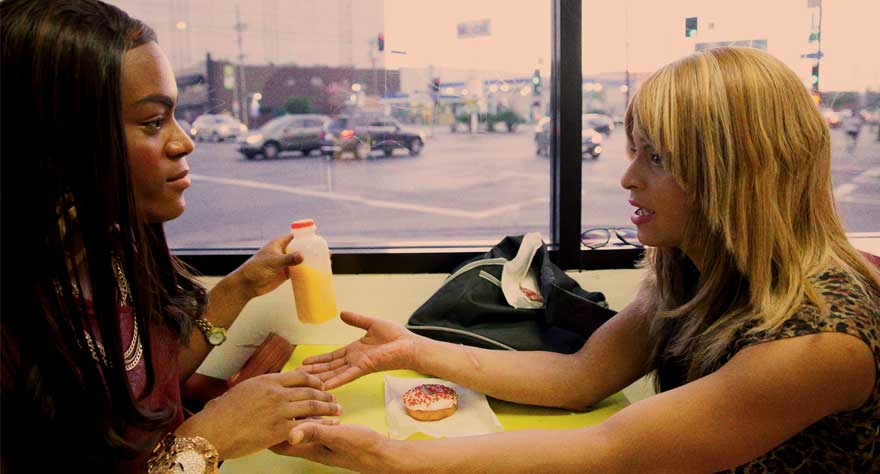 Ever since seeing Sean Baker's Starlet, I've been anxiously anticipating what he would do next. Starlet, for those who don't know, is an odd couple tale about a young porn star who befriends an old woman she meets at a garage sale. Everything about Starlet screamed bad Sundance movie to me: the unlikely pairing, the unconventional hidden secret (She's a porn star! Shock!), and the inevitable bonding of both characters despite their differences. And yet, Starlet completely won me over. Yes, it's clichéd, but Baker, working on a low budget, has two incredible lead performances, along with a screenplay that brought out a winning, human side to the story. It was also gorgeously shot, with a look that could only be described as Californian. Tangerine looks like an entirely different and more abrasive experience, following two transgender prostitutes around Los Angeles on Christmas Eve as one of them hunts down her cheating boyfriend/pimp. The red band trailer promises a film full of frantic energy, sun-kissed visuals (Baker remarkably shot the whole thing on an iPhone, and even on a low budget he still nails the California look) and an earnest, humanistic portrayal of its characters. This summer is bound to be filled with big budgets and high concepts, but I won't be surprised if this lo-fi work turns out to be this season's true stunner. [C.J.]
Irrational Man
(July 17th)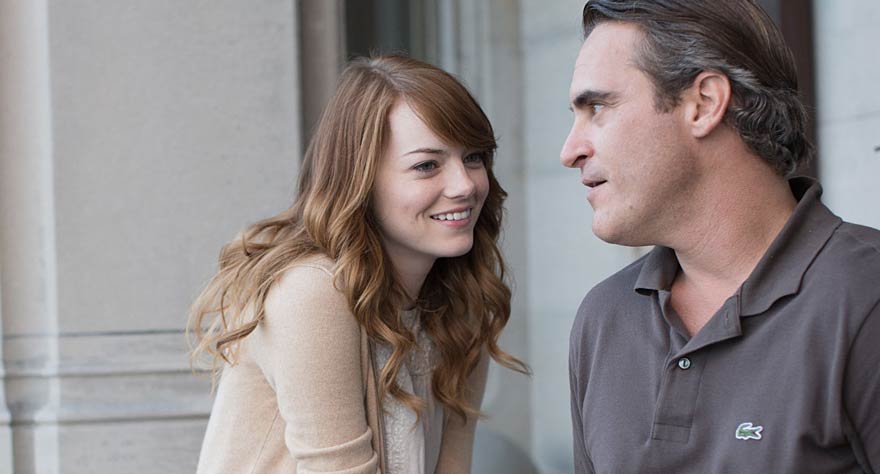 I found myself in the minority last year as I very much enjoyed Woody Allen's mystical rom-com Magic in the Moonlight, which starred Emma Stone and Colin Firth as a pair of illusionists stripping away each others' guises on the French Riviera in the 1920s. I was charmed; sue me. Irrational Man, Allen's annual movie offering this summer, stars Stone yet again, this time partnering up with another older man (though the gap is a bit narrower this time), Joaquin Phoenix. It's a mystery drama about an existentially tortured philosophy professor (Phoenix) who falls for one of his students (Stone), who may be lifesaver that keeps him from drowning in his sea of alcoholism and depression. I loved the ebullience of Magic in the Moonlight, but it'll be nice to see Allen tackle more turbulent material. His last drama, Blue Jasmine, was a face-melting showcase of star Cate Blanchett's raw talent; with Irrational Man, it may be Phoenix's turn to wow us. [Bernard]
Mr. Holmes
(July 17th)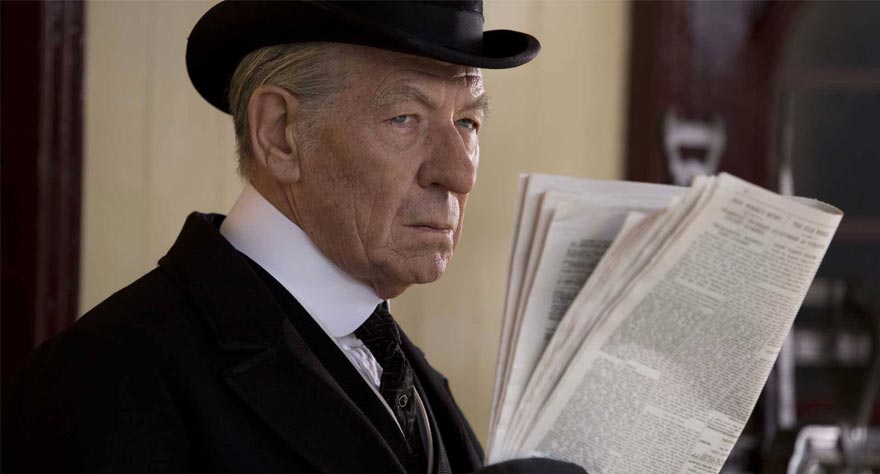 Sometimes there is just a perfect role for an actor. That's what we have with Mr. Holmes, another vision of the master sleuth—this time aged and retired, and played by Sir Ian McKellen. It's been easy to take the veteran actor for granted recently, with a majority of his recent credits as Gandalf or Magneto. Don't get me wrong, he's more than dependable in those roles, but I'm excited to see him put away the staff and helmet and do something a little different. Sherlock Holmes has always been a character with a lot to offer for a smart and reserved performer, and McKellen will no doubt bring grace and wisdom. I also like the idea of setting the character in a small-set film, allowing the appeal to be more about character work than mystery. Mr. Holmes also pairs McKellen back with director Bill Condon, who has also been recently wrapped up in a franchise. Their collaboration on Gods and Monsters was perhaps the best work of both men—Condon won an Oscar for his script, and McKellen received his first acting nomination. Mr. Holmes may be too small to get much notice from the Academy, but it might be their best shots in a long while. [Aaron]
Southpaw
(July 24th)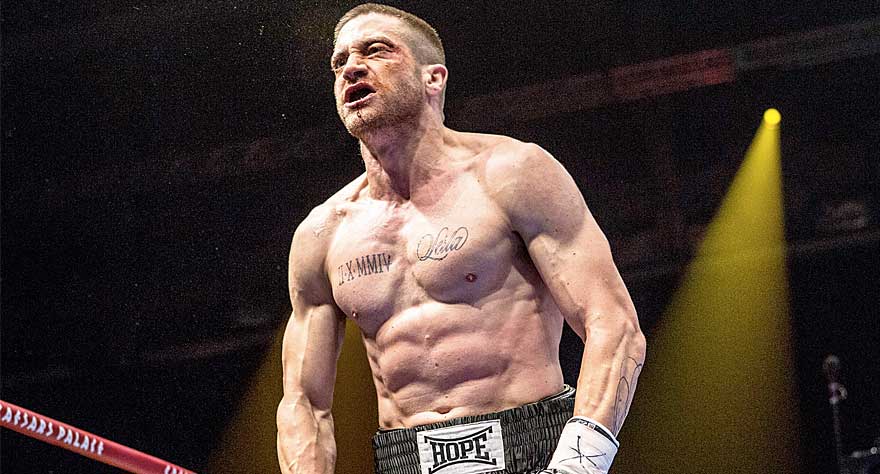 Actor Jake Gyllenhaal stung me with his performance in 2013's Prisoners, then he put me on the ropes in 2014 with the one-two punch of Enemy and Nightcrawler. With that kind of prowess, why wouldn't his next role be that of a boxer? In the upcoming sports drama Southpaw, Gylenhall plays Billy Hope, a champion fighter who has it all until tragedy strikes his family, sending his life into an uncontrollable spiral. Reduced to nothing, Billy seeks redemption and prepares for a comeback with the help of trainer Tick Wills (Forest Whitaker). Gyllenhaal's past film-to-film character transformations have been tremendous, and whatever he does will have my interest, but here he takes "commitment to craft" to the next level, with a physical transformation for the ages. He looks like an absolute beast in the ring, and if the trailer is any indication, his emotional intensity will be just as fierce. While I'm not convinced direction from hit-or-miss Antoine Fuqua equates to an Oscar win for Gyllenhaal (Fuqua directed Denzel Washington to Oscar glory as another kind of beast in 2001's Training Day), I am convinced the actor has more than a fighting chance thanks to a screenplay written by the guy who created TV's Sons of Anarchy, Kurt Sutter. [Michael]
Unexpected
(July 24th)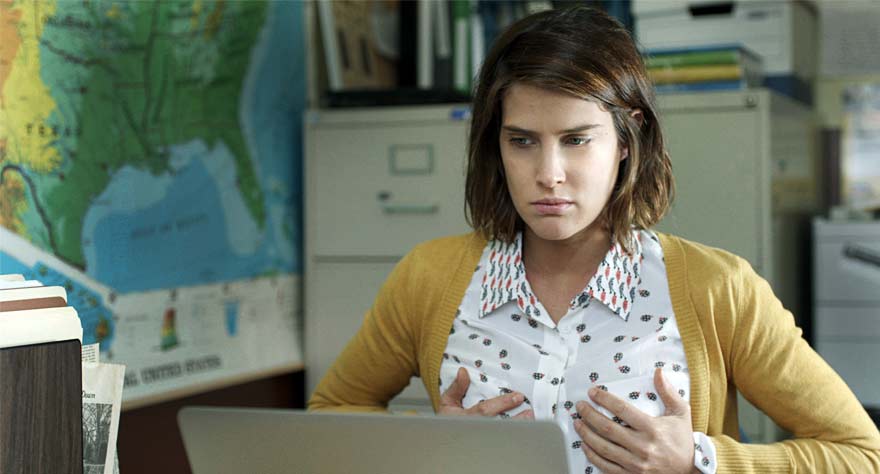 Like several other films on this list, Kris Swanberg's highest profile work yet, Unexpected, made its debut back in January at the Sundance Film Festival to a strong reception among critics and festivalgoers. The film stars Cobie Smulders as Samantha Abbott, a high school teacher in Chicago who discovers she is pregnant around the same time she finds out Jasmine, a student of hers played by Gail Bean, is also facing an unplanned pregnancy. In focusing on the friendship that forms between the two as they face a similar (and at times wildly different) situation, Swanberg has delivered a film that seems to have impressed a lot of people back in Park City, Utah. Hopefully this film (along with Andrew Bujalski's Results) can also serve as a breakout towards many more interesting roles for Smulders, who has always shown a lot of potential but has until recently been mostly wasted on How I Met Your Mother and as Maria Hill, the most thankless role in the Marvel Cinematic Universe. Unexpected also stars Anders Holm (Workaholics) and Elizabeth McGovern (Once Upon A Time in America), it is set to be released on July 24th. [Ryan]
The End of the Tour
(July 31st)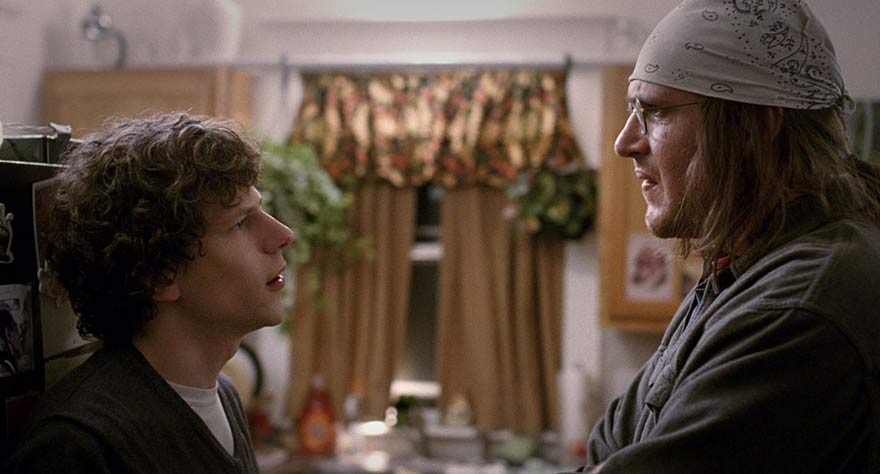 It's easy to understand why a large portion of film journalists have responded so enthusiastically to The End of the Tour since the movie premiered at Sundance. Based on Rolling Stone writer David Lipsky's book, this drama recounts the time Lipsky (here played by Jesse Eisenberg) spent interviewing the late author David Foster Wallace (Jason Segel, in a performance several have already deemed "transformative") during Wallace's book tour for his iconic release "Infinite Jest." Maybe that prospect of a writer interviewing a writer about writing holds a greater cachet if you're already a Way Too Indie interviewer; however, considering that The End of the Tour comes from director James Ponsoldt, the movie's qualities should appeal more broadly. Ponsoldt's last two films, Smashed and its spiritual prequel The Spectacular Now, feature characters in varying levels of crisis struggling to articulate their true feelings. Tour has already been labeled "dialogue-heavy," and Ponsoldt's ability to steer scenes around natural yet increasingly tense conversations should serve Jesse Eisenberg and Jason Segel particularly well. An opportunity to hear Eisenberg and Segel exchange bits of introspective self-analysis could turn into a surprisingly poignant summer diversion. [Zach]
Sinister 2
(August 21th)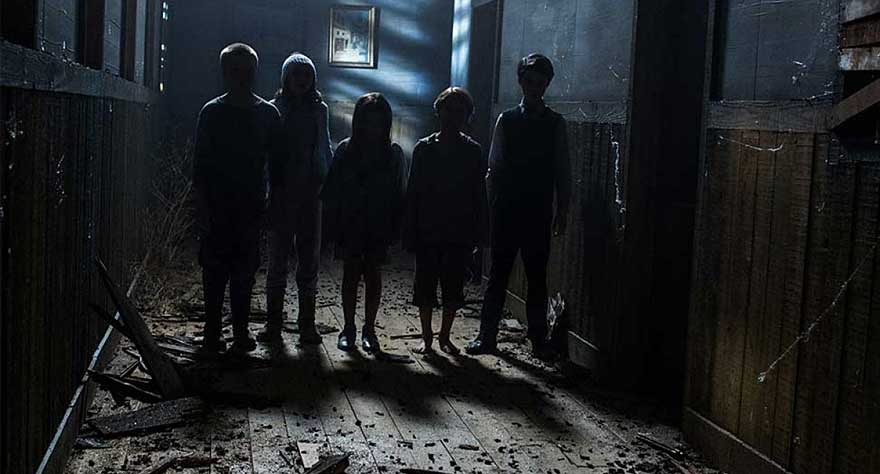 Any time a sequel is announced to a movie where all of the main characters were killed off at the end, you have to wonder what direction the filmmakers are going to venture in with the follow up. With Sinister 2, co-writers Scott Derrickson and C. Robert Cargill seem to be giving fans of the original exactly what they asked for. The highly-anticipated sequel will bring the original film's comic relief character, fan favorite Deputy So & So (James Ransone), to the frontlines alongside series newcomer Shannyn Sossamon. Though Scott Derrickson isn't returning to the director's chair, his replacement is no slouch, and should be a familiar name to genre diehards. Director Ciaran Foy previously tackled a movie with lots of creepy children in 2012's Citadel, so while he may have some pretty big shoes to fill, Foy may very well be the right man for the job. While it's doubtful that Sinister 2 will sweep the Oscars, it looks to be a fun, creepy follow-up to one of the best wide-release horror films to come along in the past few years. [Blair]