Inside Indie Filmmaking: Meet an Indie Director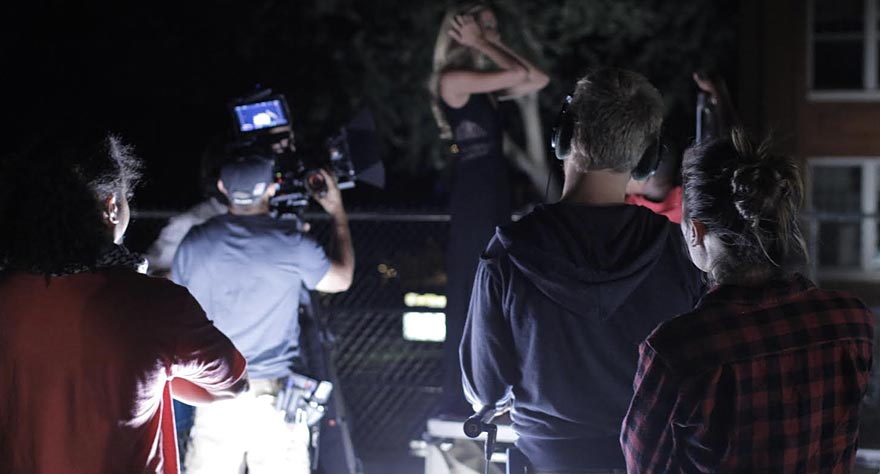 Scene 36. INT. Gala – Night
Fumbling with my tie in the mirror of the borrowed motor home, I threw glances down to the three pages of sides for that nights shoot. Having spent the last six hours working with the art department building the set, mapping out the final blocking with Lincoln the cinematographer, and helping Celeste our producer figure out last-minute parking—I was just now finding time to begin learning my lines for the scene.
"Who wrote this crap?"
A knock at the door from Mikel, my 2nd AD, told me time was up. Together we walked up the stairs of the Adelmen Building and I tried not to think about how much it would cost if we didn't knock out all our shots within the next 6 hours.
McKena, my 1st AD (and constant lifesaver) was somehow bringing order to the set while directing the extra talent. I thought back to exactly one-year prior—on the set of what-was-then my largest production. (A crew of three—my bank teller, a family friend and myself—with a principle cast of 6 and 14 extras making due in a tiny East German village.) Before me now was a crew of 40 and close to 50 extras. Across the room sat my lead actor and co-star, Lee Majors. He stood up as I approached.
"You ready for this?"
"Let's do it."
Meet an Indie Filmmaker
My name is Will, and I just wrote, directed and produced my first independent feature film called Almosting It. For the next 9 weeks I am going to share that process with you from start to finish. It's been a wild ride—one what is still not yet over—but it has been the best ride of my life.
This first entry is simply meant to introduce myself, my background, and preview what will be covering over the next several weeks. I don't pretend to be an expert. A lot of great people have helped me along the way, and if I am able to pass along any of what I have learned, I will feel like I have given something back.
I first wrote for Way Too Indie in February of 2013 while attending the Berlin International Film Festival. It feels poetic that I am back here now—over two years later—as I attribute my time at the festival as the genesis for the approach I now take to film production.
Pursuing film is a choice I made eight years ago, but in the three years leading up to Berlin I got distracted—having paid my way through college working as a news reporter for NBC affiliates and as a wedding videographer. At this point, I began leaning towards documentary work. The spirit of Berlinale, and the reviews I wrote for Way Too Indie, reminded me of the real reason I wanted to make movies. I began to sprint back to the realm of narrative work—culminating that summer in a short film, Johanna: Unplugged, and the need for me to develop a feature-length script.
I made the decision to study Creative Writing over Film after watching an interview with Francis Coppola, in which he stated "if you really want to direct, you have to learn to write." So I did. My abilities in film production came about by stumbling blindly through 20 short films, 56 news reports, an internship and a couple of small documentary projects. I also read a great deal and watch as many movies as possible—thanks to the great catalog carried by my university in Reno.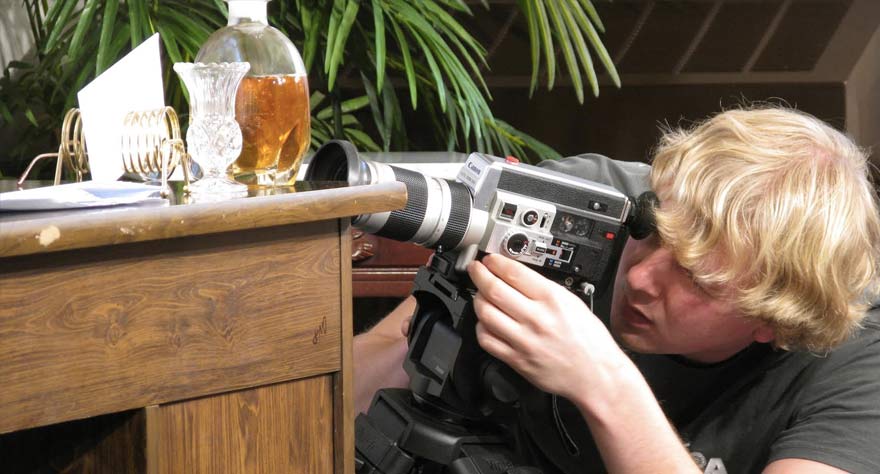 Almosting It is my first full-length feature. What I thought would be a small, 30k, likely crowdfunded picture—to be shot mostly on weekends with available crew and talent—grew rapidly into a ULB/SAG production with a full crew, name-talent, epic locations, an original soundtrack, and shot on cinema-grade cameras. In between was a lot of hard work and even harder lessons learned. I was sued, lost friendships, lost more weight than I could spare, developed new friendships, and developed a nasty teeth-grinding habit.
It's safe to say things are shifting rapidly in the industry—both at the studio level as well as for indies. No one really knows where things are headed, or what the best method is when it comes to development, production and distribution (especially distribution). It's an interesting and exciting time to be making movies, and while my insights to the process might not be the best, they managed to get the job done—at least this time around. With everyone running around trying to figure it out, I think it's important to try and learn as much from each other as possible—which is why I decided to write this series.
When coming up with what to cover, I thought back to the questions I am most frequently asked. Here is a look at what we will discuss over the next nine weeks on Way Too Indie:
Upcoming Topics For This Series
1) The Conception and Script Writing Process
2) Film Financing and Legalities
3) Casting (both Name Talent and non-actors)
4) Development and Pre-production
5) Production
6) Post-Production and Editing
7) Shooting Pick-ups
8) Marketing, Distribution and Release
9) Where Things Go from Here
I wore a lot of hats on this project, but in today's film world I don't think there is another choice. You have to be a producer if you want to be a director. You need to understand distribution and the legalities of production if you want to see your project get out of the can. The stork doesn't deliver movies. It's a dirty, difficult, yet extremely enjoyable and rewarding process that gives life to your creation. I've come to learn that I write for fun, produce out of necessity, and I direct in self-defense. Thanks for reading, and I look forward to sharing this experience with you.
Lastly, I am by no means paid or sponsored to promote any entity or product, but here are a few resources I found invaluable to this process:
Producer to Producer by Maureen Ryan
The Every Frame a Painting channel on YouTube
On Writing by Stephen King
Woody Allen's Manhattan
Steven Soderbergh and Mark Romanek on filmmaking
Check out all articles in this "Inside Indie Filmmaking" series: