9 Best Horror Films of 2015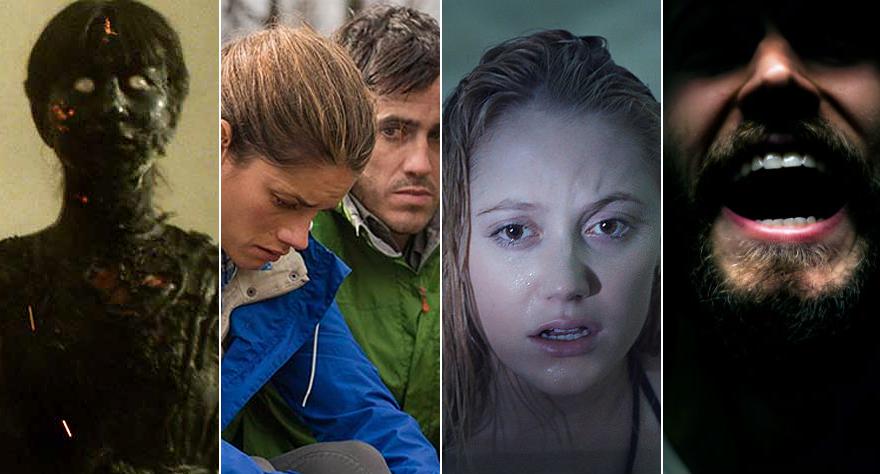 Another year, another Halloween, another batch of horror films coming out in theatres and festivals all over the world. Last year turned out to be a pretty interesting year for horror films, with titles like The Babadook and A Girl Walks Home Alone at Night earning high praise from both genre and non-genre fans alike. This year the field seems to have gotten stronger, and with 2015 coming close to an end, I wanted to highlight the best horror films of the year. This list may come a little early, but with only a handful of horror films coming out soon and the strength of these nine movies, I don't think it's too outrageous to consider these the best of 2015 (but just in case, I promise to come back and add in Krampus if it turns out to be awesome). And besides, it's all subjective anyway. Take this as a list of 9 really good horror films from this year that any self-professed genre fan should check out as soon as they can.
Backcountry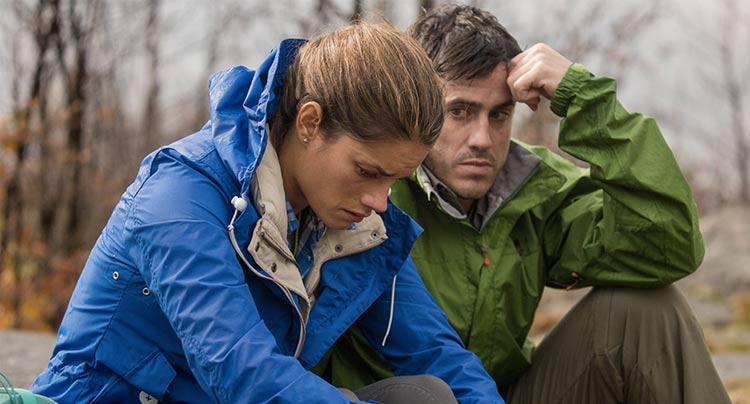 Review
Interview with director Adam MacDonald
Adam MacDonald's directorial debut can feel like watching the first act of Funny Games in the wilderness. After an ominous opening, Backcountry establishes that its two leads (Missy Peregrym & Jeff Roop) will meet some sort of awful fate, but MacDonald takes his sweet time to reveal how and when these characters will suffer. Unfortunately, the film's marketing took a less mysterious approach, so one look at the poster or trailer will let people know what to expect once MacDonald finally lets loose. But it's a fun journey getting there, and once the film goes into survival thriller mode it has its fair share of legitimately horrifying moments. Watch Backcountry and you'll probably steer clear of the woods for a long, long time.
Availability: Currently available on DVD, Blu-Ray, and VOD.
Green Room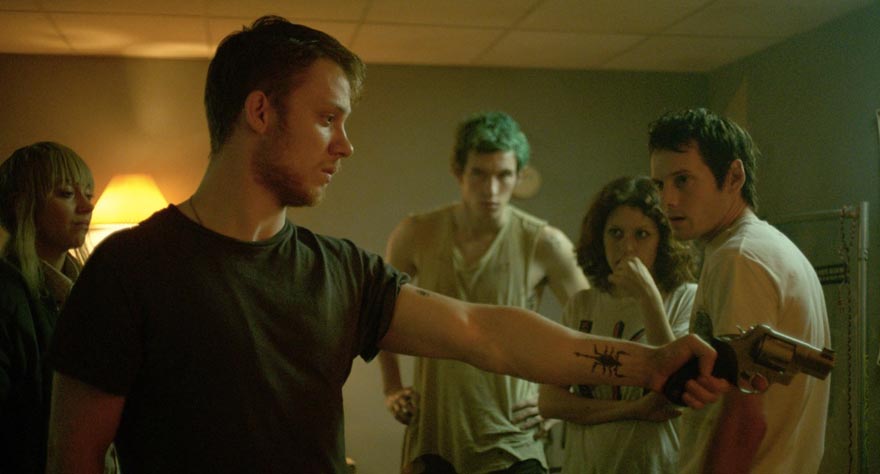 A punk band, a room, a dead body, and a bar full of neo-Nazis. That's all Jeremy Saulnier needs to set up his latest film, which finds the band barricading themselves in the eponymous green room once they witness a murder at the bar. The bar's staff (including Patrick Stewart, pulling off an understated yet intimidating performance) starts launching one attack after another to kill the witnesses, and the band simply tries to survive. Saulnier's biggest achievement here is how realistic the film feels; no one makes any stupid moves, and that makes it easy to put yourself in these characters' shoes. It makes things unbearably tense, especially when things get violent. Even the most hardened horror fan might find themselves having a hard time handling Green Room, which is low on gore but extremely high on ruthless brutality.
Availability: A24 plans to give Green Room a wide release in early April, but expect it to pop up at different film festivals until then.
The Harvest
John McNaughton, director of the horror classic Henry: Portrait of a Serial Killer, returns to the genre with something very different. A surgeon (Samantha Morton) and her husband (Michael Shannon) take care of their ailing son Andy (Charlie Tahan), but the arrival of Maryann (Natasha Calis), a new neighbour around Andy's age, causes Andy's parents to irrationally freak out when she tries to befriend him. McNaughton and screenwriter Stephen Lancellotti have crafted a horror film that feels surprising in today's landscape, preferring slow-building tension and character development to shocks and violence. The presence of hugely talented actors like Morton and Shannon helps too, with Morton having a ball chewing up scenery in such an unhinged role (this might be the closest thing we get to Morton starring in a Mommie Dearest remake). It's a straightforward film, one dedicated to telling a good, entertaining story more than anything else, and on that front The Harvest is lots of fun.
Availability: Out now on Blu-Ray, DVD, VOD and Netflix Instant.
The Invitation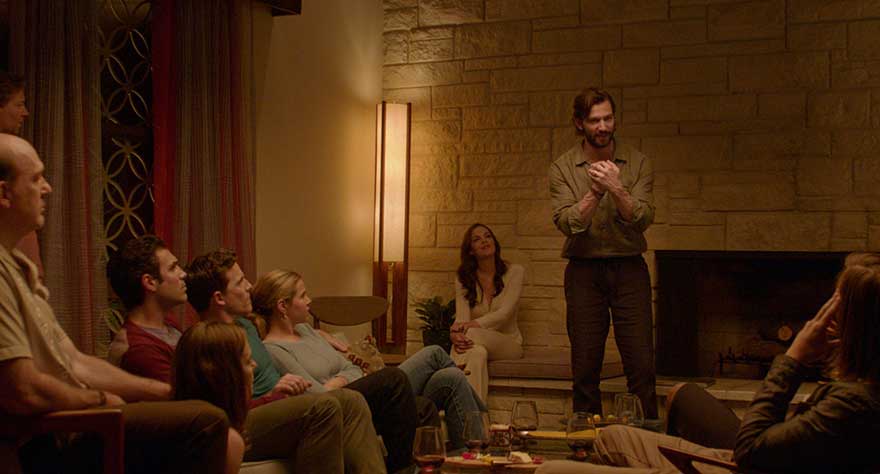 Karyn Kusama's first film in 6 years (and her first indie since 2000) is one gloriously twisted treat, the kind of movie that delights in shredding your nerves one by one before it unleashes its full power. After divorcing his wife (Tammy Blanchard) and not hearing from her for several years, Will (Logan Marshall-Green) gets an invite from his ex to a party at her house. Once he arrives Kusama starts gleefully tightening the screws, slowly revealing one piece of information after another as the party's vibe goes from awkward to "Get me the hell out of here." Will doesn't know if his suspicions of something sinister going on are real or fake, but Kusama makes it obvious that the situation is a ticking time bomb. And unlike a lot of films that fail to deliver when the bomb finally goes off, The Invitation's visceral finale will have people covering their eyes and shouting at the screen in equal measure. Horror movies this exhilarating don't come along too often.
Availability: After premiering at SXSW earlier this year, Drafthouse plans to release The Invitation in early 2016.
It Follows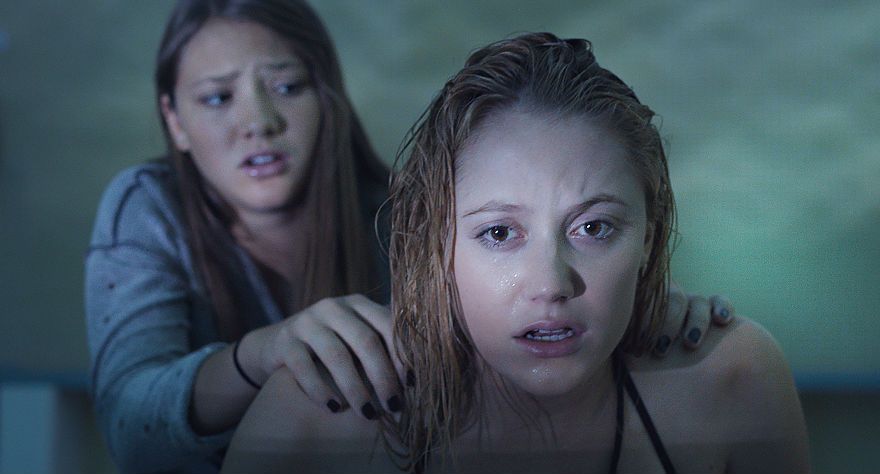 Just as the Sun rises in the east and sets in the west, no best horror of 2015 list is complete without David Robert Mitchell's It Follows. By now, you've either seen it or know the gist: young adult Jay (Maika Monroe) has sex with a guy and contracts some sort of curse that makes a shapeshifting entity slowly but surely follow her. Only she can see it, the thing can take the form of any person (including some severely creepy people), and if it catches up to her she's dead. I may not be as crazy about It Follows as others who are already hailing it as the next horror classic, but it's been a long time since a US genre filmmaker came up with a concept this good, and Mitchell's direction—using 360 degree pans to heighten the paranoia and intensity—elevates the film well beyond most low-budget horror films from this year (the distributor was so surprised by the film's critical and financial success it decided to bypass a planned VOD release for a wide theatrical run, an unprecedented move). To put it bluntly: if you're a horror fan and you haven't seen It Follows yet, what's wrong with you?
Availability: Currently available on DVD, Blu-Ray, and VOD.
The Nightmare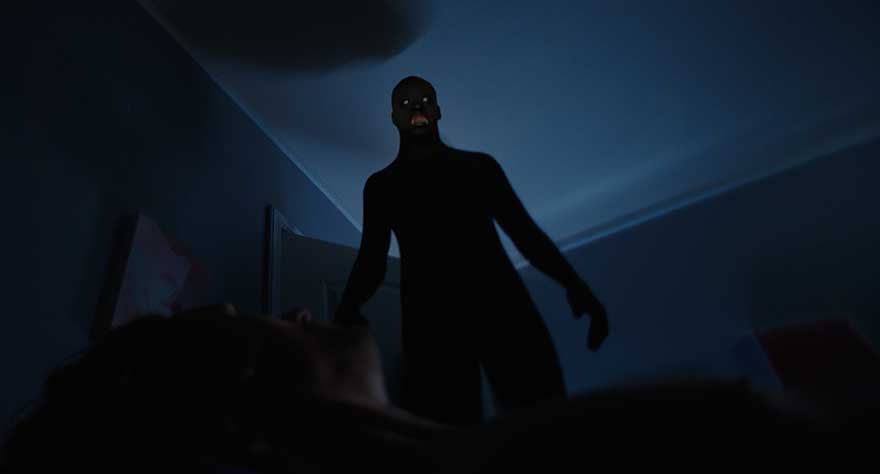 The Nightmare might not be the scariest film on this list, but it's certainly the one that will linger with people the longest. Rodney Ascher, the director of Room 237, sets his sights on the unique (or not-so-unique, depending on how you look at it) phenomenon of night terrors. Ascher interviews different people in America and the UK suffering from intense, vivid nightmares, but instead of delving into medical or scientific explanations, Ascher strictly focuses on each subject's individual experience. Ascher's re-enactments of the nightmares are lacking to say the least (think of the cheesy re-enactments from Unsolved Mysteries and you'll get an idea), but it's the testimonials that get under the skin. Even if the nightmares aren't real, it certainly feels real for these people, and hearing the conviction in their voices (along with some of the downright eerie similarities between different stories) makes it easy to take their word. Ascher closes his film on a brilliant note too, suggesting that viewers might get start getting their own night terrors after watching The Nightmare. You have to give kudos to any director who can make people dread falling asleep.
Availability: Currently available on DVD, Blu-Ray, and VOD.
They Look Like People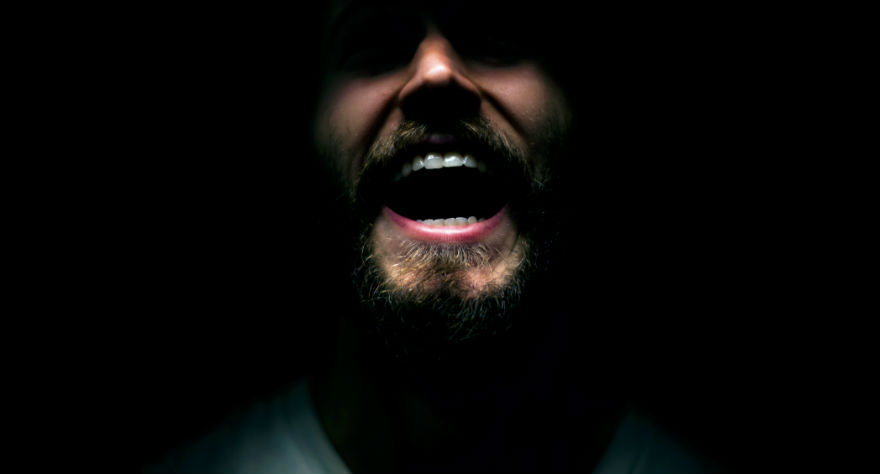 Review
Interview with director Perry Blackshear and cast
The problem with low-budget horror is that a filmmaker's reach can get bigger than their grasp. On the other hand, directors like Larry Fessenden or Ti West can make the most of their limited resources, proving that sometimes it doesn't take much to freak people out. Perry Blackshear's directorial debut They Look Like People is yet another example of taking the smart approach to a small budget. Wyatt (MacLeod Andrews) gets a phone call from someone saying that a war is coming; hideous creatures have slowly assimilated the human population Invasion of the Body Snatchers-style, and in several days they will shed their human form to take over the world. Wyatt flees to New York City in order to save Christian (Evan Dumouchel), his old (and still human) friend trying to make a life for himself. Blackshear's film can get severely intense and unsettling, but it's also a remarkable story about friendship, independence and the need to belong (or, at the very least, finding someone to connect with). It's rare to see a horror film, especially a directorial debut, feel this intimate, and it's well worth celebrating.
Availability: They Look Like People is seeking US distribution at the moment, but it's screening at plenty of film festivals. Check out the film's website to see if it's screening near you.
Unfriended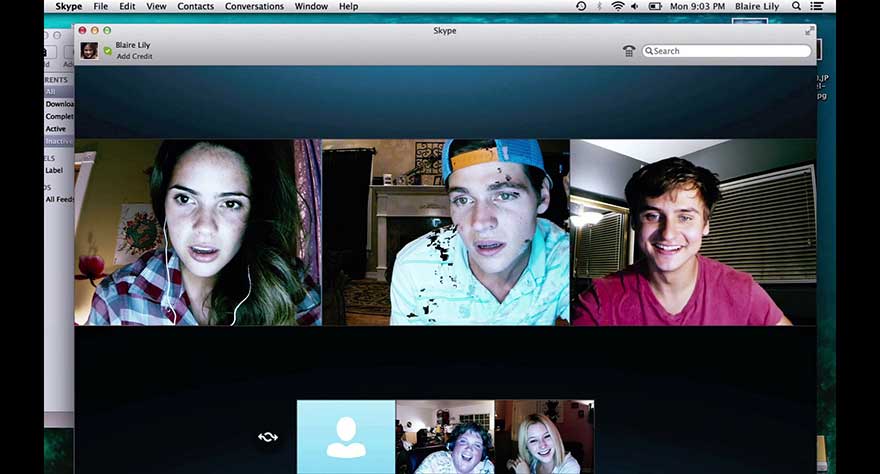 Unfriended is not the first horror movie to take place entirely on a computer screen, but it's the first film that really uses the format to do something that feels groundbreaking. On the one year anniversary of a high school student's suicide (the result of intense bullying, both on and offline), a group of her "friends" get forced to join a Skype call from an account claiming to be the dead girl's ghost. The classmates don't believe it until the ghost starts picking them off one by one. Director Leo Gabriadze lets everything play out on the computer screen of main character Blaire (Shelly Hennig), and the film's intense commitment to accuracy (no fake software here, every program Blaire uses is the same thing any average PC/Mac owner works with on a daily basis) makes it easy to get immersed. But beyond the film's relatability (all by computer programs!), Gabriadze does an incredible job crafting a narrative entirely through watching someone browse their Macbook, and at certain points—like long stretches of silence as Blair clicks around—the film can feel downright radical in its approach. It's a thrilling film, both as a straight up horror movie and what feels like an entirely new approach to narrative filmmaking. It's probably the first time since Spring Breakers that a film this experimental snuck its way into thousands of theatres.
Availability: Currently available on DVD, Blu-Ray, and VOD.
We Are Still Here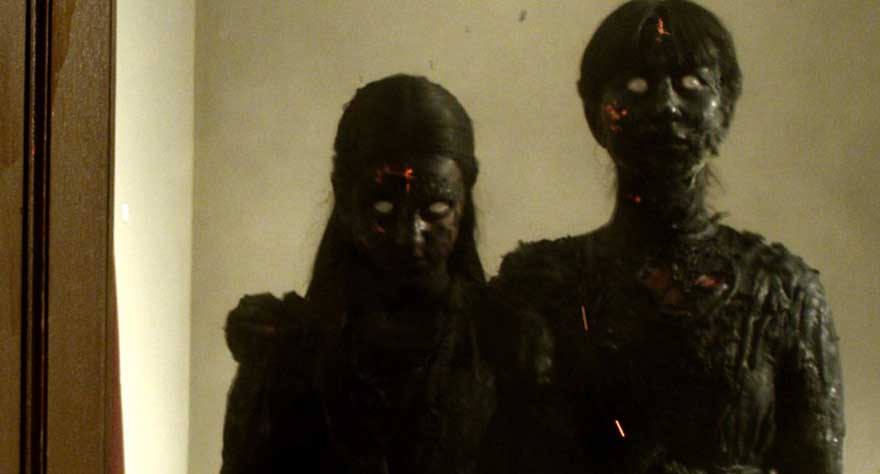 I won't lie: when I first saw Ted Geoghegan's debut feature We Are Still Here, I wasn't sure what to think. Yet now, months after seeing it, out of the hundreds of movies I've seen this year, this one hasn't left me. Taking place in the late '70s in New England, a couple (Barbara Crampton and Andrew Sensenig) grieving the loss of their son move into a new home. Things start going bump in the night, but this is no ordinary haunting, and soon things get wildly out of control. Part of We Are Still Here's appeal is that Geoghegan operates on an entirely different wavelength than any other genre director in the US right now. Its slow build up and '70s setting will draw comparisons to Ti West's House of the Devil, but the hilarious, splatter-happy final act feels more in line with Lucio Fulci and European horrors from several decades ago. It's a fascinating mix of influences, combined with a mythology that Geoghegan uses to increase the scale of his film without sacrificing its claustrophobic atmosphere. And it has two great performances by Barbara Crampton and Larry Fessenden, two horror legends who get nice, big roles here. It's a fun film that, despite its clear love for retro horror, is one of the more singular genre efforts to come out this year.
Availability: Currently available on DVD, Blu-Ray, and VOD.
Honourable Mentions
Denis Villeneuve's Sicario isn't a horror film by any means, but it's one of the most intense experiences I've had this year in a theatre. On the opposite end, The Editor and What We Do in the Shadows are absolutely hilarious (one a Giallo throwback, the other a mockumentary about vampires), but they're comedies first and horrors second. Sion Sono's Tag also fell into the "not horror enough" category, even though its opening act could easily fit on this list. And this year at the Toronto International Film Festival I had a fun time with anthology horror Southbound and Sean Byrne's The Devil's Candy, which will hopefully find their way to a screen near you in the future. Also worth mentioning: The Blaine Brothers' Nina Forever, which should go down as one of the most demented horror films of the year.