Green Room (TIFF Review)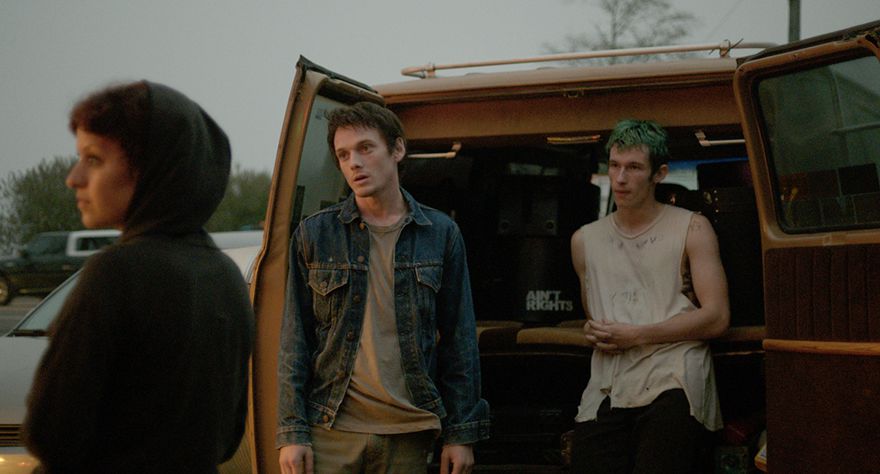 A brutal, sickening and fantastic thriller that constantly subverts expectations.
With Green Room, Jeremy Saulnier has perfected the intensity he showed in brief glimpses with his previous film Blue Ruin. Whereas Ruin played out through a more slow-paced approach and focused on the vicious cycle of a long-lasting blood feud, Green Room goes full genre, putting characters in a situation that's seemingly impossible to get out of while gleefully letting everything to go hell in a handbasket. It's a thriller that knows exactly what it's doing, raising the stakes to an unbearable level while subverting expectations associated with the genre. In terms of pure, raw intensity and entertainment, Green Room is fantastic, and confirms Saulnier as a filmmaker to be reckoned with.
As these sorts of stories go, things start off with a calm before the storm. Punk band The Ain't Rights are touring with no money and apparently no gigs either; they can barely afford food and siphon gas in order to keep traveling to their next destination. After driving out of their way to perform for some guaranteed cash they learn that the show's been cancelled, but they're offered an alternate gig; performing at a neo-nazi bar in what looks like the middle of the woods. They accept, and despite a rocky performance, things go well. It isn't until they're about to leave that things go south, when band member Sam (Alia Shawkat) forgets her phone in the eponymous green room. When bandmate Pat (Anton Yelchin) goes back to grab it for her, he walks in to find the headline act standing over the dead body of a young girl. With Pat being witness to a crime, the neo-Nazi bar staff lock the band in the room while bar owner Darcy (Patrick Stewart) and his right-hand man Gabe (Macon Blair) figure out how to handle the situation.
Right away, Saulnier establishes that playing by his own rules. The band, who turn Pat into a de facto leader as they try to negotiate an escape with Darcy through the room's locked door, aren't stupid. They know what will happen to them, and the more time they spend waiting the more time their captors can strategize a way to take them out. This is where the film's earlier section pays off, since Saulnier's ability to write realistic characters makes it easy to relate to the band's desperate, yet smart, attempts to get out alive. Saulnier realizes the importance of realism, and that making viewers relate to the characters only ups the anxiety to a nauseating degree.
And once the situation goes haywire, Saulnier doesn't hesitate to get brutal (and boy, does it get brutal). Machetes, box cutters, rabid dogs, and plenty more get used in the various showdowns, and when people die they go out screaming. Saulnier's decision to cast character actors like Yelchin and Shawkat in the band puts his protagonists on a level playing field, making it impossible to guess who might make it out alive by the end. One by one, Saulnier removes the safe havens of conventions from viewers, meaning every moment plays out with an unpredictability that the film thrives on.
That's largely because Saulnier doubles down on the best aspect of Blue Ruin; the ability to let his characters make mistakes. While Pat and his bandmates try their best to outsmart their rivals, Saulnier constantly reminds viewers that these are people desperately trying to feel their way through a situation they have no earthly idea how to grasp. Clever attempts to trick Darcy's foot soldiers play out in ways they couldn't expect, and even if they do pay off it might come at the cost of someone's life. Much like The Raid: Redemption, Green Room is a survival thriller that understands the importance of constantly establishing the stakes, raising them higher, and letting people enjoy watching characters try to get out of the increasingly small corner they've put themselves in. It's like watching a spectacularly bloody fireworks show, but with the knowledge that one of those explosives could come flying in your direction at any time.
Green Room (TIFF Review) Movie review