2016 Independent Spirit Award Predictions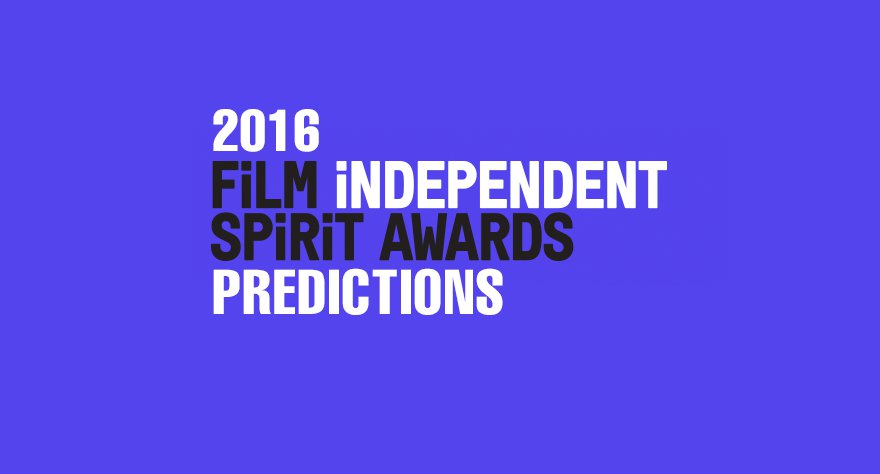 This year, instead of filling out that annual Oscar ballot for your office pool—which, lets face it, is always won by the person who never watches any of the movies—you should convince your co-workers to fill out an Independent Spirit Awards ballot. Your office will be the hippest on the block, and with my guide of winner predictions, you'll finally be able to beat Henry from accounting. Plus, watching the Spirit Awards is infinitely more entertaining than the Academy Awards due to its layed back atmosphere and unstuffy attitude. In addition to my predictions below, I detail my reasoning for each category winner and also who to watch out for as a potential sleeper.
You can catch the Independent Spirit Awards live on IFC on Saturday, February 27, 2016 at 2:00 PM PT and see how accurate these predictions hold up.
2016 Independent Spirit Award Predictions
(Predicted winners are highlighted in red bolded font)
Best Feature:
Anomalisa
Beasts of No Nation
Carol
Spotlight
Tangerine
Reason Why:
There isn't a sure-fire favorite to win Best Feature this year. While that makes watching the Spirit Awards interesting, it makes predicting this category challenging. But here is my logic. There are commendable elements in each of the nominated films; inventive stop-motion animation in Anomalisa, chilling sights and sounds in Beasts of No Nation, brilliant performances in Carol, and resourceful story and production work in Tangerine. But Spotlight is the most well-rounded of the group. The film features a well-paced controversial topic and is backed up with an amazing ensemble cast, each owning their role without stepping on others. It would be an ordinary, textbook procedural if it wasn't done so insanely well.
Best Director:
Sean Baker – Tangerine
Cary Joji Fukunaga – Beasts of No Nation
Todd Haynes – Carol
Charlie Kaufman & Duke Johnson – Anomalisa
Tom McCarthy – Spotlight
David Robert Mitchell – It Follows
Reason Why:
I have a feeling that despite Tom McCarthy's Spotlight winning the top prize, Todd Haynes will be walking away with Best Director. The careful work Todd Haynes put in to Carol should be celebrated, and I think it will here.
Best Screenplay:
Charlie Kaufman – Anomalisa
Donald Margulies – The End of the Tour
Phyllis Nagy – Carol
Tom McCarthy & Josh Singer – Spotlight
S. Craig Zahler – Bone Tomahawk
Reason Why:
Tom McCarthy & Josh Singer's script landed on the Black List for good reason, it's one hell of a screenplay! But I wouldn't be too surprised if Kaufman's name is called.
Best Male Lead:
Christopher Abbott – James White
Abraham Attah – Beasts of No Nation
Ben Mendelsohn – Mississippi Grind
Jason Segel – The End of the Tour
Koudous Seihon – Mediterranea
Reason Why:
The safer pick might be Christopher Abbott or Jason Segel, but I'm going with Abraham Attah to win the award for carrying Beasts of No Nation with his brilliant performance.
Best Female Lead:
Cate Blanchett – Carol
Brie Larson – Room
Rooney Mara – Carol
Bel Powley – The Diary of a Teenage Girl
Kitana Kiki Rodriguez- Tangerine
Reason Why:
A lot of people will be watching this outcome closely. It will be a fierce showdown between Brie Larson and Cate Blanchett, which will also happen on Oscar night. Kudos for the Spirit Awards to recognize Rooney Mara's role as a lead and not support like most award shows.
Best Supporting Male:
Kevin Corrigan – Results
Paul Dano – Love & Mercy
Idris Elba – Beasts of No Nation
Richard Jenkins – Bone Tomahawk
Michael Shannon – 99 Homes
Reason Why:
Paul Dano's portrayal of a young Brian Wilson is spot-on and should land him with a trophy. I'm happy to see both Idris Elba and Michael Shannon get recognized here!
Best Supporting Female:
Robin Bartlett – H.
Marin Ireland – Glass Chin
Jennifer Jason Leigh – Anomalisa
Cynthia Nixon – James White
Mya Taylor – Tangerine
Reason Why:
Giving the award to Mya Taylor for Tangerine—which she totally deserves—would be huge not just for the Spirit Awards, but for the entire transgender community. I'm hopeful that happens.
Best First Feature:
The Diary of a Teenage Girl
James White
Manos Sucia
Mediterranea
Songs My Brothers Taught Me
Reason Why:
This one was so close for me that flipping coin was the best option. It landed heads so I'm picking James White. If it were tails I would have went with The Diary of a Teenage Girl.
Best First Screenplay:
Jesse Andrews – Me and Earl and the Dying Girl
Jonas Carpignano – Mediterranea
Emma Donoghue – Room
Marielle Heller – The Diary of a Teenage Girl
John Magary, Russell Harbaugh, Myna Josep – The Mend
Reason Why:
Picking Me and Earl and the Dying Girl here is a little bit from the heart, it was my favorite film from 2015, but I think it's most deserving as well. Room should get some love in at least one other category. Watch out for The Diary of a Teenage Girl though.
Best Cinematography:
Cary Joji Fukunaga – Beasts of No Nation
Ed Lachman – Carol
Joshua James Richards – Songs My Brothers Taught Me
Michael Gioulakis – It Follows
Reed Morano – Meadowland
Reason Why:
Despite plenty of critical backing, this might be the first award that Carol receives at the Spirit Awards (maybe the only if it doesn't nab Best Director or Actress). But it will have to edge out Beasts of No Nation, which should be a worthy contender for cinematography.
Best International Film:
(Award given to the director)
Embrace of the Serpent
Girlhood
Mustang
A Pigeon Sat on a Branch Reflecting on Existence
Son of Saul
Reason Why:
Always one of the strongest categories at the Spirit Awards, and it's always a difficult one to predict. I'm going with Son of Saul from Hungary, but don't be shocked if the French film Mustang takes the award.
Best Documentary:
Best of Enemies
Heart of a Dog
The Look of Silence
Meru
The Russian Woodpecker
(T)ERROR
Reason Why:
2015 was a strong year for documentaries, and you could make a case for each film here to win. But The Look of Silence should walk away a winner. It wouldn't be surprising if took home the Oscar as well.
Best Editing:
Beasts of No Nation
Heaven Knows What
It Follows
Room
Spotlight
Reason Why:
Spotlight is a fast paced film with a lot of different storylines going on at once, but thanks to its editing the film flows in a cohesive manner. It's good to see It Follows and Beasts of No Nation listed here though.
John Cassavetes Award:
(Given to the best feature made for under $500,000)
Advantageous
Christmas, Again
Heaven Knows What
Krisha
Out of My Hand
Reason Why:
It's the only film in this category that has a nomination in another category, proving that Heaven Knows What is the strongest of bunch.