15 Best Performances of 2014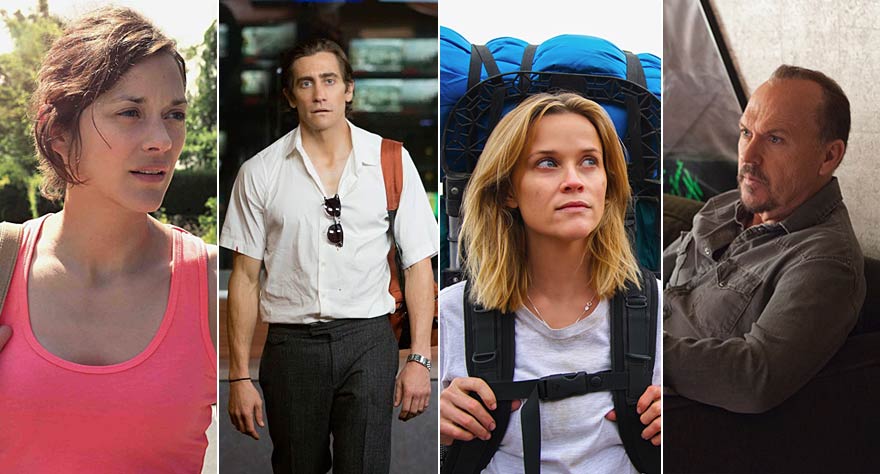 We've been hearing a lot about 2014 as a blah year for movies, a notion seemingly supported by a lack of gut-wrenching and heartrending heavy hitters like last year's 12 Years a Slave, Dallas Buyers Club, and Gravity. And the performances from those films were just so much more obviously weighty, it wasn't hard to pick out the ones that gripped us, because, well, they gripped us pretty hard.
But that's why this year has been so wonderful. Instead of somber dramas, some of 2014's best films have been comedic (Birdman), scary (The Babadook), and filled with unlikeable characters (Whiplash, Nightcrawler). And this is where the fun of nuancing and parsing out the best performances of this year begins. Because this year we felt different emotions than we did last year, but oh boy did we feel them, and that has all to do with some seriously good acting.
Our list of 2014's best performances considers all actors as equals regardless of lead or supporting role and with no division of male or female actors. Listed in no particular order is our list of the performances Way Too Indie staff found most compelling this year.
Way Too Indie's 15 Best Performances of 2014
Dan Stevens – The Guest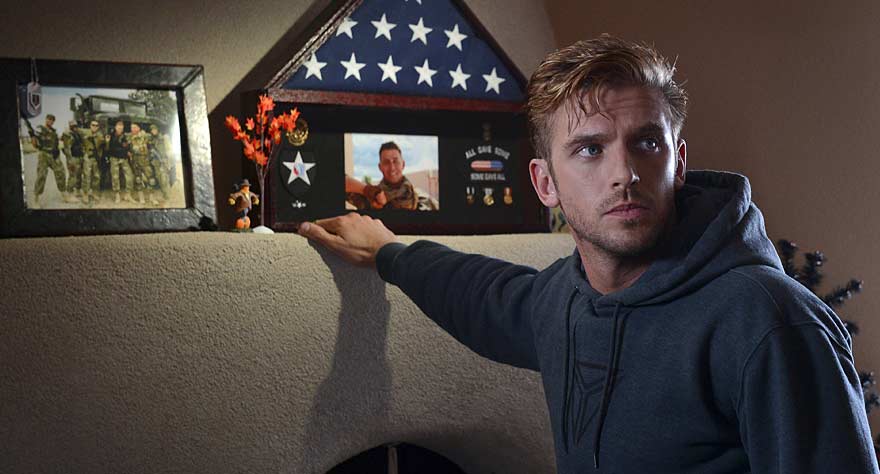 The role Stevens plays in Adam Wingard's The Guest is much more difficult than is usually required for this type of flashy genre film. In the film, "David" must appeal to every character he is trying to dupe in different ways. When he springs himself on the family of a fallen comrade, he has to be a sensitive young man to Laura, an ultra cool badass to Luke, a beer-drinking everyman with Spencer and a hunky protector to Anna. He also, though, has to be all of that (and more) to the viewer, even when we know something is up. The characters in the film may take a while to figure him out (indeed, some of them too late), the nature of this genre throwback sets up the viewer from the start to know "David" isn't who he says he is, though we may not know the extent of his capabilities. The Guest is one of the funnest movie-going experiences of the year because we love seeing "David" fit all of these roles. We revel in his lie, cheering him on as he beats up high school kids and somehow survives an intense shootout with special forces. But we also genuinely like him. Deep down, he tricks us, too. [Aaron]
Eddie Redmayne – The Theory of Everything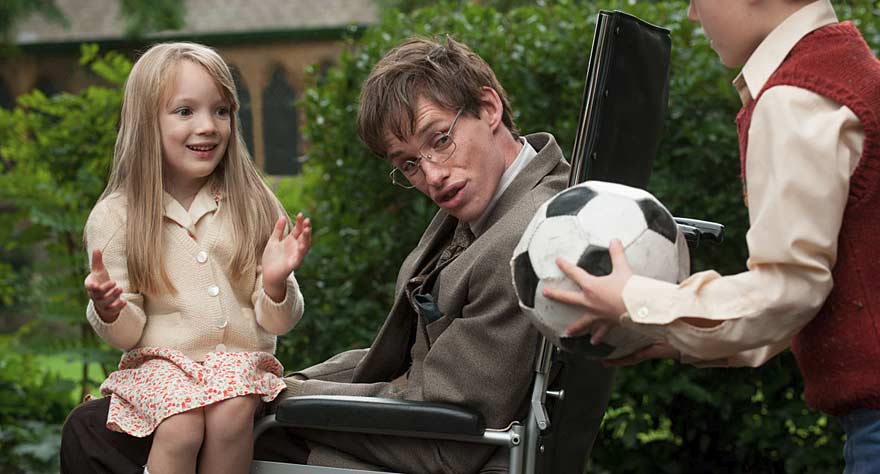 Regardless of your stance on James Marsh's Stephen Hawking biopic The Theory of Everything, one thing almost everyone can agree on is Eddie Redmayne's outstanding performance. The film begins during the early stages of Stephen's declining physical abilities, the occasional coffee spilling and pen fumbling are chalked up to general clumsiness. While this foreshadows the tragedy ahead, it more importantly allows viewers to witness the famous physicist before the disease takes away his ability to walk and communicate. What's impressive to watch is the transformation into this physically demanding role, which required limiting all of his body movements while still containing his charming personality. The fundamental testament to Redmayne's work occurs near the end when he emerges from his wheelchair in a dream sequence. It's a stunning moment, watching him actually walk and then be subsequently reminded that Redmayne is indeed acting, which speaks volumes to his extraordinary performance. He's sure to gather notice during this award season. [Dustin]
Essie Davis – The Babadook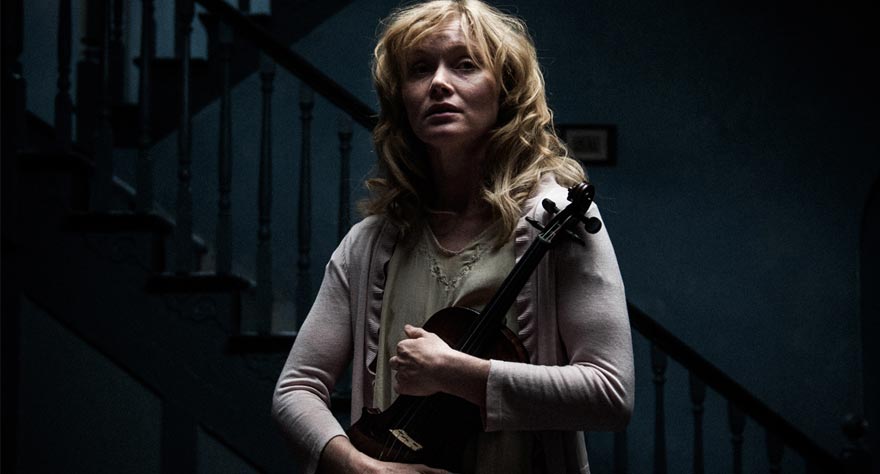 There's a level of fatigue only parents know; it comes with raising a child and it is calculated using the denominators 24, 7, and 365. Still, most parents wouldn't trade it for all the Sandman's sand. There are a few who might, though, if given the chance, and one of those parents can be found in Jennifer Kent's The Babadook. Her name is Amelia, and how Essie Davis gasps life into this desperate single mother is staggering. Long before Mr. Babadook wreaks the havoc that spirals Amelia into near-madness, her son Samuel brings a little terror of his own. He is six years' worth of boundless energy with a volume that Spinal Tap would envy, all complicated by an obsession with a monster that doesn't (yet) exist. This first half of the film is where Davis mesmerizes. She's not just the tired single mom with the full-time job and the hyper kid. She's that woman, plus the one whose husband was killed while taking her to give birth to Samuel six years prior. This background introduces resentment into a mother/child relationship that shouldn't have such a thing. Davis keeps that resentment one slivery layer below the surface, which puts normal parental fatigue deep in her rearview mirror and has her speeding down the road of emotional exhaustion. With every tired sigh a defeated cry for mercy and with every momentary slouch a little less resistance against the weight of regret, Davis portrays defeated like no one before her. And then the Babadook shows up. [Michael]
J.K. Simmons – Whiplash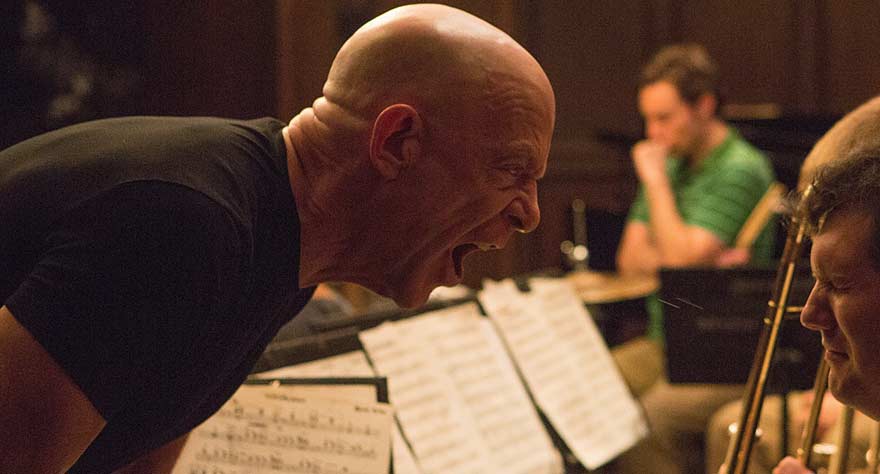 Irredeemable. That's Terence Fletcher in a nutshell. He's the meanest, nastiest, most abusive jazz instructor on earth in Damien Chazelle's Whiplash, and he will never, ever apologize for calling his students "limp-dick fucks" or giving them valuable performance tips like, "That's not your boyfriend's dick; don't come too early." Playing Fletcher is the incomparable J.K. Simmons, who's an absolute force of nature in the drummer drama, the veins on his bald head pulsing as he berates his poor students, muscles bulging under his tight black shirt. He calls them faggots, too. Again, no apologies.
What Simmons brings to the role that lesser actors wouldn't is utter remorselessness: this is who Fletcher is, and you either take it up the ass or he'll kick you the fuck out. That's the deal. He'll make you tremble and weep because he's not human; he's evil incarnate, and he doesn't care about redemption or the happiness of himself or others. He exists for a single purpose, letting nothing stand in his way, least of all sympathy or morality. It's an unflattering role, and Simmons embraces it without ego. No one could have done better. [Bernard]
Jake Gyllenhaal – Nightcrawler
It's not entirely surprising that Nightcrawler received comparisons to Martin Scorsese's Taxi Driver. Despite the differences between those two movies, the hard to resist likability of both films' psychotic leads makes it hard to root against them completely even as they commit their most vile acts. What makes Gyllenhaal's Lou Bloom even more frightening than De Niro's Travis Bickle is Bloom's ability to exist within the system. He embodies many of the characteristics of a model employee in a modern, competitive, capitalist climate. His ghostly pale complexion serves to accentuate the dark shadows created on Bloom's emaciated face (Gyllenhaal lost 20 pounds to help give Bloom that hollowed-out appearance) and make his presence even more unsettling. As Bloom, Gyllenhaal exploits people's ugliest indulgences to get ahead in the world of freelance crime journalism and is rewarded for his lack of empathy, particularly in people's darkest moments. The actor brings Bloom to life through an unhinged, masterful performance. Delivering lines of dialog with an unnaturally chipper tone, Gyllenhaal gives Bloom the social acumen of an alien that's slipped on human clothing. The actor has never been better and the character is hauntingly familiar. [Zachary]
Marion Cotillard – Two Days, One Night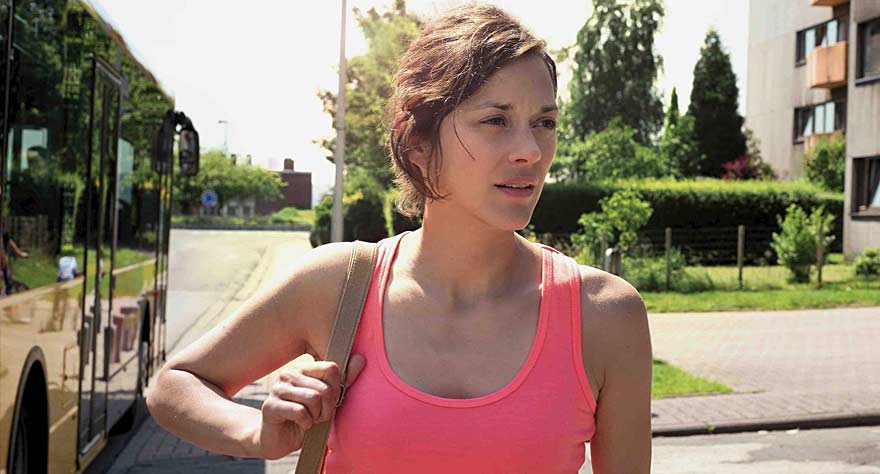 As Sandra, the worker desperately fighting for her job over the course of one weekend, Marion Cotillard pulls off her best performance to date. After taking time off work due to severe depression, Sandra finds out her bosses have given her the boot through a borderline sadistic method: by letting her coworkers vote on either letting Sandra keep her job or receiving their yearly bonus. After convincing her superiors to hold a re-vote after the weekend, Sandra visits each one of her 16 coworkers to ask them to give up their bonus in order to save her job. Cotillard, whose face could act as the definition of sympathy, fully embodies Sandra, and her raw emotions put the viewer right with her when she goes from hopelessly despondent to joyously optimistic. As clichéd as it sounds, Cotillard simply is Sandra. Sometimes it's hard to watch an A-list star on-screen and separate the performance from the celebrity; that's never the case with Cotillard, who does it with so much ease it's no wonder why she's considered one of the greatest actors working today. [C.J.]
Michael Keaton – Birdman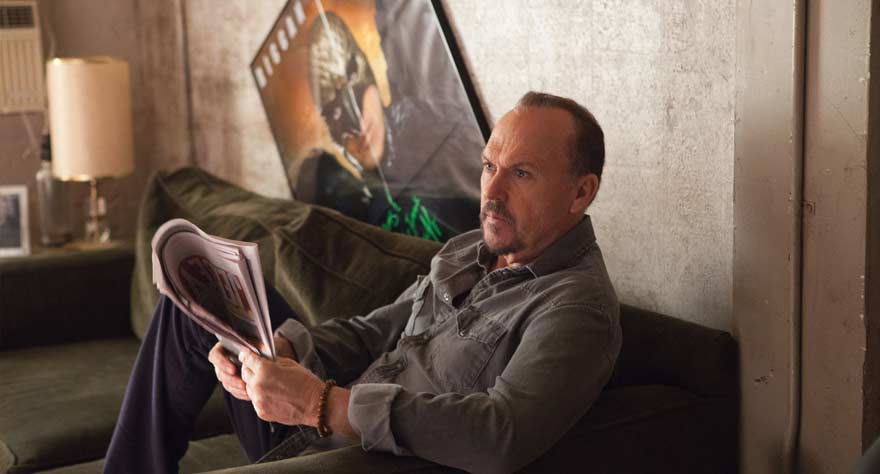 Acting within the constraints of Birdman's captivating long-takes would be a challenge for any actor, but as Riggan Thomson, Michael Keaton bears the brunt of the film's heavy lifting. Without the benefits of traditional film editing pulling together the best parts from several takes, Birdman's stars are required to be at their best for the duration of every long-take scene they're in. This is doubly true of Keaton as the film's lead, guiding the audience and the camera through claustrophobic Broadway backstage hallways during quick-tongued Sorkin-esque walk-and-talks. Riggan teeters on the brink of sanity, and in Keaton's embodiment of the character you can almost see the threads coming loose. When the tone abruptly shifts, Keaton demonstrates an enviable flexibility as an actor, turning a belly laugh into an unexpectedly poignant confession within only a few lines. As the character facing a series of obstacles that threaten to prematurely end his self-mounted comeback before it can begin, Keaton clutches to whatever empathetic strings are left for Riggan, while also allowing the character to slip further away from lucidity. His performance is simultaneously among the funniest and most heartfelt of 2014. [Zachary]
Patricia Arquette – Boyhood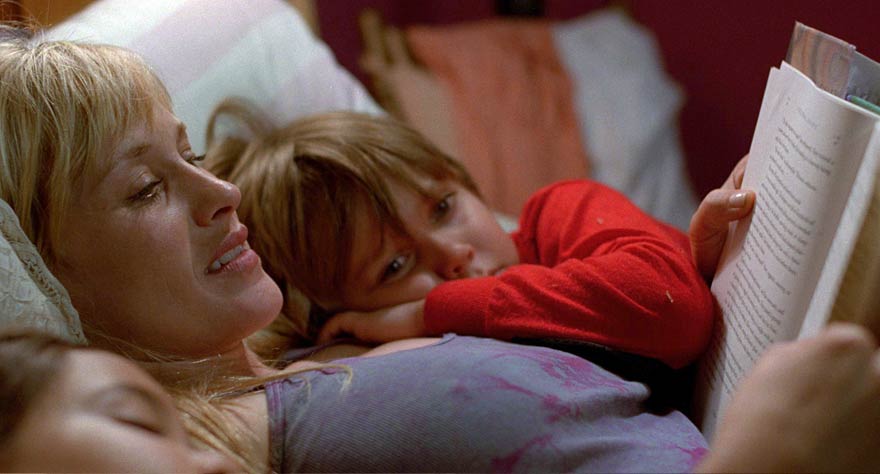 While Ellar Coltrane grows up in front of our eyes as Mason, the boy in Richard Linklater's everyday-epic Boyhood, sitting on the periphery throughout the coming of age journey is Patricia Arquette, as the boy's mom. Mason's moral makeup is shaped as he watches his single mom face stiff adversity ("a parade of drunken assholes" he once calls it), endure and adapt. We always see her from a distance, the same distance most boys keep from their mom.
She's his anchor, but what's special about the character is that she isn't anchored to the ground herself; she's on her own life journey, parallel to young Mason's, and grows as much as he does. Over the colossal 12-year production, Arquette managed to form the most beautiful character arc in the film. Her performance is so rounded, so natural, so cogent, that at times Boyhood feels more like a home movie than a marketable Oscar contender. [Bernard]
Reese Witherspoon – Wild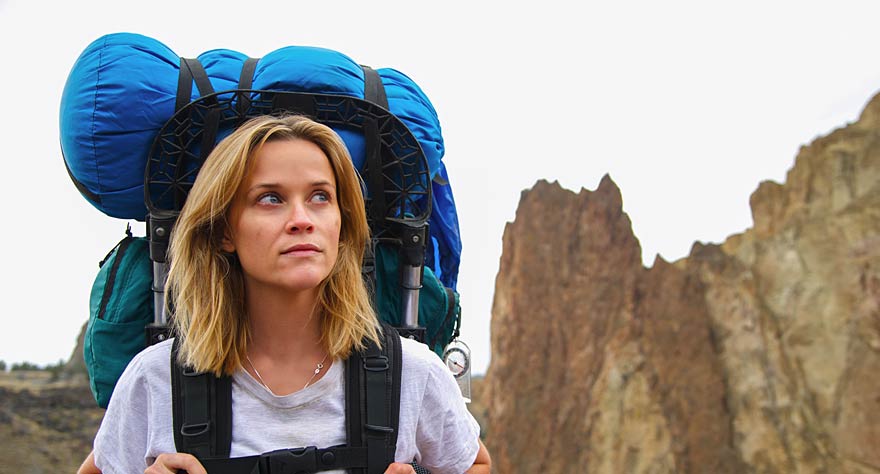 We all have that friend, the one we watch go through life making incomprehensible decisions and reaping the obvious and inevitable consequences. In Wild, Reese Witherspoon is that friend, walking us through the steps that led to one woman's particularly devastating life choices. And walking the literal steps that lead to her redemption. Witherspoon evokes our compassion, compelling us not to leave this woman for dead, to sleep in the bed she's made. Perhaps it is how well Witherspoon helps us identify with Cheryl in the little things: her simple humanity in wrestling with her monster of a hiking bag, the fear in her eyes running into mostly men alone on the trail, her rage-filled meltdown when she loses a boot in the opening scene. All of our interactions with Witherspoon throughout the film are intimate and raw; showing us the heart of Cheryl open and vulnerable. Even her thoughts and muttered curses echo what ours might. Despite the depths that her darkness had reached, Witherspoon has us cheering for her to climb out. Her achievement in this is quite incredible: showing us the humanity in the hopeless. [Scarlet]
Rosamund Pike – Gone Girl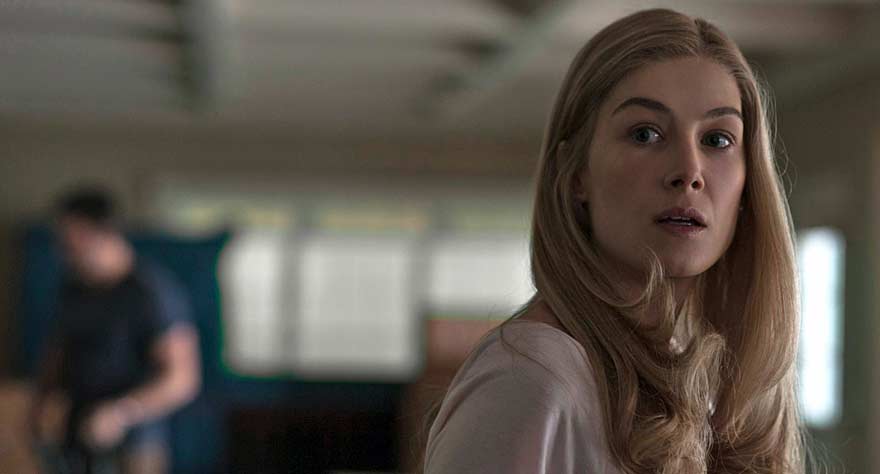 Rosamund Pike's maliciously delicious turn as Amy Dunne in David Fincher's Gone Girl stands at the very top of the breakthrough 2014 performance pile for me, precisely because it comes from an actor who's been around for years. Though making a noticeable presence in every role, Pike has always been in the background. For what feels like her entire career, she's been playing second fiddle to the likes of Pierce Brosnan (Die Another Day), Tom Cruise (Jack Reacher), Keira Knightley (Pride and Prejudice) and Edgar Wright's Cornetto boys (The World's End). But all of those roles were worth their trials and errors because they led her to Amy, the part of a lifetime and one that will assuredly change Pike's career (she's looking pretty locked for a deserved Oscar nomination at this point). Amy Dunne is the kind of character that takes the fiddle and in an act of magic, snaps it in half and turns it into a saxophone with enough gusto to lead an entire orchestra. Thanks to the story's structure, Amy is a bundle of multiple personalities (the charmed girlfriend, the doting daughter, the victim, the victor, the bitch, the cool girl, the wife from a modern nightmare), which Pike unpacks like a pro. "There is before Fincher, and after Fincher," Pike has said on the Gone Girl campaign trail, so it's pretty clear where the inspiration comes from, but the talent is hers and hers alone. She captures every complex facet of this satirized monster with such precision, charm, and presence; it's impossible to root against her even when recoiling from her actions and certain personality traits. She's a revelation, and here's hoping strong female roles are written with her in mind from now on. [Nik]
Scarlett Johansson – Under the Skin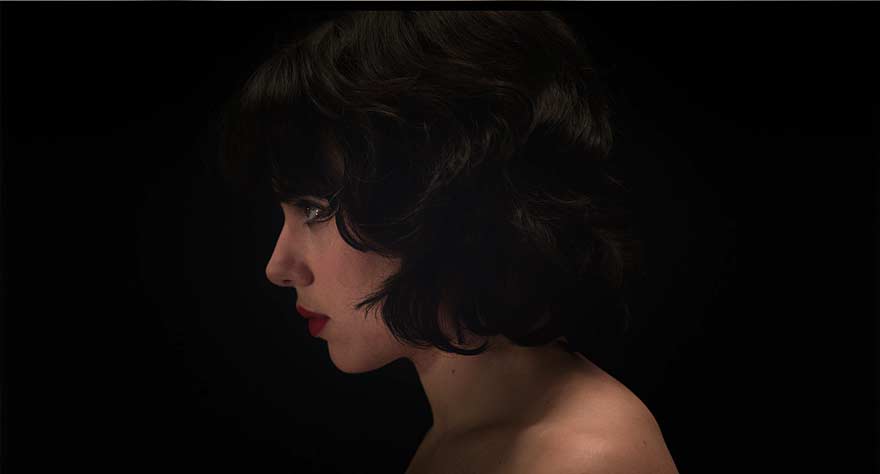 Johansson has already had a slew of breakout performances that have put her in the current acting elite (Vicky Christina Barcelona, Her, etc.) but none have been as commanding as her nameless character in Under the Skin. She dons a more-than-passable British accent and often dons no clothing. She has to be realistically enticing without overplaying sexuality. The film is borderline incomprehensible, but it doesn't matter with the strong force at its center. And the more that has been revealed about the film's strange production, the more interesting and incredible her performance seems. Many of her nameless invader's conversations and confrontations happen with non-actors who don't know they are being filmed. Improvisation is a difficult skill for any actor, but usually improvisation in film is done in a fairly controlled setting – everyone knows their general part and are working together to get the heart of the scene right. Here, though, the environment is unpredictable and Johansson proves she's always ready for what may come. Not to mention pulling off being one of the world's most recognizable movie stars slipping about incognito. [Aaron]
Stacy Martin – Nymphomaniac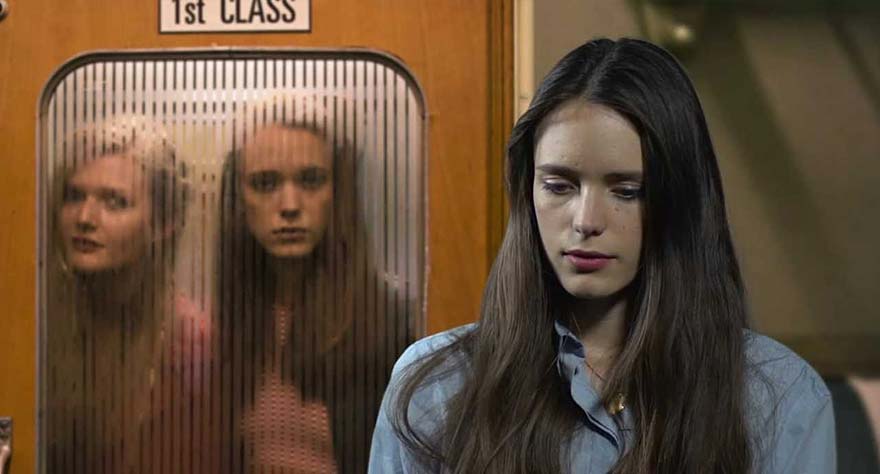 There are a lot of stars that adorn the sensual confines of Lars Von Trier's newest controversial film, Nymphomaniac. Charlotte Gainsbourg, Stellan Skarsgard, Christen Slater, Shia LaBeouf, Uma Thurman and Willem Dafoe are just some of the names that headline. But surprisingly none of them take the spotlight (Thurman comes close) away from film debutant Stacy Martin who makes a big statement as an actress with her role here. It's been years since we've seen a début from a young actress like the one that's on display here (at the moment, I can't recall one). Martin is fearless as she portrays a teenage version of Joe (Gainsbourg) who goes from one sexual escapade to another. Von Trier puts her in all sorts of scenes that require contrasting emotional levels. Sometimes she needs to be vulnerable. Sometimes weak, other times powerful. Sometimes even shameless. Sometimes she needs to be more than one at once and never does she shy away. The role would be demanding enough in the hands of any filmmaker but the fact that it's helmed by Von Trier (who is known for being tough on his leading ladies) only amplifies how impressive her performance is. Mark my words, Martin is going to be a star. [Blake]
Steve Carell – Foxcatcher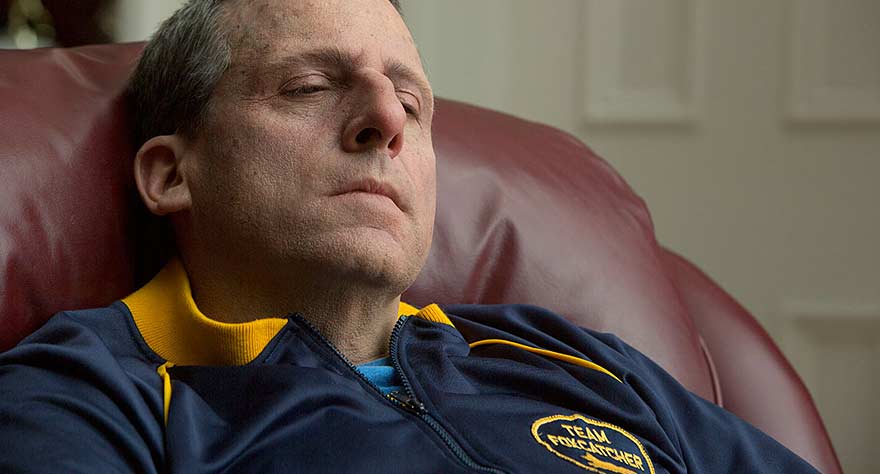 When Steve Carell first appears in Bennet Miller's Foxcatcher, his based-in reality character, John du Pont, invites Channing Tatum's Mark Schultz into an extravagant trophy room to talk about the business proposal he has. And at first its hard to focus much on what he says because his nose and teeth are so obviously not Carell's. And then it becomes clear nothing of what we see on that screen is Carell. His slow manner of speech and the strange way he looks down his nose at people and sometimes doesn't bother to look at them at all. The way he speaks with a pompous pretense, always trying to throw in some tidbit or fact of little circumstance in a weak attempt to prove his superiority. His stiffness, both arrogant and insecure simultaneously. And under it all a boiling tension, an internal battle of psychosis. Carell gives us this in every single scene he's in. As the spoiled and unloved heir to a massive fortune, his misguided attempts to build love out of the sportsman around him are more than pathetic, they are disturbing. Carell provides layers upon layers to what could easily have been a simple story of mental breakdown and murder. It's the sort of performance that stays in your head and demands you go home and watch a few episodes of The Office to calm down. [Ananda]
Tilda Swinton – Snowpiercer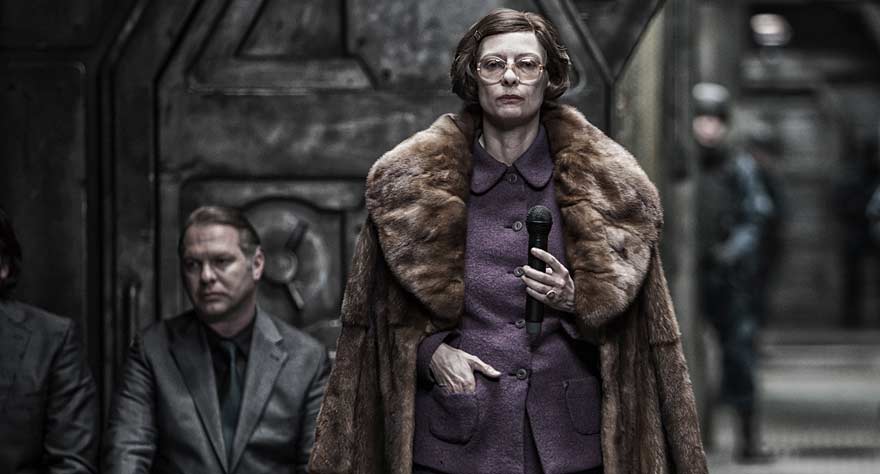 To quote Amy Schumer at this year's Gotham Awards: "Tilda. Fucking. Swinton." It's been an amazing year for the Scottish actress, who played three truly memorable roles. It's just as easy to talk about her amazing turns in Only Lovers Left Alive and The Grand Budapest Hotel, but for us it's her role as Minister Mason in Snowpiercer that left the biggest impression. Originally written for a man, Swinton came on board and turned the character from a sinister, mild-mannered character to a garish, over the top figure. The absurdity of her character, from the giant glasses to the fake teeth and Yorkshire accent, also gives the film's gritty first act a bit of levity, while hinting at the bizarre, distorted moments to come as the characters make their way to the front of the train. This is why Tilda Swinton is one of the best; it's a showy, distinctive role, but it singlehandedly supports and elevates the film to an even better place. [C.J.]
Timothy Spall – Mr. Turner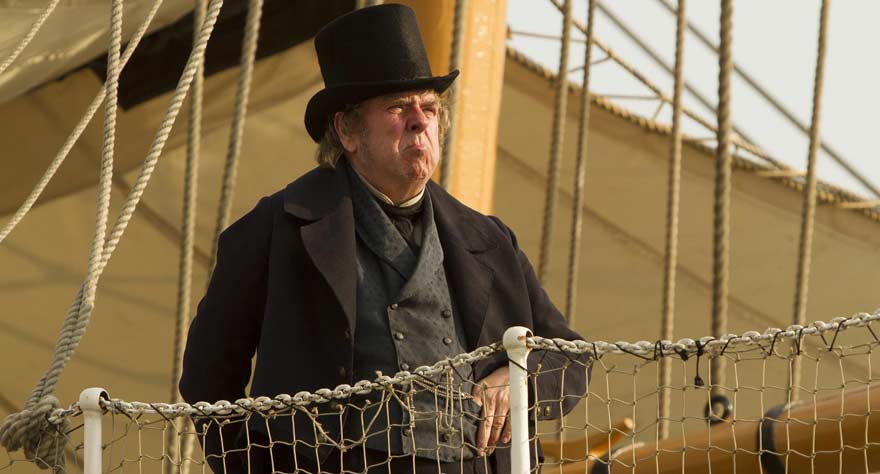 Mike Leigh has always been something of an 'actor's ' director, often giving his leads opportunities to improvise and find their characters, and in Mr. Turner this approach has been rewarded by a superb performance by Timothy Spall. There are few actors who can inhabit a role quite like Timothy Spall. Spall channels the vivid life of Turner's paintings into the character, injecting Turner with boundless energy, enthusiasm and a lust for life. Yet Spall also delicately reveals Turner's flaws; his stubbornness, his lack of empathy for his estranged family and, as he reaches the end of his life, his frustration at his own fragility. What is particularly impressive about Spall's performance is the sheer array of emotions he conveys non-verbally throughout the film, often saying a thousand words with a simple grunt. Despite being surrounded by a talented cast Spall outshines them all and bears the weight of the film on his shoulders. It is a role that has already earned him the Best Actor award at the Cannes Film Festival and there is a strong chance that he could be in the running for Best Actor at next year's Oscars. [Eddy]
We Can't Help But Mention:
We could never include everyone we'd like, but some honorable mentions include: Uma Thurman (Nymphomaniac), John Lithgow (Love is Strange), Jonathan Pryce (Listen Up Philip), Rene Russo (Nightcrawler), David Oyelowo (Selma), Sheila Vand (A Girl Walks Home Alone At Night), Julianne Moore (Still Alice), Jessica Chastain (Miss Julie), Laura Dern (Wild), the cast of Winter Sleep, the cast of We Are The Best!, the cast of Leviathan, cast of Fury, cast of Interstellar, and Agata Kulesza and Agata Trzebuchowska of Ida.