tUnE-yArDs – Nikki Nack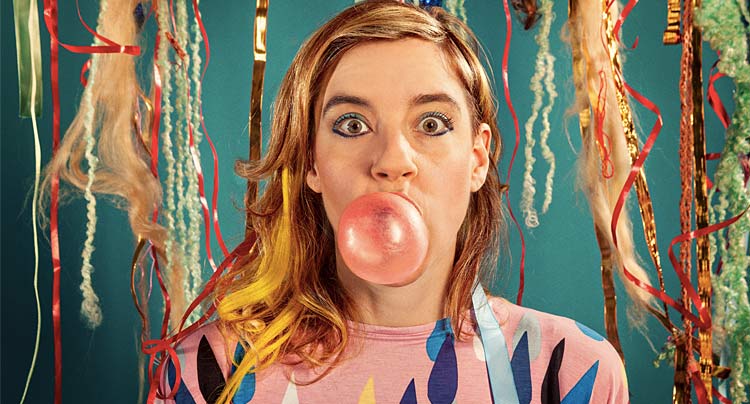 Her pop-iest work yet, but it remains faithful to her sound.
Few musicians have transitioned from cult artist to critical wunderkind as quickly as tUnE-yArDs, the creative moniker of Connecticut's Merrill Garbus, did in early 2011. Before her sophomore album w h o k i l l was announced in early February, very few people were aware of her début, BiRd-BrAins, which was primarily recorded on a dictation machine; after w h o k i l l's release two months later, all eyes were on Garbus. Still today, w h o k i l l remains one of the quirkiest, most fearless, and most viscerally enjoyable albums of the decade. Its fusion of electric ukulele, brazen, confrontational, humorous lyrics, slinky bass, world-influenced percussion, and Garbus' monstrously flexible, fiery vocals pulls from a slew of unusual influences, and three years later continues to sound like the future.
All this history makes it easy to feel disappointed by Nikki Nack, the highly anticipated follow-up to w h o k i l l, upon first listen. But like many albums, this one's a grower, one that reveals itself with time. Collections that develop in this way aren't at all uncommon, but few do so as quickly as Nikki Nack does. The attributes responsible for its initial letdown rearrange into its strengths after just two or three more listens, and some of these characteristics are radically different from anything Garbus has published in her career thus far. In particular, for this album, Garbus ditches w h o k i l l's omnipresent electric ukulele in favor of frantic, off-kilter drum machines and subtly glowing synths. It's her pop-iest work yet, but it remains faithful to her sound: Nate Brenner's bass is still just as central a component as ever before, Garbus' voice continues to vacillate between passionate shouting and soulful singing, and the equally reflective and sociopolitically charged nature of her lyrics hasn't disappeared.
Nikki Nack embraces change dutifully; in fact, one of its weakest tracks, "Look Around", is the only one that retains the ukulele. Garbus' sound shift is readily apparent immediately when "Find a New Way" begins the album. Synth spikes and oddly metered drum blasts control this song's intro, after which Brenner's bass expels the synthetic elements. "Time of Dark" treads a similar path, although its percussive eccentricity takes much longer to manifest. This song transforms into a liberating, wild, repeated chant of "Hey!" with just over a minute remaining, a change that's neither jarring nor gradual, and this trick is repeated often on Nikki Nack.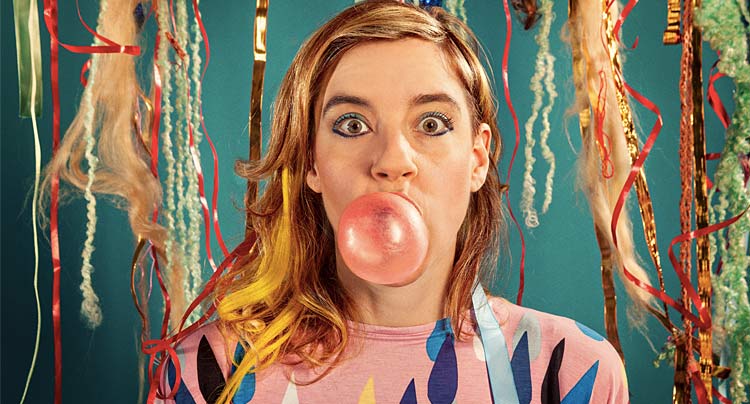 "Left Behind", one of the album's strongest points, pulls the same switch at its midpoint, although its percussive flicker predicts this flip much more so than the initial tranquility of "Time of Dark" does. "Holiday! Holiday! Let's go crazy!" Garbus chants without restraint; this relentless is signature tUnE-yArDs, only packaged differently on Nikki Nack. Lead single "Water Fountain", which suffered the same plague of initial disappointment as its home album only to become an album highlight, puts this quality on full display: few, if any, other artists can manage to be taken seriously with such a sing-songy tune and lyrics that seem to be strewn together from those word magnets people arbitrarily rearrange on their fridges. This approach is a risk Garbus takes constantly, especially in the lyrical delivery of "Hey Life" and "Sink-O." The latter is a frenetic, Matangi-like array of arguably vapid lyricism that's rendered thrilling by the music accompanying it, whereas the latter begins relatively calmly and deals with relatable topics before briefly venturing into a childlike but undeniably fun mess.
Nikki Nack is ripe with potent lyrics despite its numerous slabs of intentionally inane words. The balance thrown off by the unbound lyricism of "Water Fountain" is restored by tracks such as "Manchild", which is a cry of female empowerment just like w h o k i l l's "Killa" (perhaps not coincidentally, both tracks end their respective albums). "I mean it! Don't beat up on my body!" Garbus bleats over loopy, disorienting percussion and cowbells (yes, cowbells — if you didn't think this album was silly enough yet, now you know). "Left Behind" laments both traditional and class wars ("We said we wouldn't let them take our soil"; "This place has really changed its ways, goodness/ruined by the boats of rich folks coming here"), and "Real Thing" callously scrapes away at America and its obsession with celebrities ("Red white blue course through my veins/Binge and purge the USA!"; "Girls, are you worried about dress size six?; "I come from the land of slaves/Let's go Redskins, let's go Braves!"; "I come from the land of shame/blood and guts are all I claim"). It takes a good ear to extract these messages from the utter chaos of Garbus' music, and these words burn even more fiercely when delivered in her fire-hot voice.
Of course, Garbus' true secret is the flexibility of her voice, and second single "Wait for a Minute", easily her most straightforward and accessible song to date (and thus possibly the album's best), shows her vocals operating at the exact opposite end of the spectrum as during her more politically charged anthems. It's the first instance of a tUnE-yArds song conveying any sort of sadness, which is fully appropriate since it details its narrator's depression. "Monday/I wake up with disgust in my head" is a hell of a downer to begin a first verse, especially coming from someone whose music is generally life-affirming. Subsequent lyrics like "The mirror always disappoints/I pinch my skin back 'til I see the joints" certainly don't introduce any sunshine either. The psychedelic, slow-jam R&B sound and skittering drums perfectly match the song's tragic mood. Interestingly, this song also throws in some self-reference, a trick more often reserved for cryptic acts like Destroyer. "I'll still try to leave the high of violence behind," Garbus croons during this song's chorus, which hearkens back to a crucial point on w h o k i l l: "There is a freedom in violence I don't understand/and like I've never felt before!" Garbus shouts, unaccompanied by music, about two-thirds into that album's "Riotriot." One of the most cathartic moments in her catalog is recalled here, a surprising and enticing choice.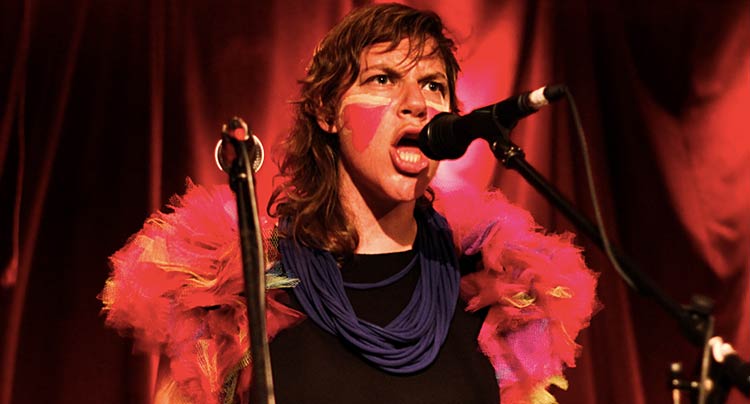 "Wait for a Minute" doesn't quite resemble most of Nikki Nack, a trend more frequent in its weaker tracks. "Rocking Chair", its two-minute penultimate track, feels like an unnecessary piece of filler (even more so than the hilarious interlude "Why Must We Dine on the Tots?", an allegory for the frustrating futility of trying to quash a misbelief commonly accepted as fact). It's comprised solely of minimal percussion and Garbus' vocals, and it demonstrates that her voice is so flammable that music is absolutely necessary to quell its abrasive, unpleasant edges. Although "Look Around" does exactly this, it too underwhelms: it constantly teases an explosive dynamic shift like those on "Water Fountain" and "Time of Dark", yet never quite provides this relief. "Find a New Way", another less memorable track, faces a problem in its rhythm section, where its percussion restricts the song instead of allowing it to soar.
At the end of it all, it really is Nikki Nack's use of percussion that accounts for its success. Nowhere is this more apparent than on "Stop That Man", a track that competes with "Wait for a Minute" for the title of Best Nikki Nack Song, but is definitely a more concrete example of why Nikki Nack is so thrilling. It opens with muted, abrasive, digital percussive pounding that provides an ideal bed for Garbus' robotically filtered vocals. Within thirty seconds, though, the song changes into a hearty shout to "Please, stop that man, stop that man, stop that man!" Garbus rides the beat perfectly throughout this song, adjusting the force and tempo of her voice almost exactly in line with the ever-changing percussion below her. The last minute of this song leaps forward with percussive blasts that belong on dance floors in sweaty, humid college basements, concluding the song with a warm but ferocious feeling.
Nikki Nack is exactly the kind of album that's fun to write about. It's so heavily filled and unexpected that more and more of its strengths emerge the more deeply and frequently its analyzed. At the start of this review, Nikki Nack seemed like a satisfactory, but not quite up to par, follow-up to w h o k i l l; now, at its end, it's clear to see that this is an album that, although not as savage and unique as its brilliant predecessor, will be on repeat for a while. There's so much to learn and to love here; so much, in fact, that subsequent listens will inevitably reveal aspects of the music that were previously buried beneath their surrounding excellence. Kudos to an album that ages gracefully.
tUnE-yArDs – Nikki Nack Music review